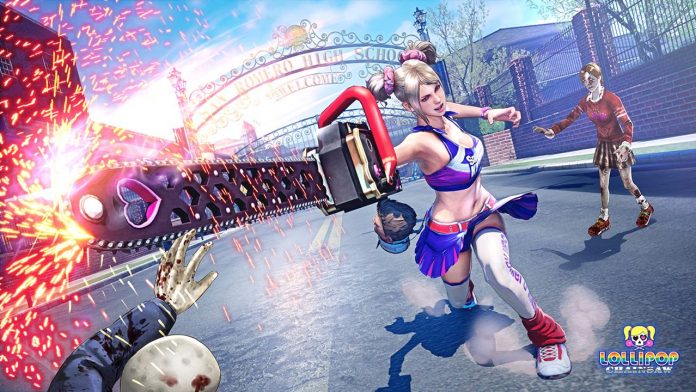 Written by. Marco Farinaccia based on the original Japanese article (original article's publication date: 2022-07-05 18:00 JST)


Dragami Games has announced that they will develop Lollipop Chainsaw Remake (tentative title) to commemorate the ten-year anniversary of the game's original release. The game is due out in 2023, but platforms have yet to be decided.
Lollipop Chainsaw is a horror comedy action game that was released in 2012 for the PlayStation 3 and Xbox 360. CEO of Dragami Games Yoshimi Yasuda served as a producer on the title, which was developed in cooperation with Grasshopper Manufacture's Goichi Suda, who is known for games such as the No More Heroes series. The game is set in a Californian high school and stars protagonist Juliet, a zombie hunter who uses a chainsaw to battle her classmates after they are turned into zombies.


Dragami Games officially began operations on July 1 and have taken over a portion of business duties from Kadokawa Games, the studio where Yasuda previously served as CEO. The new studio has inherited publishing rights for many existing Kadokawa Games titles, and around 30 development staff members have moved to Dragami Games, too (related article). Prior to that, Yasuda had also mentioned that Dragami Games were intending to bring back Lollipop Chainsaw (related article). He was likely referring to the remake that was announced today.
Yasuda has this to say in regard to the announcement:
"It has been some time since players have not been able to access the game on current consoles. We, the original development staff on Lollipop Chainsaw, think of the game as very precious to us, and did not want to leave it in limbo, where players who want to play it cannot. As such, we purchased the Lollipop Chainsaw intellectual property from Kadokawa Games and decided to develop a remake. We have already contacted Warner Bros. about development and are being supported by them in this endeavor."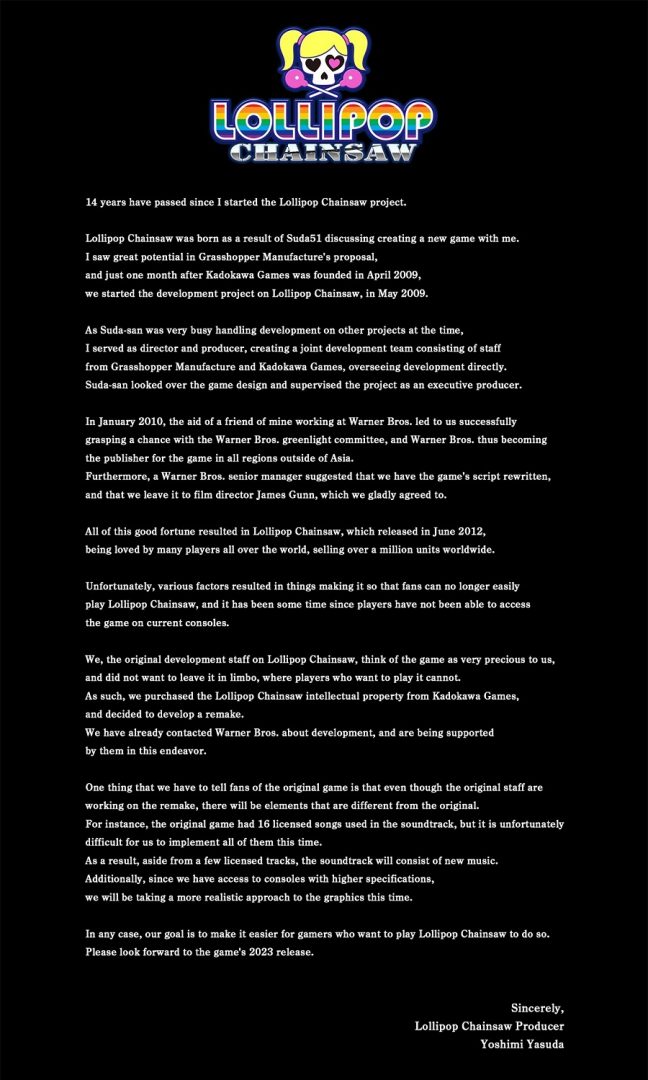 According to Dragami Games, "Development of the game will be handled by a combination of development staff from the original version, including Yasuda as producer, and new development staff from Dragami Games."
Further details about the remake will be announced in the future, but they expect that some aspects will differ from the original version. "For instance, the original game had 16 licensed songs used in the soundtrack, but it is unfortunately difficult for us to implement all of them this time. As a result, aside from a few licensed tracks, the soundtrack will consist of new music. Additionally, since we have access to consoles with higher specifications, we will be taking a more realistic approach to the graphics this time."
Lollipop Chainsaw Remake (tentative title) is due out in 2023. Platforms and further information on the title are expected to be announced at a later date.

Related Article:
Neither Suda51 nor James Gunn are involved in the Lollipop Chainsaw remake