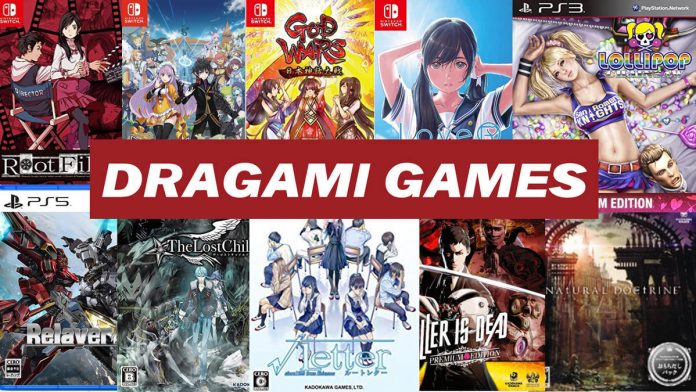 Written by. Marco Farinaccia based on the original Japanese article (original article's publication date: 2022-07-01 10:04 JST)


Dragami Games has announced that it has commenced business operations as of July 1 (JST). Around 30 employees from Kadokawa Games have transferred to the new studio. Dragami games will continue to create original titles for the global market and have announced 15 currently available titles that will now be sold under their name.
Dragami Games is led by Yoshimi Yasuda, who has worked as a director on previous Kadokawa Games titles such as Lollipop Chainsaw and Relayer. In the past, Yasuda had served as the president of Tecmo until he took on the same role for Kadokawa Games when it was established in 2009. He also served as producer on games like √Letter, Demon Gaze, and others.
In May of this year, Yasuda, along with company director Satoshi Fuyuno, separated from Kadokawa Games and formed Dragami Games. As part of the split, they took over some of Kadokawa Games' business duties. It was also announced that digital creator production company EXTREME planned to acquire a stake in the new company.
There are 15 former Kadokawa Games titles that Dragami Games has announced it will be taking over sale of. The lineup of titles can be seen below. It should be noted that the transfer process for any titles on Steam or PS Vita are expected to take longer than on other platforms.
Relayer (PS4/PS5)
God Wars: Future Past (PS4/PS Vita)
God Wars The Complete Legend (PS4/PS Vita/Nintendo Switch/Steam)
√Letter (PS4/PS Vita/Steam)
√Letter: Last Answer (PS4/PS Vita/Nintendo Switch/Steam)
Root Film (PS4/Nintendo Switch)
Demon Gaze: Global Edition (PS Vita)
Demon Gaze II (PS Vita)
Demon Gaze II: Global Edition (PS4/PS Vita)
Demon Gaze Extra (PS4/Nintendo Switch/Steam)
LoveR (PS4)
LoveR Kiss (PS4/Nintendo Switch)
The Lost Child (PS4/PS Vita)
NAtURAL DOCtRINE (PS3/PS4/PS Vita)
As for possible future titles, Yasuda revealed in June that the studio intended to bring back Lollipop Chainsaw (related article), and he has also mentioned that they are developing a new title in the God Wars series based around the theme "The demise of Japanese Mythology — From the world of gods to the world of man."
The official site for Dragami Games can be found here.