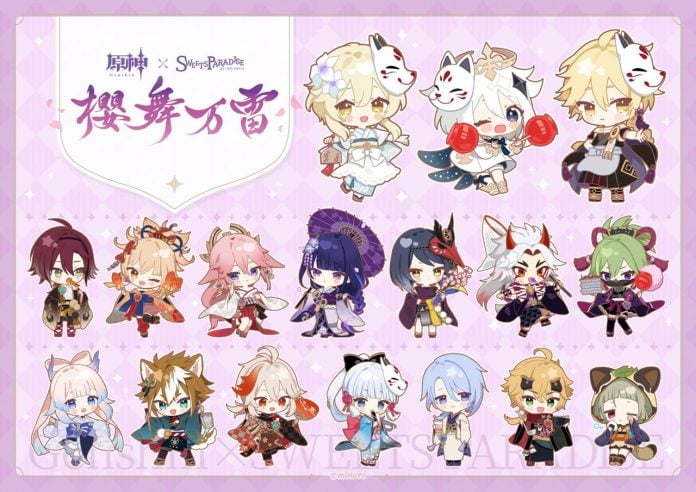 Sweets Paradise, an all-you-can-eat restaurant chain in Japan, recently took to their official Twitter account to issue a strong warning to patrons regarding leftover food during their Genshin Impact collaboration campaign.
The campaign entails customers receiving commemorative merchandise for buying certain menu items. The statement is addressed to those utilizing the campaign and asks that customers don't order more than they can eat. It goes on to warn that those who do may be subject to not receiving their special campaign items.
This third collaboration between Sweets Paradise and Genshin Impact began on September 28 (JST). In addition to original merchandise based on the Inazuma region, they also have a menu with familiar food items from the game recreated. However, customers purchasing these menu items in hopes of receiving their desired piece of merchandise are becoming a problem as some are ordering but not eating the food.
Twitter user @sumasumagengen highlighted the issue by posting an image of a table full of uneaten food at Sweets Paradise. They further explained that more food was being brought out to the table after the customers had left, inconveniencing the restaurant's employees. The incident has since gained traction on social media, drawing attention to bad manners and food loss.

This instance took place at a Sweets Paradise in Nagoya, Japan. When speaking with J-CAST, the store's manager said that they are aware this sort of thing is happening. They also stated that while most customers have good manners, some are ordering and leaving large amounts of uneaten food and they hope that kind of behavior stops. They spoke about strengthening their checking system going forward as well.
Sweets Paradise frequently holds collaborations with game and anime IP, so they have some knowhow regarding how to handle things. For that reason, there are various regulations in place. For example, customers are limited to 8 food and dessert items from the Genshin Impact collaboration menu and up to 8 drink orders. There are also restrictions on purchasing merchandise where customers can only check out once per visit, along with limits on the number of items customers can purchase.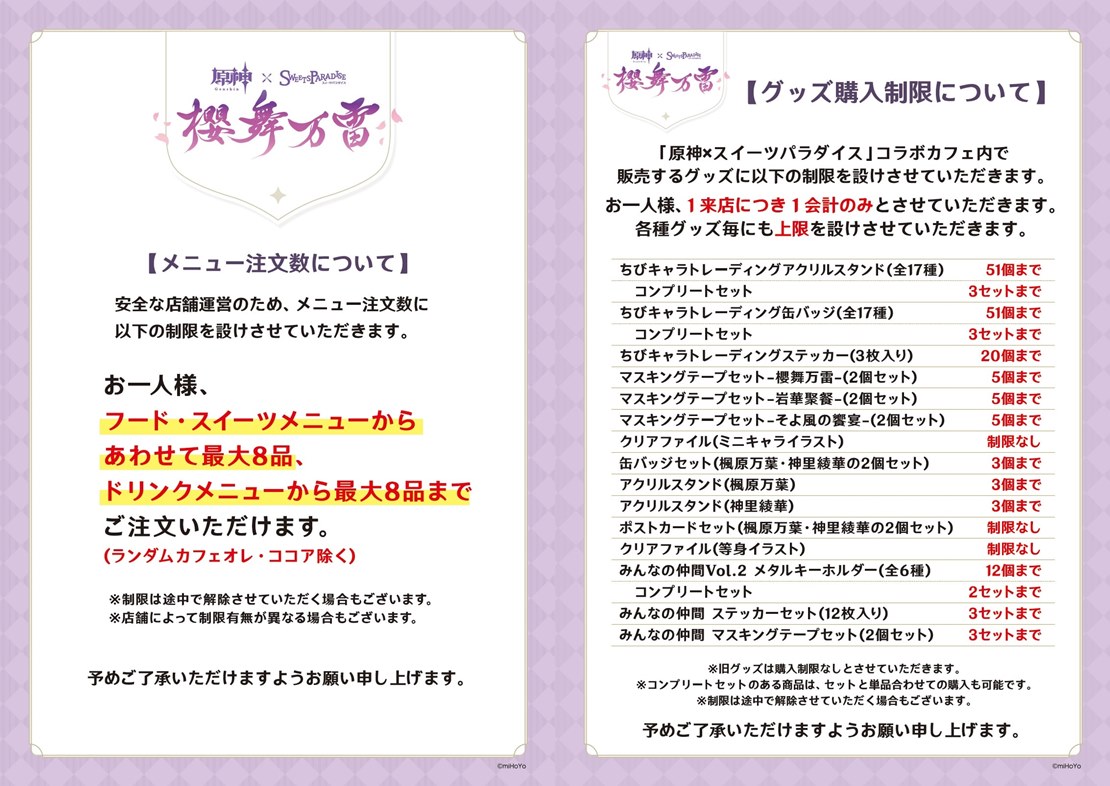 However, this collaboration introduces a gacha-like mechanic. Each food or drink order from the special menu nets customers one special item at random. There are 16 different kinds of coasters for food and dessert orders and another 17 coasters for drink orders. Whether a customer gets the character they want all comes down to luck.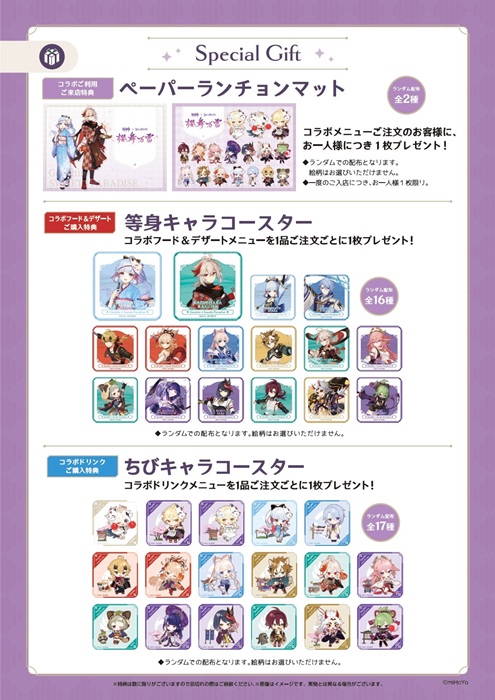 Though the collaboration is set to last for a month, supplies are limited and there are a lot of different coasters. It's easy to imagine that some would order a ridiculous amount of food and drinks to get the character they want. Reselling also tends to run rampant with these kinds of limited items. Because it's difficult to get the character you want, customers resort to ordering more food which leads to more leftover food.
This system of giving customers items at random when ordering from a collaboration menu is something Sweets Paradise has frequently done when collaborating with other IP. Just about all of Sweets Paradise's recent collaborations have involved providing special merchandise at random. These kinds of campaigns are often seen at other chains as well, so it isn't limited to Genshin Impact collaborations or Sweets Paradise. With the above Twitter user's images, the problem has become more widely recognized, but it's really only the tip of the iceberg.
It's one thing when gacha systems are attached to in-game items or merchandise fans can buy, but when it's tied to food, it becomes connected to the societal issue of food waste. There are even collaboration cafes that have introduced systems where customers can receive merchandise attached to the food or drink menu while refraining from the food or drink being served to them to prevent waste, though they still have to pay full price. When discussing preventative measures, it's not just about an individual's morals or rules at restaurants, the whole framework of business practices that lead to inevitable food waste need to be called into question.




Written by. Nick Mosier based on the original Japanese article (original article's publication date: 2022-09-30 14:28 JST)