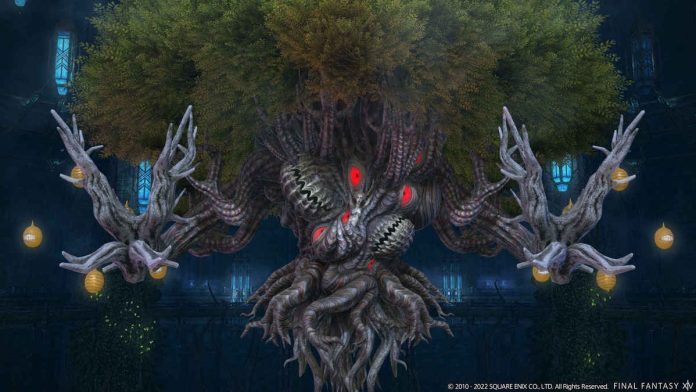 Final Fantasy XIV (FFXIV) is seeing an increase in the use of waymarks placed by third-party tools that go against the game's user agreement in one of its high-level raids. These waymarks have been dubbed "脱法マーカー" (rule bypassing waymarks) on social media and the official FFXIV forums in Japan, with many players spreading awareness of the issue.
These rule bypassing waymarks started showing up in the difficult Pandaemonium – Abyssos: The Seventh Circle (Savage) raid which was added in late August. The middle phase of this raid includes a part where the arena is divided into three zones. When the raid was first released, players tackled this area by dividing into two groups of four but cramming 8 players into one zone has the merit of making it easier for the party to heal and attack. The problem, though, is that it makes positioning difficult. To help with this there's been a waymark spreading around that was likely set with third-party tools that break the terms of the user agreement.
In FFXIV, waymarks cannot be placed or removed during combat. If you want to place a waymark as a guide, it has to be done before combat and is limited to the field. In the above situation in Abyssos: The Seventh Circle (Savage), the field often changes during the fight. Waymarks typically can't be placed in areas that won't still be there at the beginning of a fight. For this reason, the rule bypassing waymark look to be suspended in midair before the fighting begins.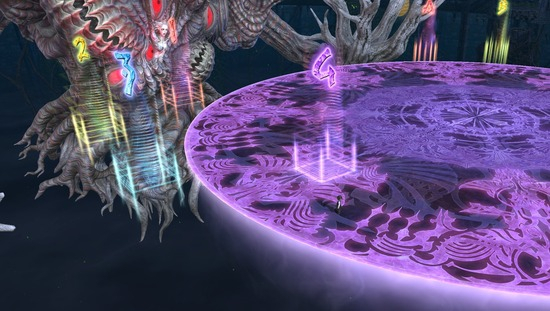 There's a high chance that this waymark that has been spreading around makes use of third-party tools that go against the game's user agreement. While players in Japan are using the term "rule bypassing," use of external tools and add-ons is prohibited in FFXIV, so "illegal waymark" might be a more apt term.
In addition, FFXIV allows players to save other players' waymarks and use them as their own when tackling the same content which is likely one of the factors behind the waymark in question spreading. A random player places the marker which then gets copied and used again by players that were in that party only to be copied by a new group of players multiplying the spread. There may even be players who don't realize the waymark was placed through illegitimate means when copying it. There have even been instances of players recruiting others to their party for the purpose of distributing the waymark, so its proliferation seems unstoppable at this point.
Players used to be able to freely place waymarks during combat, but the feature was removed with patch 5.2 in February of 2020. The change was made due to players using illegal tools that allowed them to instantly move waymarks, and they were even being spotted in videos put out by raid race teams which drew criticism.
But when patch 5.2 took away the ability to freely move waymarks, it added the functionality to save them, though more than a few players are of the opinion that this change limits the strategy of high-level raids. This rule bypassing waymark may also be seen as a misuse of the waymark feature which could once again bring about changes that inconvenience players.
Worst case scenario, using a waymark placed by third-party tools that are against the rules could lead to your account being banned. If you see a waymark floating in midair, don't save it. And if possible, try to tackle the game's content without using such waymarks.
© SQUARE ENIX CO., LTD. All Rights Reserved.



Written by. Nick Mosier based on the original Japanese article (original article's publication date: 2022-09-05 17:51 JST)