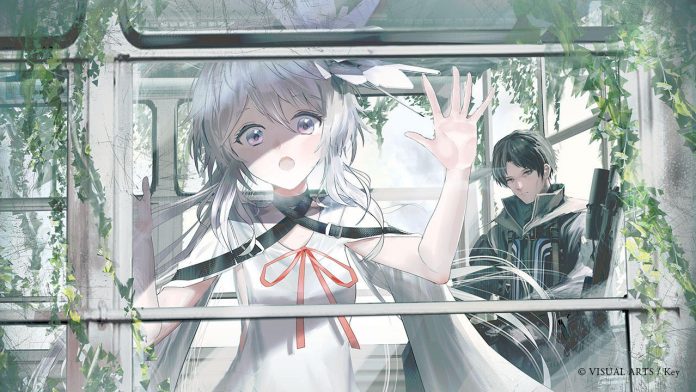 Written by. Nick Mosier based on the original Japanese article (original article's publication date: 2022-05-13 20:58 JST)

Visual Arts' game brand Key has announced that Stella of the End will release in Japan on September 30, 2022, for PC. The game was originally scheduled to release in the spring of this year but was delayed in order to further brush up the quality.
Stella of the End is a kinetic visual novel with a scenario by Romeo Tanaka and illustrations by SWAV. In the game, the Earth is no longer run by humans, but rather machines that have brought about singularity, leaving humans to fight for survival.
The game's main character is a young man that works as a trafficker. One day, he receives a request to deliver an android girl that is unaffected by the singularity. With this request the two depart on a journey. The story shows the realist trafficker and the android that wishes to become a human running from marauders and escaping dangerous machine-controlled territory on their journey.
The official website for Stella of the End can be found here. The digital version of the game will cost 1,980 yen (roughly $16) with a limited starter edition of the game that includes an artbook and soundtrack costing 5,280 yen (roughly $40). There will also be a more extravagant deluxe edition that includes a B2 wall banner and an epilogue book for 10,780 yen (roughly $83).