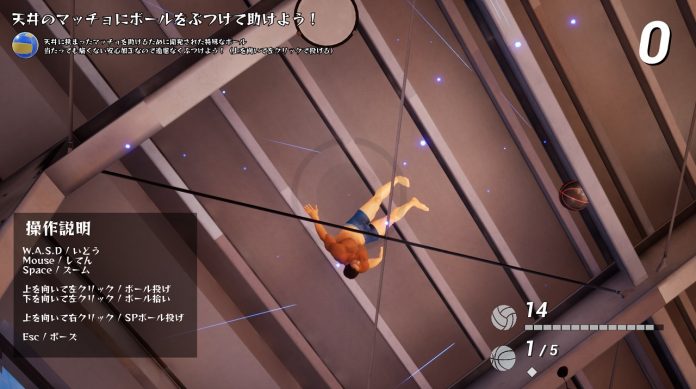 Written by. Ryuki Ishii based on the original Japanese article (original article's publication date: 2022-05-06 19:27 JST)

Japanese solo game developer Tadasumen has released a PC game called Taiikukan no Tenjyou ni hasamatta macho o tasukeru game (体育館の天井に挟まったマッチョを助けるゲーム), which can be translated to something like "a game about saving macho men stuck in the ceiling of a school gym." You can download the game for free from the Japanese marketplace BOOTH (a pixiv account is required), with an option to pay 300 yen (around $2.30) as a tip to support the developer.

The game takes place in a Japanese school gym with half-naked macho men stuck in the ceiling for reasons unknown. Your goal is to save them by throwing volleyball-shaped macho rescue balls at them so that they would drop from the ceiling. You might have experienced a situation in your school days where a ball would get stuck in the ceiling of a gym. Think of this game as an extreme version of that.
You can freely walk around the gym in first-person perspective and throw balls from any position. Normal rescue balls can be replenished from a basket in the center of the gym, and special explosive balls can be obtained by making them drop from the ceiling. There are different variations of machos; for example, saving a gaming macho will change the background music and the color of the rescue balls, adding an extra flair to the experience.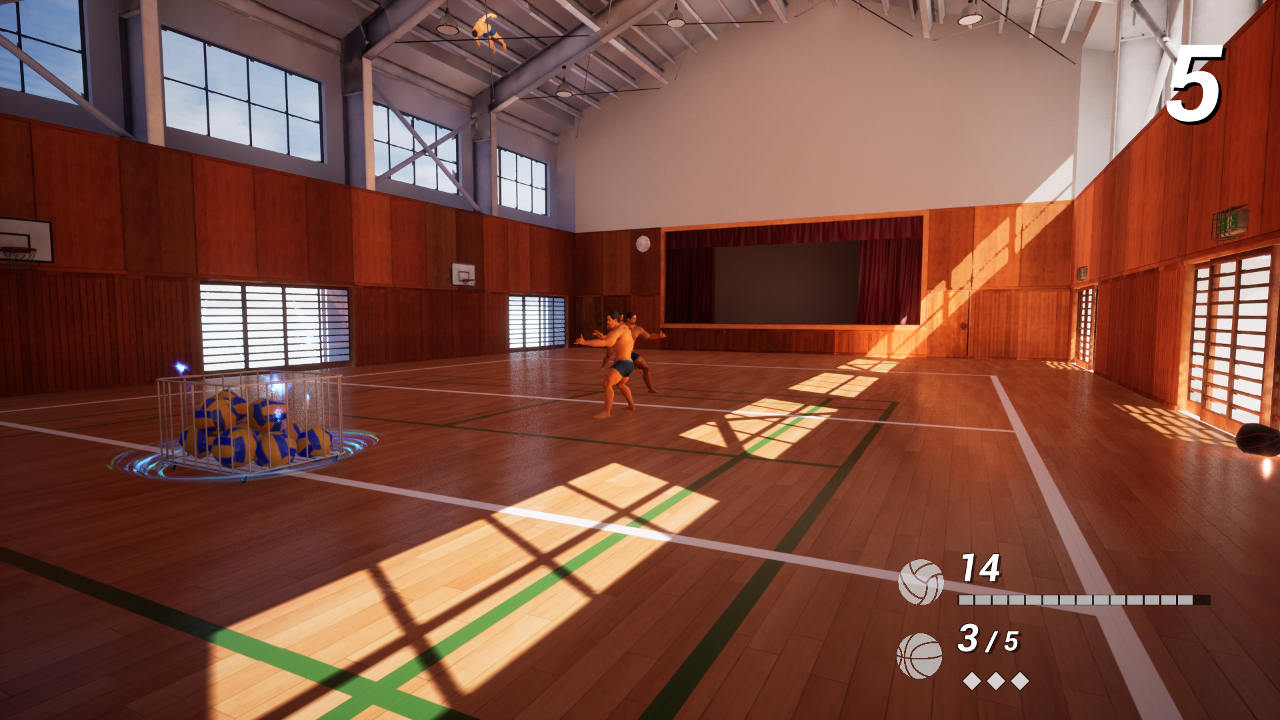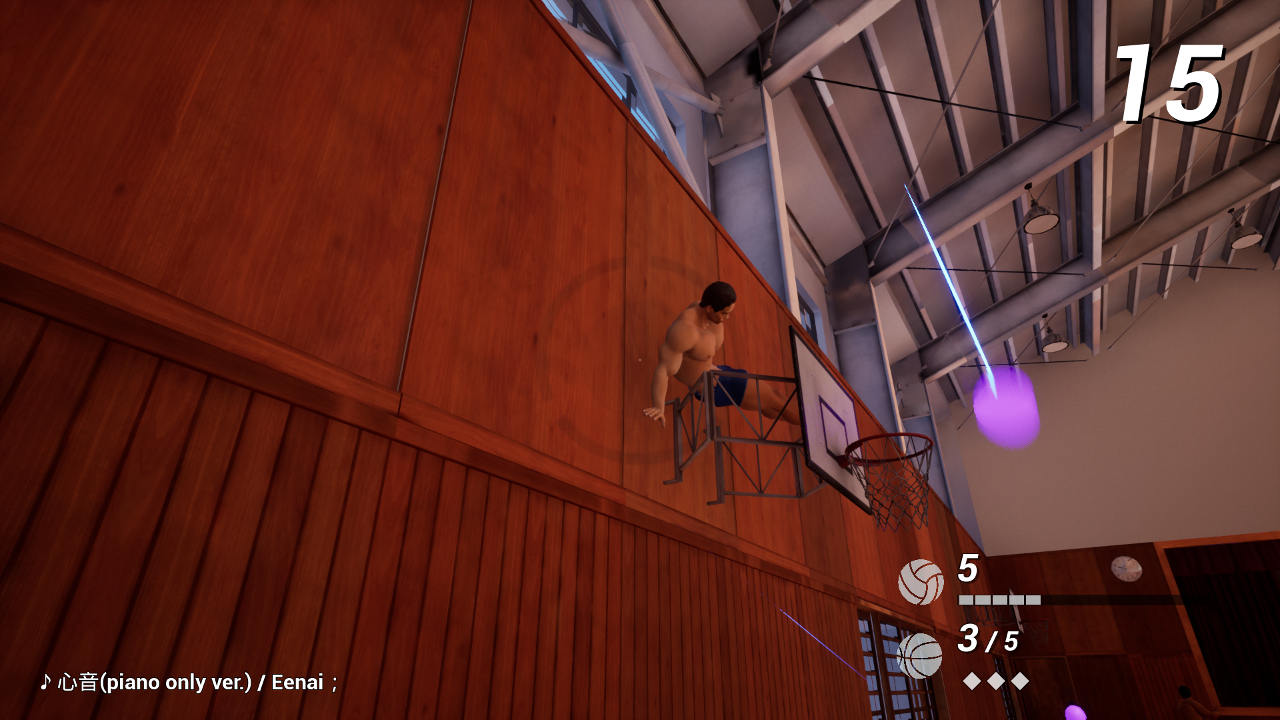 The game includes two game modes: Rescue and Challenge. The Rescue mode allows you to save the macho men at your own pace, while the Challenge mode tasks you to save 10 of them as fast as you can. You can reach the ending by meeting certain conditions, such as saving a rare color variant of machos.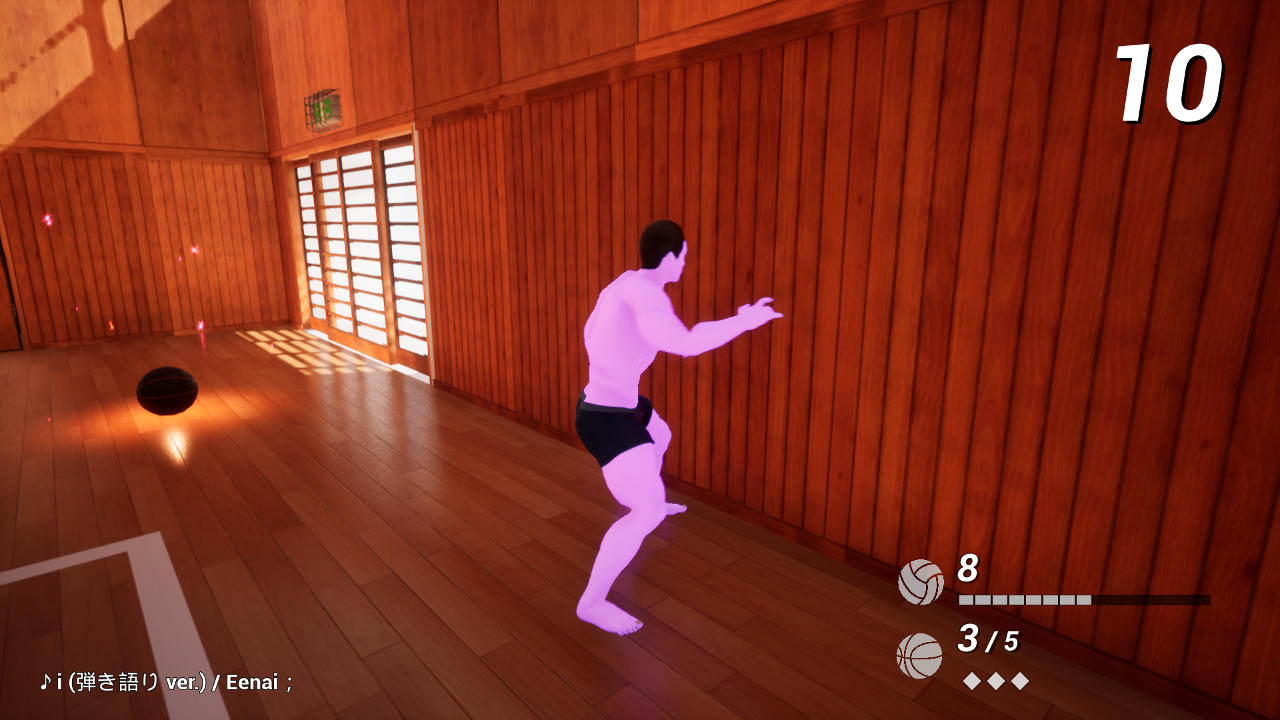 The developer Tadasumen is known in Japan for titles such as PIEN, PAON – BEYOND THE PIEN, Nagashi Macho Men, and Sorosoro sushi o tabenaito shinuze! which is a 3D action game about a man who has to eat sushi in order to stay alive (related article). They are currently making a comedic first-person horror game about exorcising demons by swinging glow sticks in sync with the music (related article).
Taiikukan no Tenjyou ni hasamatta macho o tasukeru game can be found here on BOOTH. The game only supports Japanese.