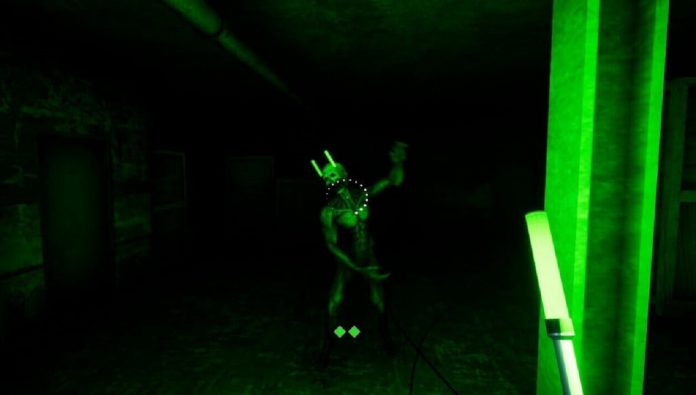 Japanese solo game developer Tadasumen has launched a crowdfunding campaign for their upcoming horror game. It's a first-person horror game where you swing a glow stick and switch its color in time with the music to cheer up demons, like a dancing otaku at an idol concert. The game is still in the early stages of development, but the core concept sounds promising enough.

Tadasumen is known for creating humorous free games such as PIEN-ぴえん–, PAON-ぱおん– BEYOND THE PIEN, and the recently released sushi-eating action game Sorosoro sushi o tabenaito shinuze! which could be translated to something like, "I'm going to die if I don't eat sushi soon!" The last of which left a strong impression on Japanese gamers with its absurd concept, bizarre dialog, and surprisingly well-crafted gameplay (related article).

Tadasumen's newest project gained momentum after their announcement on Twitter went viral a few weeks ago, receiving around 20,000 retweets as of this writing.
The new project is scheduled to release in mid-2022 as a free game on PC. And after that, Tadasumen plans to release the game on consoles for the first time in their career. Although the game's name and most of its content is still undecided, Tadasumen promises to deliver a new horror experience that is both crazy and fun.
The crowdfunding campaign to cover development costs started on January 20. It's going well so far, with 57 backers pledging 761,900 yen (around $6,600) in total. Backer rewards include one-week early access, a backers-only spinoff game, getting your name in the credits, and more. The Super Sponsor Course, which includes all the backer rewards, is already out of stock.
The campaign is set as All-In, which means even if the campaign doesn't reach its 1 million yen (around $9,000) goal, backers can still receive their rewards. In that case, Tadasumen will work part-time to cover the remaining expenses.
The crowdfunding campaign page can be found here on Campfire.