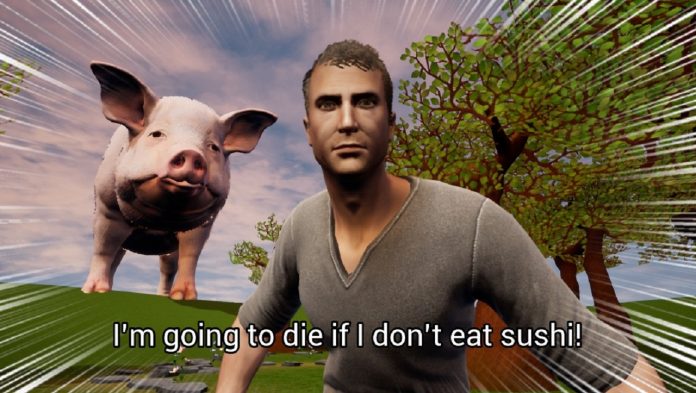 Written by. Ryuki Ishii based on the original Japanese article (original article's publication date: 2022-01-14 20:44 JST)

A Japanese game developer named Tadasumen released their newest title Sorosoro sushi o tabenaito shinuze! (そろそろ寿司を食べないと死ぬぜ!) as a free game on December 29 for PC (Windows) with a download link on their website, kusoi.site. The title can be translated to something like, "I'm going to die if I don't eat sushi soon!" It only supports Japanese at the moment, but English support (machine translation) is coming soon.

It's a 3D action game, and as the title suggests, the protagonist has to eat sushi or else he dies. He must run around the stage and eat all the sushi you can find. While the graphics look cheap, the game is fully voiced and filled with sushi loving lines such as "Sushi! So good!"
The gameplay is simple. You must complete objectives such as "eat a certain amount of sushi" or "eat specific kind of sushi certain times" before the sushi gauge display at the top of the screen runs out. Each time you clear a stage, you accumulate Sushi Souls, which unlocks new stages. A variety of sushi in a variety of locations.
While it looks to be a half-baked joke game at first glance, it is capturing the hearts of Japanese gamers with its absurdity, surprisingly well-crafted game system, and well-thought-out difficulty balance. There are also cut scenes that convey the story and motivate you to eat more sushi. Despite the absurd and bizarre concept, you can tell the developer put effort into making the game enjoyable.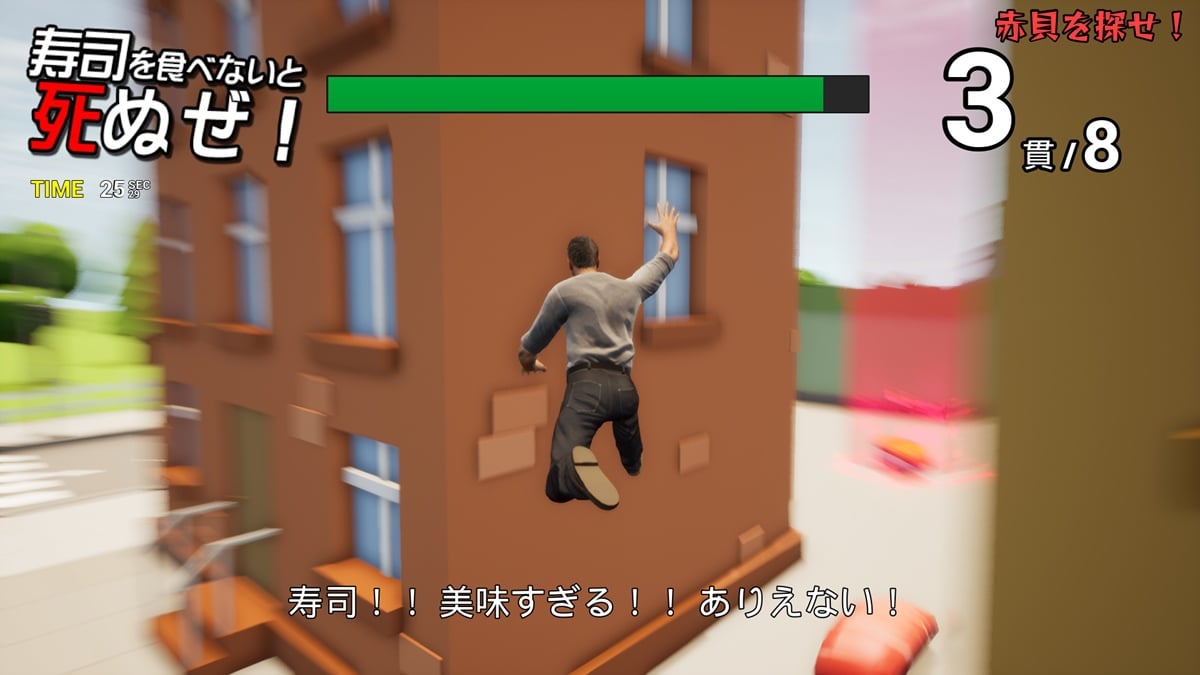 Sorosoro sushi o tabenaito shinuze! went viral in Japan after a Twitter user named Rods, who also contributes to the Japanese edition of our website AUTOMATON, posted gameplay footage on Twitter on January 8. The tweet garnered over 26,000 retweets as of this writing.

Nikaidorenji, a Japanese indie game developer, also praised the game's quality, mentioning that the gameplay loop is well designed and balanced. The core gameplay concept of "eat sushi or die" is well-realized, and UI is actually superb and well-considered.
Sorosoro sushi o tabenaito shinuze! was developed by Tadasumen. Their previous titles include PIEN-ぴえん– and PAON-ぱおん– BEYOND THE PIEN, scary but actually not so scary horror games (related article), and Nagashi Macho Men, a play on words with "men" meaning "noodle" in Japanese. Many of their works are unique and often become a topic of conversation on social media in Japan.
Tadasumen is currently working on a new horror game and we can't wait to see what kind of bizarre concept they come up with next.

Sorosoro sushi o tabenaito shinuze! is available as a free download. English support (machine translation) is coming soon.