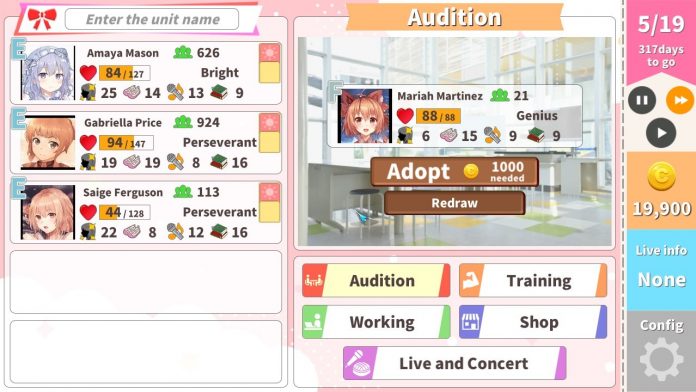 Written by. Nick Mosier based on the original Japanese article (original article's publication date: 2022-01-07 12:00 JST)

Japanese indie game development team EXAMGAMES has released an idol raising idle game called Idling Idol on Steam. The game supports English and Japanese, and is available for $5.99, with a launch discount of 15% during its first week.
In Idling Idol, idols with varying looks, personalities, and abilities are generated at random when the player presses the Audition button. Players will form a group from the idols they like and work as the group's producer to raise them into top tier idols.
The ultimate goal is to hold a "Dome Live" concert. With that in mind, your group will work together to gather fans and earn the funds required to keep working and growing. It looks like job duties will also include recording new songs and even performing on the street. The money earned from these performances can be used to buy recovery items and to upgrade your training facility. It's also important to let the idols rest when they're tired.





When you save up the funds, your group can hold a concert. Depending on the number of fans you've gathered up to that point, the number of concert attendees and the profits you earn will vary. The training of your idol group concludes after one year in-game, and the money and fans you've gathered will determine your Idol Rank. After that, it's on to training the next up and coming group.
One cycle through the game is short, and there are numerous random elements tied in, so the replay value seems high. The development team recommends the game for those that like idle and clicker games, resource management games, and cute idols. Furthermore, illustrator Kisasage handled the game's character design, and VTuber Cecil Tsukishiro was a part of the project as a voice actor.