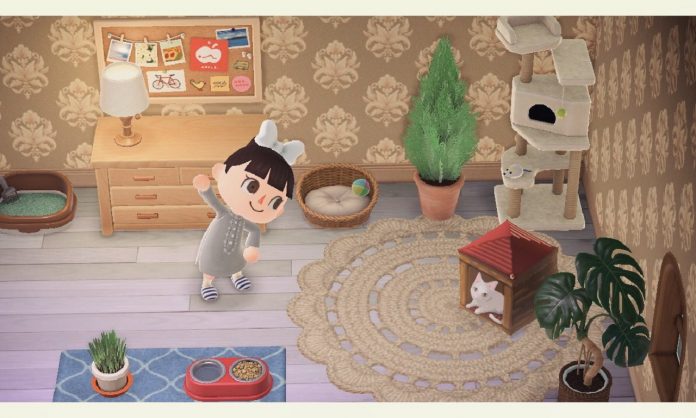 Publication date of the original Japanese article: 2021-03-23 18:47 (JST)
Translated by. Ari Clark

On March 18, the Ver.1.9.0 free update was released for Animal Crossing: New Horizons. In addition to official support for the Sanrio Collaboration Pack of amiibo cards, the update added new villagers and special themed items. It also expanded the custom design feature, a move that has attracted a lot of attention.
Upgrading to the Custom Design Pro Editor + app using the Nook Stop will equip players with four new PRO design items: the umbrella, the uchiwa fan, the small flag, and the photo standee. Among these new items, the hottest topic of conversation right now is the variety of custom items that can be made using the umbrella.
What touched off this sensation was a custom item created by Maya, a Japanese artist. First, look closely and see if you can figure out where the custom design was used. Is it the cat tower in the living room, or the litterbox, or maybe the pet food bowl or the cat grass? Of course, it's the primary piece of décor, the little pet house with a kitty in it, set up in the corner of the room…believe it or not.
Although a Puppy Plushie is available in AC:NH, there's no equivalent cat item to decorate with. And so, Maya painted her masterpiece. Her kitty house is a custom item that involves an optical illusion.


At a glance, it looks just like a little cube-shaped house sitting on the floor, but it's actually an optical illusion painted on a flat surface. It's a piece of trompe l'oeil art that uses the hexagonal canvas of the umbrella to create the effect of a three-dimensional picture. The resulting work can be placed on the floor as a decoration, as well as carried around for a stroll like an ordinary umbrella.
When the camera is angled perfectly straight-on to view the pattern on the umbrella, it looks just like you've really set up a three-dimensional pet house in your room. As an additional ingenious touch, it adds yet another gimmick by even making it look like there's a kitty in the house. With its interweaving of "convex" and "concave" optical illusions, this custom item is an incredibly polished work of art.
According to a statement we were able to get from the artist, Maya, she had already been using umbrellas as interior décor items on her island a lot, which is what sparked this idea and led her to try making an umbrella specifically intended to be a decoration. It came to her in a flash that the hexagonal shape of the umbrella would make a perfect cube-shaped box, and soon the above-mentioned item was complete.
Maya has been expanding the genre of illusory Animal Crossing items with her work since last April, with her custom flooring designs that create the illusion of a loft (see related link, in Japanese). With a year's worth of accumulated design know-how under her belt, she's used this new canvas to create a real piece de resistance.
Thanks to the seeds sown by Maya's work, a whole new genre of optical-illusion umbrellas has burst into flower in AC:NH. American user DokiBunny has unveiled a series of items that combine multiple elements from the newest update: trompe l'oeil umbrella art and the Sanrio theme. Some of the designs that she published are cute variations on the theme, which make it look like Sanrio characters like Kuromi or Pompompurin are hanging out in their own little houses.
On the other hand, another design, which simulates an aquarium for Keroppi the frog, takes the idea a step further in an inspiring way. This item shows that artists can create pretty much any cube-shaped design they want by building on the "pet house" template provided by Maya. Who knows how the category of optical-illusion umbrellas will continue to develop and grow?
For example, speaking of cubes, think of all the classic consoles that are so dearly beloved to gamers. Users on Reddit have conjured the GameCube into existence in AC:NH using this cube optical illusion. By setting it up next to a Nintendo Switch, you can create a heartwarming display of gaming consoles both new and old.
And the places where decorative umbrellas are flourishing aren't limited to the indoors. Some users have replicated the look of a cube-shaped trash bin by setting up decorative umbrellas outdoors. In one amusing example, Japanese custom-design artist Yukko drew plenty of attention with her custom design. This remarkable item looks like a cardboard box, but instead of a stray cat, it has Dom the sheep inside. The resulting effect, as if he'd been abandoned by the side of the road, is guaranteed to make passersby instinctively stop and stare.

An almost infinite amount of trompe l'oeil art has been created for Animal Crossing: New Horizons using all sorts of optical illusions and techniques, including perspective illusions and floating island designs. Inspired by the update, custom designers from all over the world are producing a plethora of ever-more surprising designs.
It may have been more than a year since its release, but it seems like we can look forward to Animal Crossings: New Horizons continuing to evolve and grow for a long, long time.