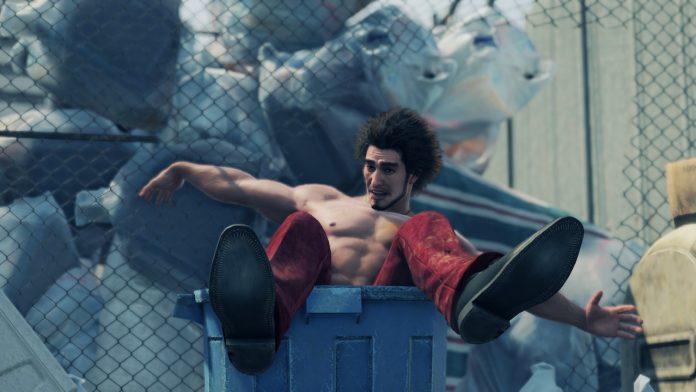 Publication date of the original Japanese article: 2021-03-30 18:41 (JST)
Translated by. Sachi Salehi
On March 29, Pavel Djundik revealed that the page for Yakuza: Like a Dragon had been removed from the unofficial steam database he runs, SteamDB. Though this was done as response to a takedown notice from lawyers at Sega, who sell the title in question, Djundik has made his dissatisfaction clear.


SteamDB is an unofficial website which compiles information on the various titles available on Steam. Users are able to view information ranging from basic details to update history of the store page, prices in different countries and regions, as well as the number of concurrent players over time. All this information is publicly available from Steam; SteamDB collects this information through external tools, mirroring it in their database.
In the case of the removed page for Yakuza: Like a Dragon, the site was contacted by lawyers from Sega requesting that the page be removed. They were told that the reason for this was that the title in question was being distributed (illegally) through SteamDB.
However, Pavel Djundik objected to these claims. He describes how on SteamDB, games cannot be downloaded, keys cannot be purchased, nor are there any links to such sites available, and that SteamDB does not support piracy. Despite this, the lawyers did not respond to Djundik and sent a similar notice to the server host.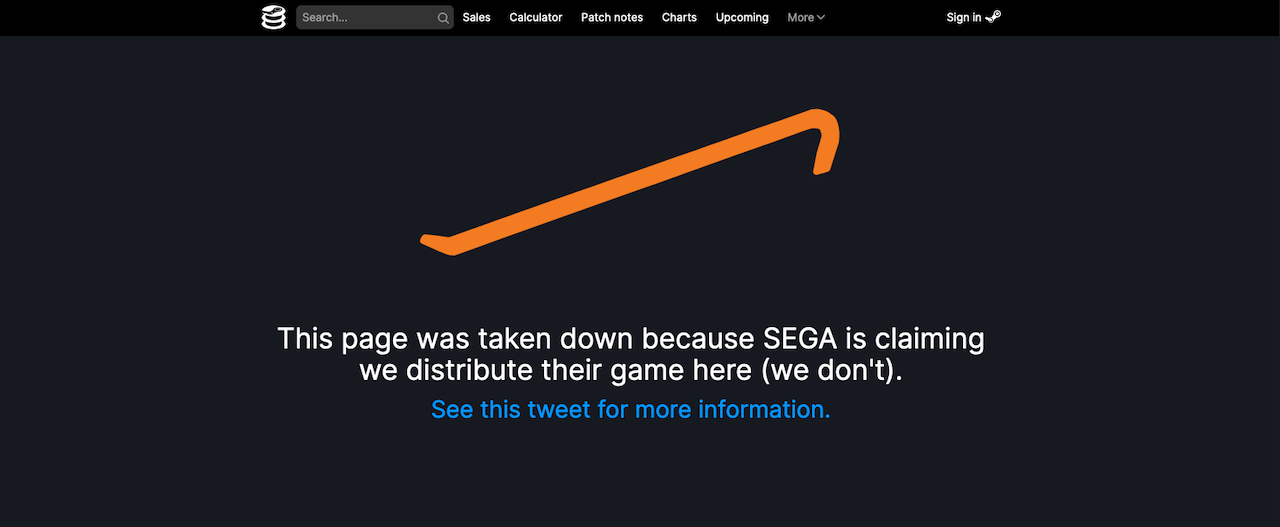 As a matter of fact, SteamDB does not directly distribute any games. Users of the site are able to purchase the games they view legally through links to Steam store pages. It was unclear as to why the lawyers at Sega believed that Yakuza: Like a Dragon was being distributed illegally. Perhaps the link titled "Install" that opens the user's Steam client to direct them to the game's page led to a misunderstanding. Whatever the case may have been, Djundik had no choice but to take down the page as the Sega lawyers had sent the notice following DMCA (Digital Millennium Copyright Act) stipulations.
According to Djundik, SteamDB receives a DMCA notice at least once a year. However, this time was different. Though previous cases were always resolved swiftly, the rebuttal explaining that it was just a misunderstanding was not even heard, leaving him uneased. Djundik reached out to fans on social media, attempting to find a way to get in contact with Sega.

On March 30, after a day had passed, Djundik has been successful in getting in contact with a representative from Sega of America. Sega had responded that they would be investigating this issue. Djundik expressed gratitude to his fans who showed their support, as the call for help on social media ended up leading to getting in touch with Sega.
On the following day of March 31, it was reported that the issue had been resolved, and the SteamDB page for Yakuza: Like a Dragon has now returned. The following comment from Sega is posted on the page:
"Earlier this week, one of our games was incorrectly flagged on SteamDB. We utilize anti-piracy software to protect our games at a large scale, but sometimes it makes mistakes. SEGA will continue to fine-tune these systems to avoid this in the future and we appreciate SteamDB cooperating with us to resolve the issue quickly."