Publication date of the original Japanese article: 2021-10-28 23:00 (JST)
Translated by. Ryuki Ishii

Publisher PLAYISM has announced the release date of Bright Memory: Infinite. It will come out for PC (via Steam/GOG.com) on November 11 (PST). Xbox Series X|S version will launch at a later date. The price is set at $19.99, but those who own Bright Memory: Episode 1 will receive a "100% off" discount for the game, so you can play it for no additional cost.
* Disclosure: The publisher PLAYISM is part of Active Gaming Media, which is also the owner of this website.
Bright Memory: Infinite is an updated, complete version of Bright Memory released back in 2019 by FYQD Studio. Here's the store description via Steam:
"Bright Memory: Infinite is an all-new lightning-fast fusion of the FPS and action genres, created by FYQD-Studio. Combine a wide variety of skills and abilities to unleash dazzling combo attacks.

Bright Memory: Infinite is set in a sprawling, futuristic metropolis in the year 2036. A strange phenomenon for which scientists can find no explanation has occurred in the skies around the world. The Supernatural Science Research Organization (SRO) has sent agents out to various regions to investigate this phenomenon. It is soon discovered that these strange occurrences are connected to an archaic mystery – an as-of-yet unknown history of two worlds, about to come to light…"

The game features a multitude of ways to tackle combat, with the combination of gunplay and swordplay. There are various types of ammunition available for firearms including incendiary, sticky, reflective, and tracking ammo. Switch between them to take out the enemies effectively. Melee weapons, on the other hand, can be used as a shield as well.
The protagonist Shelia can also use special abilities and skills such as levitating enemies with an electromagnetic pulse or pulling them in with a grappling hook. Use them to perform dazzling combos.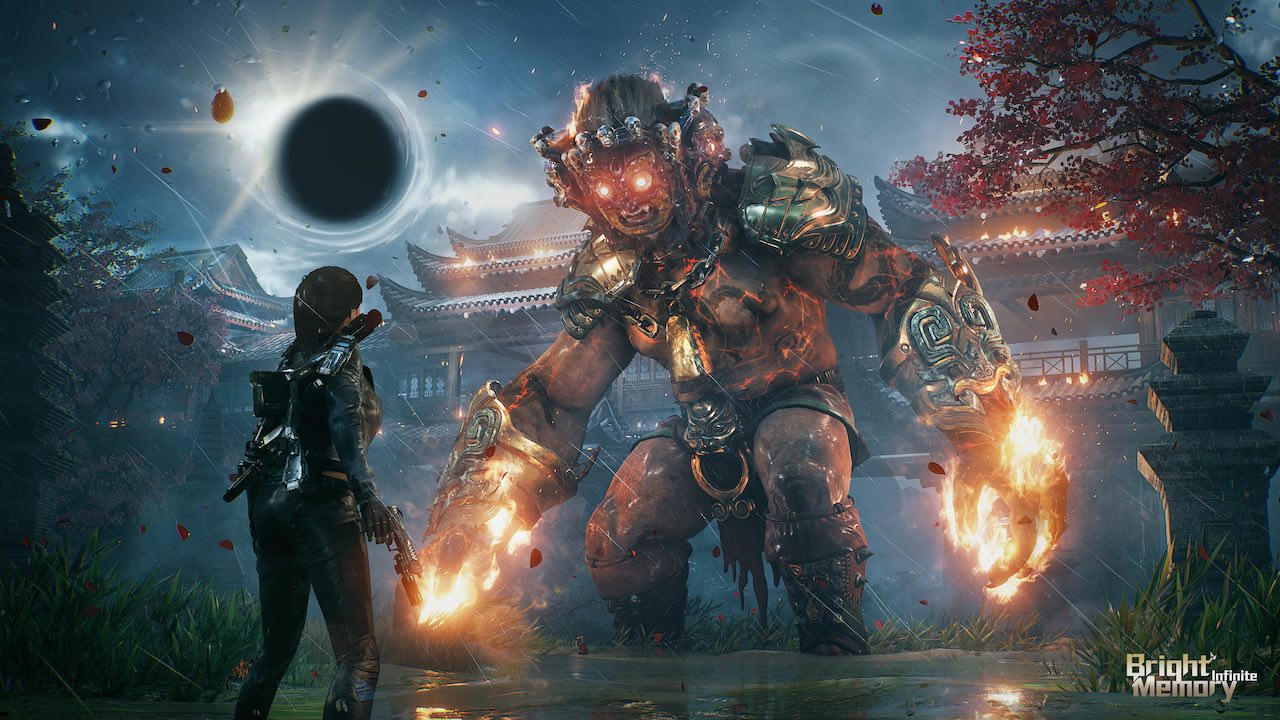 In addition to the base game, a soundtrack and cosmetic DLCs will be available for purchase on day one. The soundtrack includes music composed by Emperia Sound and Music, known for their previous work on God of War III and Resident Evil 2 (2019). The cosmetics include skins for the protagonist Shelia and her weapons.


The graphics have been upgraded thanks to the full cooperation of NVIDIA. The game will support NVIDIA DLSS, as well as RT Reflections, RT Global Illumination, RT Ambient Occlusion, RT Shadow, and RT Caustics. It also utilizes NVIDIA Reflex to reduce system latency, enhancing your overall game experience.
The benchmark software Bright Memory Infinite Ray Tracing Benchmark is currently available via Steam. The benchmark software requires NVIDIA GeForce RTX 2060 or higher ray tracing capable GPU to run.
The game is being developed by Zeng Xian Cheng's FYQD Studio, and according to Cheng, these impressive visuals and gameplay are mostly the work of Cheng alone. He does use store assets and outsource some of the art/character work, but other than that, it's pretty much a solo endeavor. Cheng mentioned that Unreal Engine's Blueprint visual scripting was a big help, since he's a 3D artist and not a programmer.
Bright Memory: Infinite is set to launch on November 11 for PC (via Steam/GOG.com). You can get the game for free if you own Bright Memory. Check out the respective store page for more information.