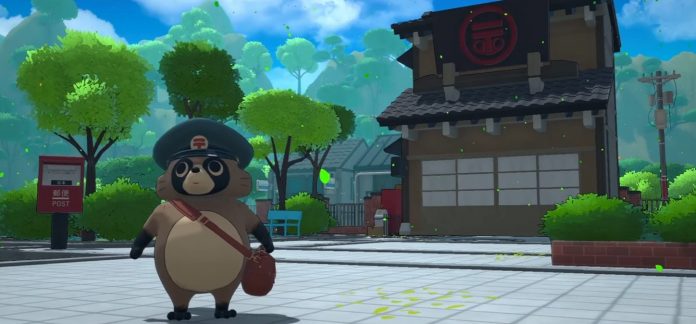 Indie game studio Denkiworks announced their upcoming game titled Project Tanuki on July 11. The main character of the game is none other than a Tanuki post officer, which seems to have caught the hearts of Japanese users on Twitter for his cuteness.
The Project Tanuki trailer shows the smiling Tanuki donning his mailman gear against the backdrop of a peaceful suburban village. Dave Oshry of New Blood Interactive was the first to play the game on Steam Deck and posted a short clip of the game on his Twitter account.
In the video, the Tanuki mailman is seen riding his bicycle from a third-person perspective, performing tricks and acrobatics using ramps while riding along the road. According to an interview with TechRadar, the game revolves around the Tanuki delivering parcels to residents on his bicycle during the hot summer.
In response to the article on Tanuki Project published on our Japanese site, Japanese Twitter has blown up with affection for the cute Tanuki character and wholesome vibes of the upcoming game, with users saying, "I have to play this" and "This was made for me."
Liam Edwards, a member of the development team, picked up on the hype and expressed his appreciation for the positive comments.
A couple of users pointed out that a certain element of the Tanuki's character design differs from the typical Japanese tanuki – the tail. As opposed to regular racoons, Japanese tanuki apparently do not have striped tails. However, according to a Tweet by Denkiworks, the stripes on their Tanuki mailman's tail are meant to represent the Japanese postal mark "〒,"  making this an intentional decision by the developers rather than an inaccuracy. 
Denkiworks is a start-up studio based in Kyoto, Japan, consisting of members Liam Edwards, Taku Arioka, and Jan de Graaf, who had previously worked on PixelJunk Scrappers and other titles as employees of Q-Games. After many twists and turns, the three have reunited to create a new game. Project Tanuki represents a love letter to the city of Kyoto, with which they all have a close connection. For more information on how the project came to be, please refer to the aforementioned interview with TechRadar.
The game still appears to be in its prototype phase. For those interested, it would be a good idea to follow Denkiworks' Twitter account and keep track of updates.




Written by. Amber V based on the original Japanese article (original article's publication date: 2023-07-12 11:44 JST)