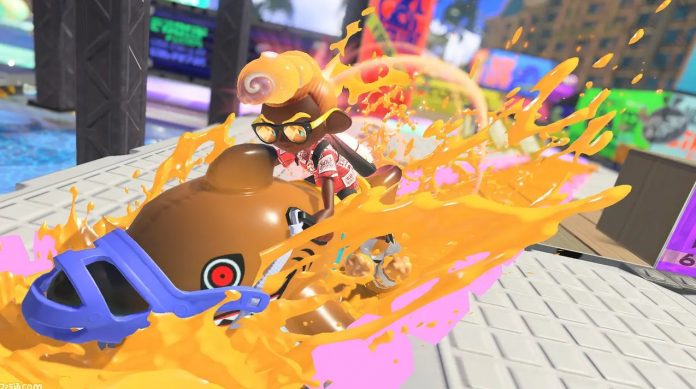 Nintendo has announced Splatoon 3's Ver. 2.1.0 update for release on January 17, along with patch notes for the update.
Ver. 2.1.0 brings buffs for a number of weapons to the game. Especially the Dynamo Roller. With this latest update, the severity of its damage falloff has been reduced so, "You can now cause 50.0 damage / 100.0 damage from farther away than before."
One nerf that stands out comes to the Sloshing Machine. The amount of ink it uses has been slightly increased, as well as the points required to use its special. The Custom Splattershot Jr. and Splatana Wiper had the number of points required to use their specials increased as well.
According to the patch notes, "A lot of the adjustments to main weapons were made to lessen the impact on some of the weapons from Splatoon 2 where the increased performance of the gear ability was negated in Splatoon 3."
They also state, "We increased the amount needed to fill special gauges for some weapons and within that group curtailed somewhat the tactic of using sub weapons and special weapons to attack from a distance."
Other changes include the Angle Shooter getting buffed. The Angle Shooter is a new addition in Splatoon 3 that's difficult to use and has become something of a meme within the community because of how weak it is. With Ver. 2.1.0, it isn't only getting a damage increase, but the radius of ink coverage when hitting opponents and terrain has increased as well.
Some specials were also modified, likely with the intention of shoring up some of their weaknesses. With the Tacticooler, its "Quick Respawn and Special Saver will no longer be negated by gear abilities Respawn Punisher and Haunt."
A change has also been made to the Reefslider which left players totally exposed after use. Now, the window of invulnerability from when it explodes to when you're able to move again has been adjusted to roughly 28/60 of a second. The damage of the Triple Inkstrike has also been increased by roughly 50%, likely giving a big boost to its usability.
The Crab Tank has been changed so that its duration decreases when the Special Power Up gear ability isn't equipped and increases when it is. This change lets players get the most out of the Crab Tank by effectively using gear abilities.
As for the Ninja Squid gear ability, the following changes have been made to mitigate "the issue where players would lose sight of each other when shooting at each other from a relatively short distance" while also "intentionally maintaining the way to approach opponents with longer ranges."
– Ink splash will no longer be invisible for 30/60 of a second immediately after transforming into kid form.

– Using the gear ability Swim Speed Up at the same time will no longer result in one of these abilities being cancelled.

– While using Ninja Squid, swim speed will continue to be reduced by a fixed amount.
It's hard to understand how these changes will impact the game just by reading their descriptions in the patch notes, so players will likely need to jump in and see for themselves.
The patch notes for Ver. 2.1.0 can be found here. As for the next update, Nintendo states that "The next update will focus on new features and weapon balance for the start of the new season in March. The update is planned for the end of the current season."

Related Articles:
– Splatoon 3's latest update makes the Tacticooler a new favorite in Japan
– Splatoon 3: Triple Inkstrike buff might make it actually useful



Written by. Nick Mosier based on the original Japanese article (original article's publication date: 2023-01-17 10:47 JST)