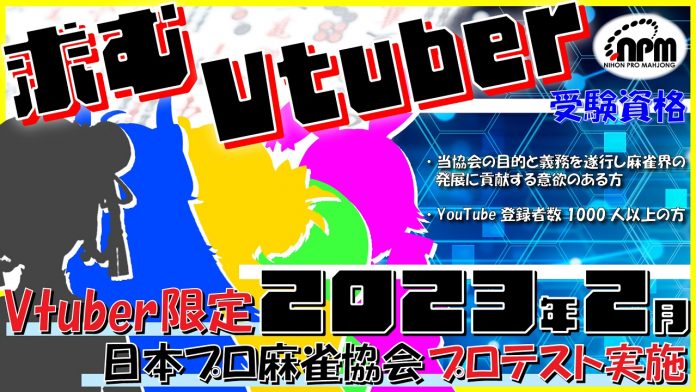 Original Japanese text written by. Ryuki Ishii
Translated by. Nick Mosier


The Nihon Pro Mahjong association will be holding a test specifically for VTubers in February of 2023, with those who pass being qualified as professional mahjong players.
The organization recently released details regarding who is eligible for the test. YouTube channels must have 1,000 or more subscribers and be applying for monetization. They must also share the organization's goal to contribute to and grow the game of Mahjong. In other words, you need to be somewhat established as a VTuber and be a serious mahjong player.
The organization's regular test requires test takers to show up at a venue, but since this is targeted at players active in the digital world, the written test and interview will be conducted online via Discord. VTubers that use voice changers can also apply.


In Japan, there are many VTubers who mainly focus on online mahjong including former professional players like Flare Shishigaya. Takaharu Ooi, a pro player and representative of the pro mahjong organization RMU, also often collaborates with VTubers. With the connection between VTubers and mahjong content firmly established, maybe it was only a matter of time before a special test for VTubers to go pro came along.
In Japan, there are numerous professional mahjong organizations, and each has their own rules, activities, and events. The VTuber test is being conducted by the Nihon Pro Mahjong association specifically. The organization is relatively new, being established in 2001, and is known for their collaboration with Sega NET Mahjong MJ.


Being a pro mahjong player does not include receiving a wage from the organization you are attached to. As the Nihon Pro Mahjong official FAQ explains, making a living on only tournament winnings is difficult. In addition to tournaments, players also work at mahjong parlors, tutor other players, appear on television, write books, or partake in other mahjong-related activities to make a living. Some have completely unrelated day jobs.
According to Nihon Pro Mahjong, VTubers who pass the test will be able to participate in training like regular members. There are also study sessions and lectures, and the organization is establishing a pro ranking system for VTubers. The system will be divided into around three levels depending on a player's test results and previous achievements. They also plan to hold league matches and tournaments in the game Mahjong Soul. From this, we can see that the organization is trying to provide a foothold for VTubers to develop their skills and start their careers as pro mahjong players.
For Nihon Pro Mahjong, bringing VTubers into the fold not only helps promote the organization but also helps spread the game. For VTubers, this allows them to stream and be active as pro mahjong VTubers. It sounds like a system that benefits both parties, but we'll have to wait until after the test to know for sure.