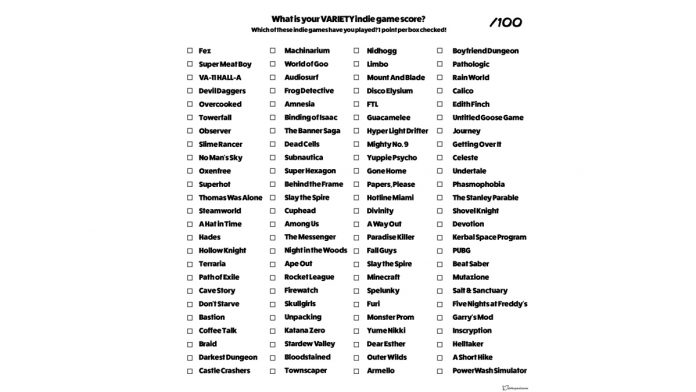 Written by. Marco Farinaccia based on the original Japanese article (original article's publication date: 2022-06-21 19:27 JST)


Indie game developer and publisher Akupara Games has released a checklist on Twitter asking, "What is your VARIETY indie game score?" Many people have filled out the list to show what kind of gamers they are.
Akupara Games has published titles such as the adventure game Mutazione and Rain World, a game which tells the story of a Slugcat struggling to survive. The list they created contains 100 popular indie games, and by checking off the titles that you have played, you'll get to find out your "indie gamer score."
This is not the first time that a list like this has been created, as Twitter user @ZweiDouble released something similar back in May. The list titled "What is your VARIETY gamer score?" contained bigger name titles like Mario Bros., Pokémon, and Final Fantasy, while the list from Akupara Games focuses solely on indie games.
The indie game list includes massive hits like UNDERTALE, Terraria, Stardew Valley, Among Us, Cave Story, and Fall Guys, as well as an assortment of fan favorites like FURI, Oxenfree, Path of Exile, Darkest Dungeon, Yume Nikki, and Va-11 Hall-A. There are also some titles whose indie status is maybe a little questionable these days, such as Minecraft and PUBG: BATTLEGROUNDS. Regardless, the list seems to be comprised of a large number of highly acclaimed games from a wide range of genres.
Akupara Games CEO David Logan revealed his personal score of 65/100, which was a little lower than the score of 71 from the person handling the company's Twitter account. Ben Kosmina of Fellow Traveller, the publisher behind games like Citizen Sleeper, Neo Cab, and more, also took the challenge. He achieved a score of 51 but stated, "Some of these I can't play due to the excessive indie strobing (I have epilepsy), or notorious difficulty that many games have embraced."
The list actually has a mistake in it: Slay the Spire appears twice. After this error was pointed out, Akupara Games replied, "definitely on purpose definitely wasnt a mistake definitely just love Slay the Spire THAT much." Alex Miller-Okiyama, developer of Rune Fencer Illya, seemed fine with this, stating, "I've absolutely played enough slay the spire for me to mark it two times." Many different people have similarly used the list to show love for their favorite indie games. There was even one player who checked off 97 titles.
This list might invite a little bragging from some gamers, but it has served different purposes for different people. Many have used the list to look back on some of their favorite titles while others have discovered new games that they haven't played before. The list can certainly be used as a way for people to discover indie games that they didn't know about.
For those interested in the list, you can find a template in the below tweet.