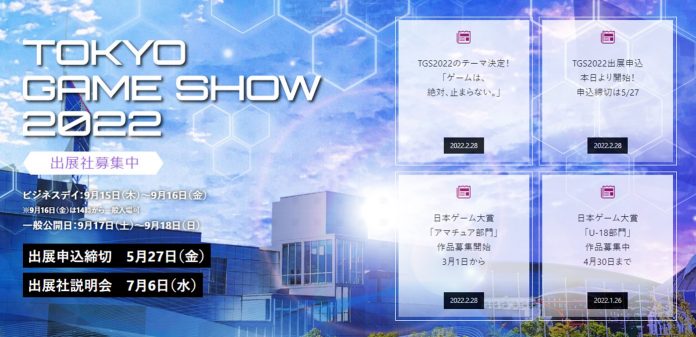 Written by. Ryuki Ishii based on the original Japanese article (original article's publication date: 2022-02-28 13:39 JST)

Computer Entertainment Supplier's Association (CESA) has announced the outline for the Tokyo Game Show 2022. It'll be an on-site event for the first time in three years.
The event will be held for four days from September 15 to 18 (JST) in Chiba prefecture at Makuhari Messe, with September 15 (Thu.) and 16 (Fri.) being business days and 17 (Sat.) and 18 (Sun.) being public days. However, the second business day will be open to the general public as well, from 2:00 p.m. (JST). As usual, the event is being organized by CESA, Nikkei Business Publications, and Dentsu.
Due to the COVID-19 situation, TGS had to make changes to the event format for the past couple of years. The event was held entirely online in 2020 and a hybrid of online and on-site in 2021, only allowing press outlets and influencers to come to the venue. And now, for the first time in three years, the on-site venue will be open to the general public.
That doesn't mean they are ending online programs, though. Simultaneous English interpretation will be available for most of the official online programs, in addition to providing an opportunity to try free demos, online tours, and a VR area (TGSVR2022). It looks to be a hybrid between an on-site event and online programs.
To prevent the spread of the COVID-19, TGS2022 will limit the number of visitors. In addition, due to the uncertainty of the vaccination status of the younger generation, no one who is or is under elementary school age will be allowed to enter the venue.
The TGS2022 official website can be found here.