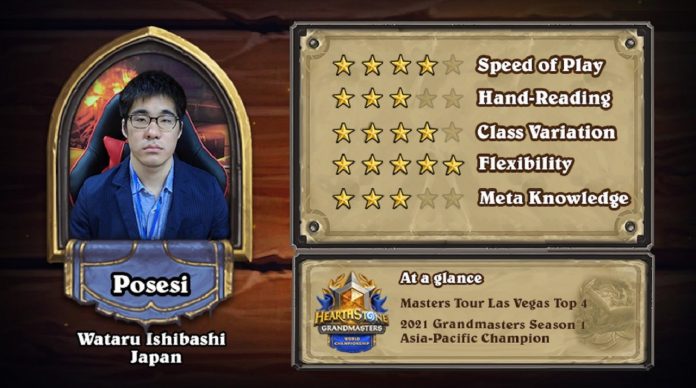 Written by. Ryuki Ishii based on the original Japanese article (original article's publication date: 2021-12-20 16:55 JST)

The Hearthstone 2021 World Championship took place on December 19-20, and Wataru "Posesi" Ishibashi took home the crown, earning the first-place prize of $200,000. The reigning champion Kenta "glory" Sato, who is also a Japanese player, finished second, taking home the second-place prize of $100,000.
Six players from Grandmasters and two players from the Chinese Gold Series participated in the event. Posesi earned a spot by winning Season 1 of the Asia-Pacific Grandmasters. Matches were played with the 4 Hero 1 Ban rule in place, where each player brings 4 decks, bans one of the opponent's decks, and competes in a best-of-five Conquest format.
This year's championship was full of highlights, with Kenta "glory" Sato attempting a first-ever two-peat and Gabriel "Gaby" Jeanne, a highly skilled player who was previously too young to participate in official matches, making a much-anticipated appearance.
Posesi faced the tournament favorite Gaby in the first round. Posesi's deck seemed disadvantageous against Gaby, but he was able to outplay Gaby and win the round 3-0.
Posesi struggled in the semi-final against Kyle "McBanterFace" Spigelman, but was saved by the opponent's mistake, and managed to win 3-2. The combo deck used in the current meta utilizes the same card for both offense and defense, and this match showed how one mistake can lead to a defeat when using the meta deck.
The Grand Final between Posesi and glory was also a close match, with Posesi barely topping glory by 3-2. Even the poker-faced Posesi couldn't help but throw his fists up in the air and smile when he secured the victory.

Hearthstone isn't particularly popular in Japan, but the competitive scene is pretty fierce and high level. I (the original author of this article) don't think it was a series of luck that a Japanese player took the crown two years in a row.
Starting next year, official tournaments for the Battlegrounds, a game mode that uses the auto-battler mechanic, will begin. There are some high-level players in Japan who are among the top rankers in overseas servers, so I have a high hope that Japanese players will compete well in major tournaments for Battlegrounds as well.