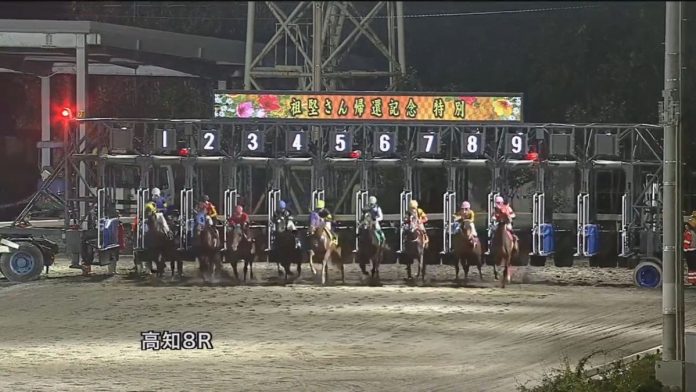 Publication date of the original Japanese article: 2021-11-22 14:25 (JST)
Translated by. Nick Mosier

On November 20, "The Soken's Return Commemoration Special" (祖堅さん帰還記念特別) was held at the Kochi Racecourse in Japan to celebrate Masayoshi Soken, Final Fantasy XIV's sound director, seeing his cancer go into remission. The race was sponsored and named by Japanese FFXIV player Inary Kinchuck and was broadcast live on YouTube to the amusement of many Warriors of Light.
The race was an individually sponsored event in honor of Masayoshi Soken, who continued his sound director duties from his hospital bed after being diagnosed with cancer last year. An individually sponsored race is where a person who pays a sponsorship fee gets to name a horse race. Among the numerous regional horse racing tracks in Japan, Kochi Racecourse is especially popular for "ita races" in celebration of idols and fictional characters and commentary from their announcer, Koji Hashiguchi.
When it was posted on horse racing news websites that The Soken's Return Commemoration Special was happening at the Kochi Racecourse, word quickly spread on social media (related article).
When the corral was being shown, even Soken made a tweet in reference to the race. The commentators on Kochi Racecourse's live broadcast, which gives betting predictions and shows the race, reacted to the tweet. Race reporter Yoko Oe came across the tweet during the broadcast and said, "Let's retweet this!" while retweeting it from her personal account.
Comments from FFXIV players could be seen saying this was their first time watching horse racing, which the commentators picked up on as they carefully explained their predictions.
Before the race began, a message from the race's sponsor was read, along with a comment from Hashiguchi, the announcer, saying, "After facing the pain and worry of your hospital stay, congratulations on your return." As a staple of the Kochi Racecourse, many fans were likely looking forward to Hashiguchi's words.
Hashiguchi ended with, "This race is brought to you in cooperation with the Warriors of Light who stand against the Final Days," and is reminiscent of FFXIV: Endwalker, which is launching on December 7.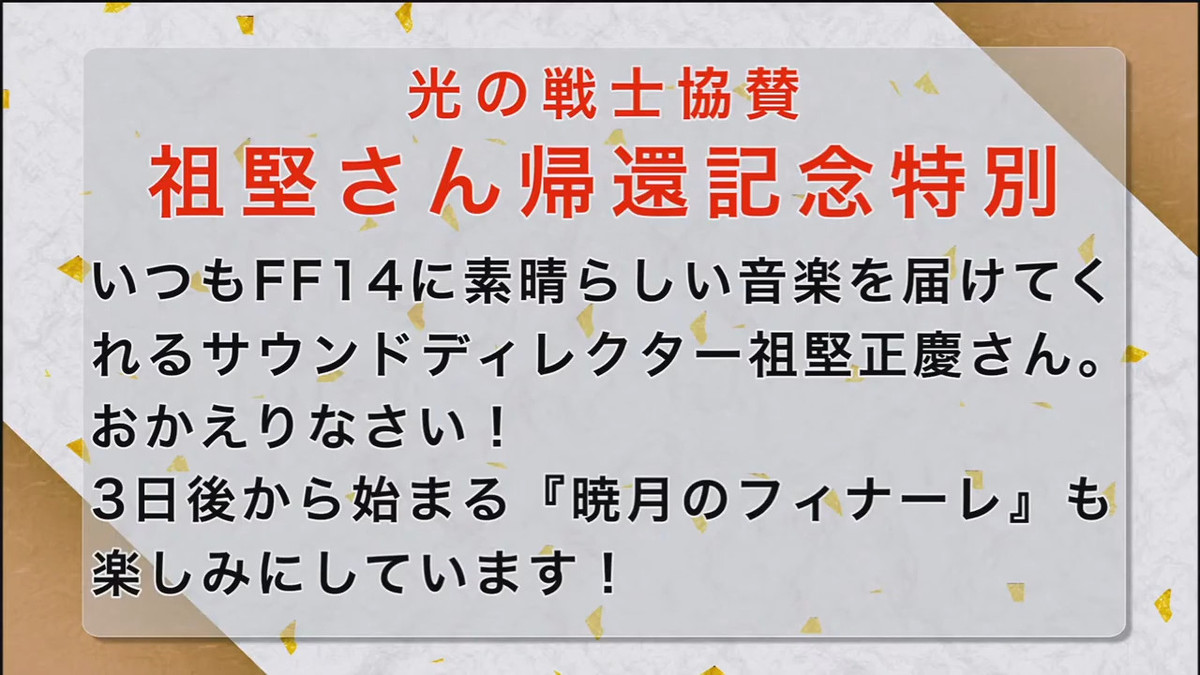 After tying things up with such a nice comment, it seemed like the race was about to get underway. Then Hashiguchi had one more pleasant surprise up his sleeve when giving an outline of the race. He said, "fourteen-hundred meters," in English, alluding to FFXIV and how in Japan, the XIV in FFXIV is pronounced in English. Even the commentators giving their betting predictions couldn't help but be impressed.
In the race itself, Killer Mountain, the favorite, finished in first. Micky Fountain, the third favorite, finished in second. And Kotobuki Rhea, the second favorite, finished in third. You could say it wasn't a race with any dramatic upsets. While Soken's bets were off the mark, Inary, the race's sponsor, was right on target, but still ended up down 50 yen (around $0.50). The combination of horse number 1 and number 4 for FFXIV was also a popular bet, but unfortunately, it was also a miss.

*The image in Soken's above tweet was taken from Final Fantasy XIV Letter from the Producer LIVE Part VI.


Between Soken mentioning the race and courteous commentary from Koji Hashiguchi, The Soken's Return Commemoration Special was a race FFXIV fans are sure to remember. FFXIV's Endwalker expansion is scheduled to release on December 7.





© 2010 – 2021 SQUARE ENIX CO., LTD. All Rights Reserved.