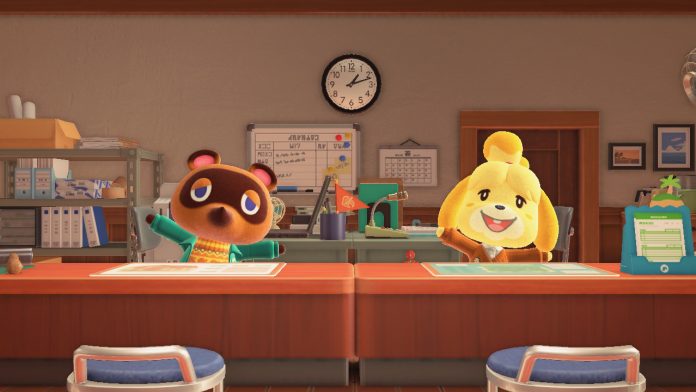 Publication date of the original Japanese article: 2021-11-13 13:53 (JST)
Translated by. Ari Clark

The large-scale Ver.2.0 free update for Animal Crossing: New Horizons has added all sorts of new elements to the game to embellish your everyday island lifestyle. Our daily lives on our islands have changed a lot, and there's been a dramatic expansion to the various ways we can customize our islands to express our own personal styles.
This article is intended to introduce all the new lifestyle-related elements that have brought so much change to our island lives.

Related article:
Animal Crossing: New Horizons [Update 2.0] – Everything you can do now (Events edition)
DIY cooking boosts the feeling of realistic everyday life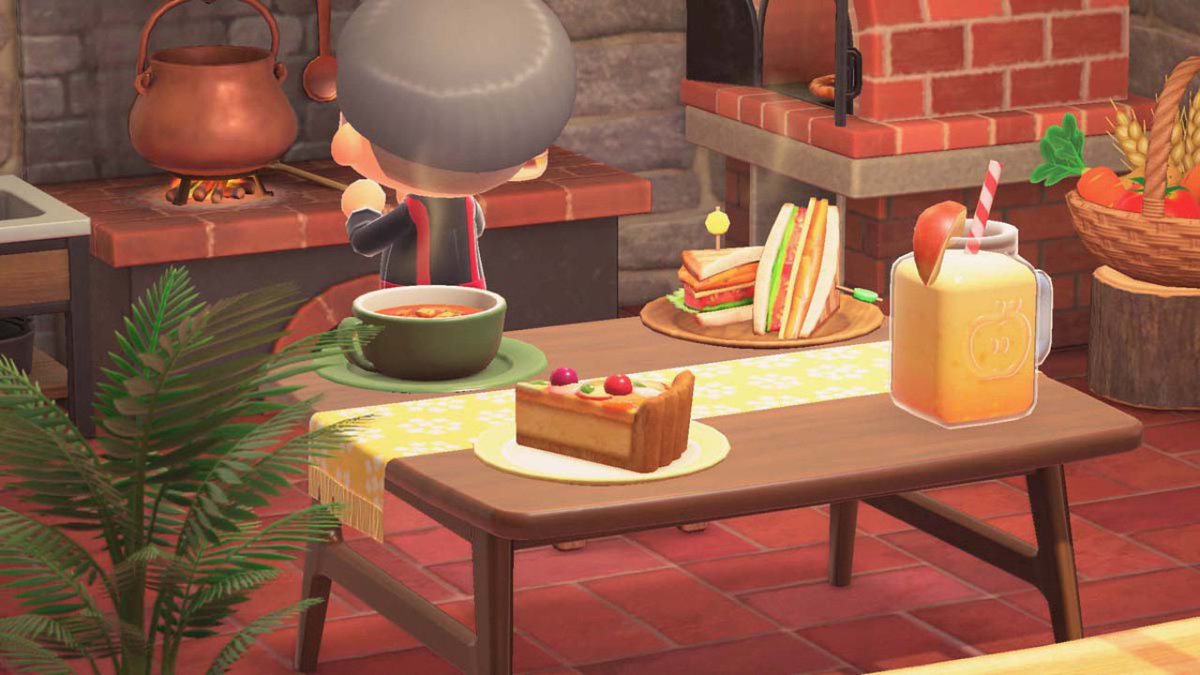 With the addition of categories like "Food" and "Dessert" to the DIY recipes, it's become possible to prepare over 100 different kinds of cuisine. Plus, now that pre-existing food-themed decorative furniture has also been transformed into food items, you can either display it or eat it.
To prepare food, you'll need various DIY recipes as well as the ingredients for those recipes. Then, instead of your DIY workbench, you'll need kitchen furnishings. For recipes, first try exchanging Nook Miles for the DIY Recipes+ book at the Nook Stop. This exchange will get you 8 different kinds of basic recipes. After that, you'll be able to buy a copy of Basic Cooking Recipes from the cabinet at Nook's Cranny. You can use items to learn another 8 kinds of recipes.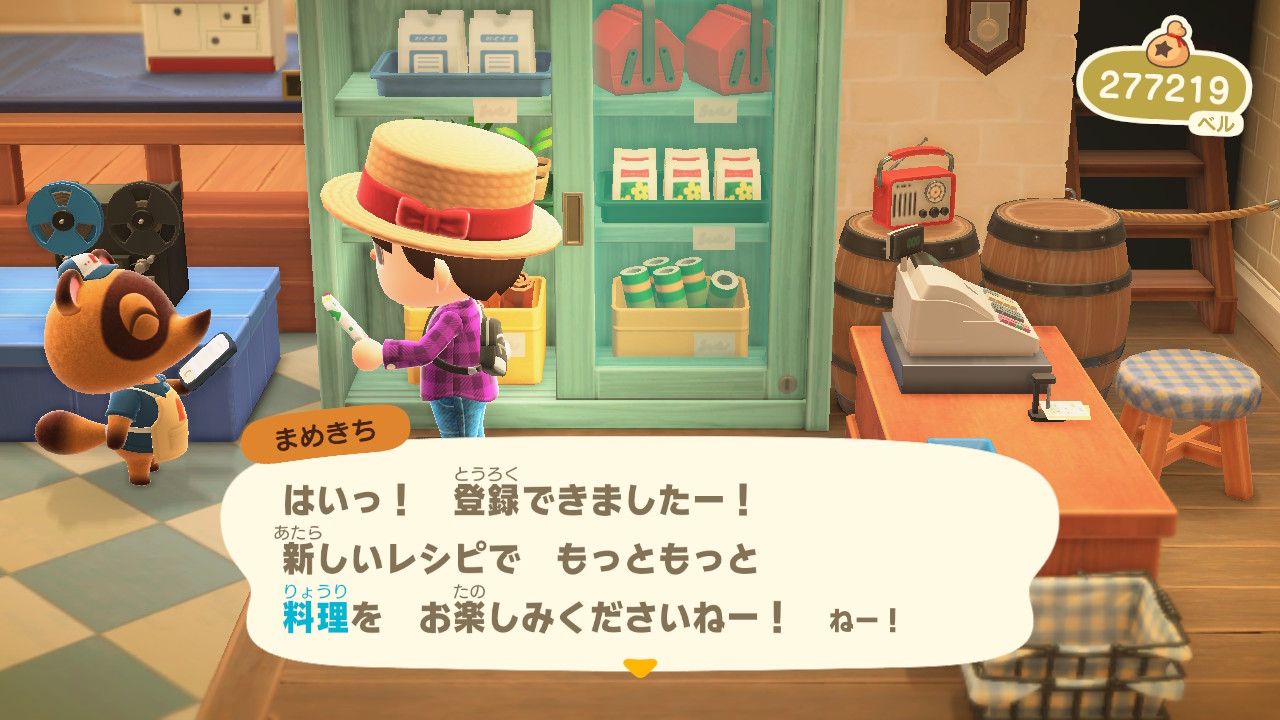 After that, you can collect more cooking recipes a little bit at a time, day by day, just like any other kind of DIY recipe. The main ways to get cooking recipes are as follows:
– Message bottles that wash up once a day on the coast of your island (random)
– Message bottles from other islands that you can visit with the Boat Tours and grow veggies on
– Being taught by villagers who are cooking in their homes
– Some recipes will spring to mind automatically when you catch certain fish, such as Squid, Red Snapper, and Sea Bass
– Buying turnips from Daisy Mae when she visits once a week on Sundays
– Receiving them from Leif at his garden shop
– Frequenting the Roost café
– Specific major seasonal events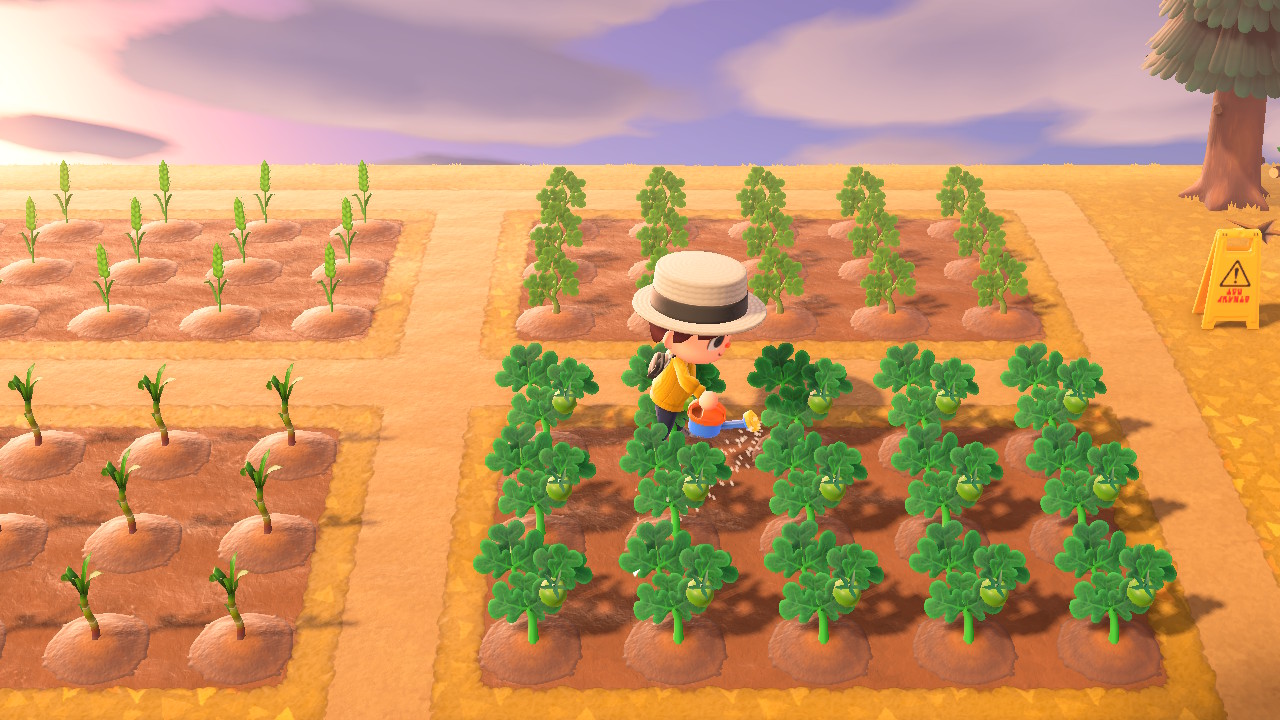 To go with the addition of cooking recipes, it's also become possible to cultivate new crops to use as cooking ingredients. In addition to Pumpkins, which were already implemented in a previous update, the new crops include Tomatoes, Potatoes, Carrots, Sugarcane, and Wheat, for a total of six different species.
You can purchase starts for these new crops from Leif at his garden shop. They're cultivated just the same way as Pumpkins. Plant the starts in an empty patch of ground on your island, and they'll ripen three days after planting. You can increase your harvest by watering the plants while they're growing, and it's possible to harvest as many as three items from one start. Then, after harvesting a start, it'll ripen with more crops two days later.


Loads of new furniture, and an even richer island design experience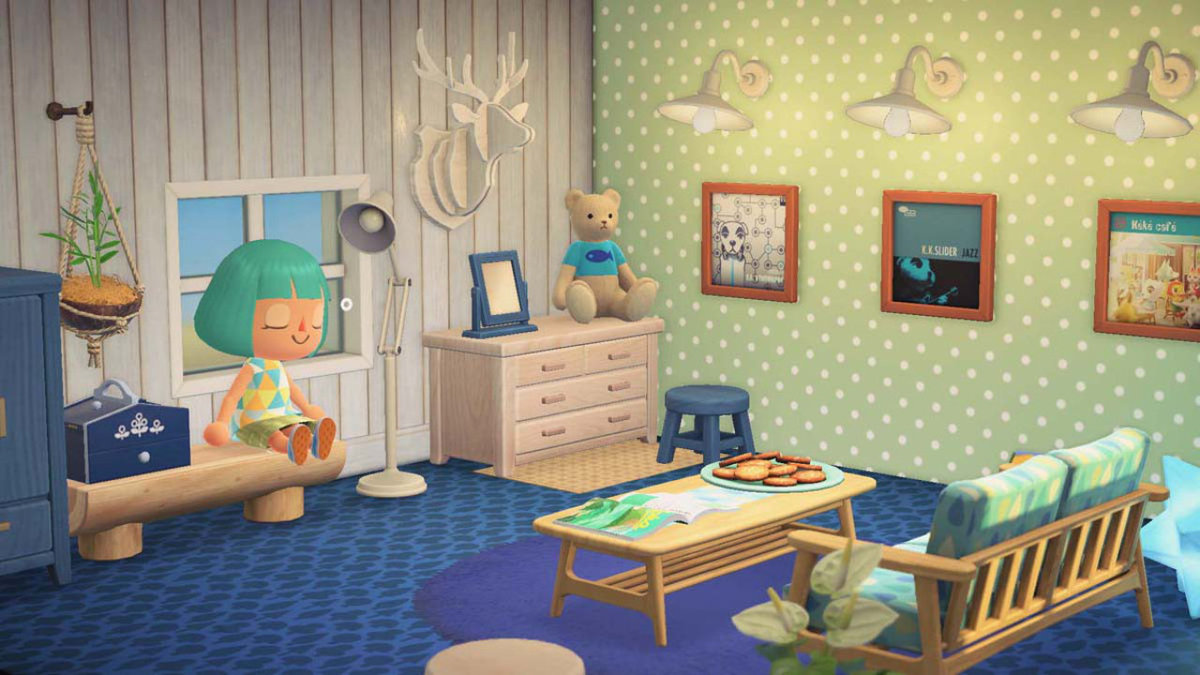 The additions go way beyond just cooking, with new furniture DIY recipes and new clothing added as well. The furniture is available at Nook's Cranny, and the clothing at the Able Sisters'. You can also get DIY recipes from the message bottles that wash up on your island, or from villagers in their homes. Don't forget to pop the balloons that drift over your island, too!
It's easy to forget to check, but have a look in the cabinet at Nook's Cranny. As of this update, it has a lineup of new items that changes on a daily basis. There are also some choice new treasures that you might find stuffed in the Recycling Box at Resident Services.
You can also trade in your miles at the Nook Stop for lots of newly-added items. There's a plethora of fence recipes, and you can exchange Nook Miles for the Custom Fencing in a Flash book to customize them, too. They've also included several colossal furniture items that have a really impressive presence.
Plus, if you trade for a Pro Decorating License, you can unlock ceiling furniture items. If you unlock the Custom Designs Pattern+ upgrade, you'll be able to use patterns for wallpaper. By also using the wallpaper accent feature, you should be able to broaden the possible variations for remodeling rooms right away.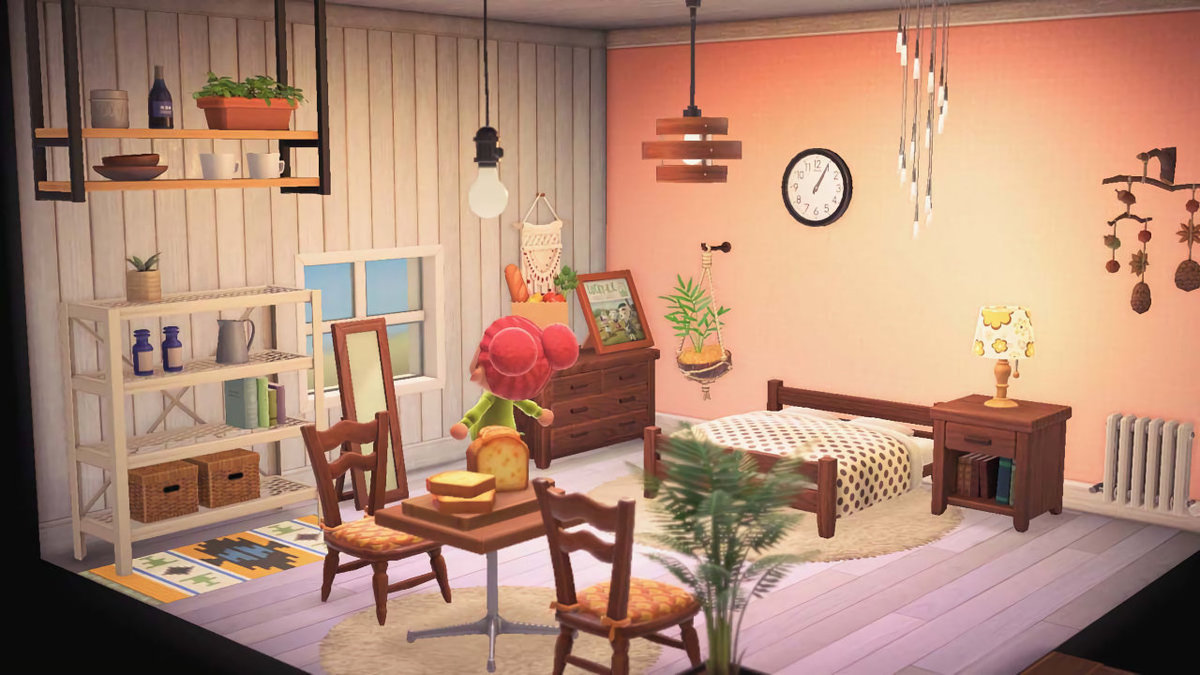 Among the new items, the Gyroids require an especially unique collection method. Gyroids are cute items that move around just like living things while playing sounds. Each type has different moves and sounds, and if K. K. Slider's music is playing near them, they'll match the rhythm of each of his songs and dance along with it for you. If you decorate a room with lots of Gyroids, they're guaranteed to provide a lively atmosphere.
The main way to collect Gyroids is by digging up Gyroid Fragments on the island destinations you can visit with Boat Tours. To get more Gyroids, find Fragments and bring them back to your island, then bury them wherever you like, water them, and dig them up again the next day. Apparently in some rare cases, if you happen to find your way to a rainy island, you can dig up not just Fragments, but whole Gyroids.
In addition, once you've excavated at least one Gyroid on your own island, Gyroids will sometimes appear buried directly in the ground on the day after a rainfall, even if you didn't bury any Fragments there. The burial locations are random, just like with Fossils.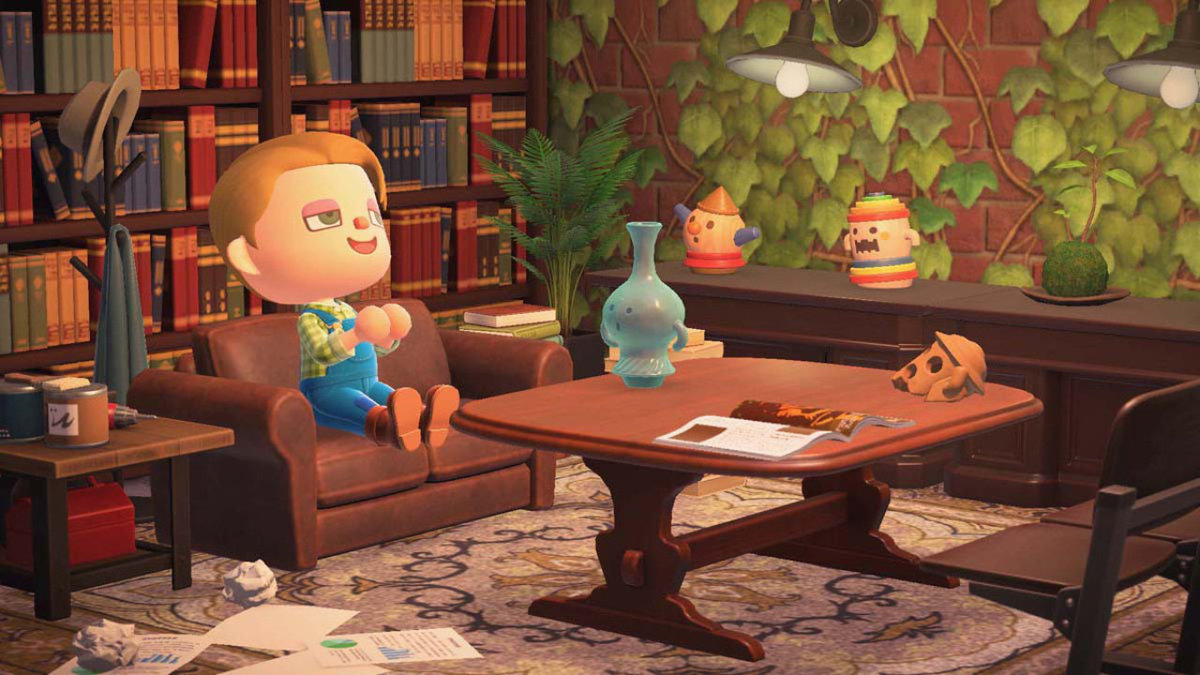 Other additions besides these include seasonal items and DIY recipes, as well as items associated with seasonal events.



Sixteen new villagers arrive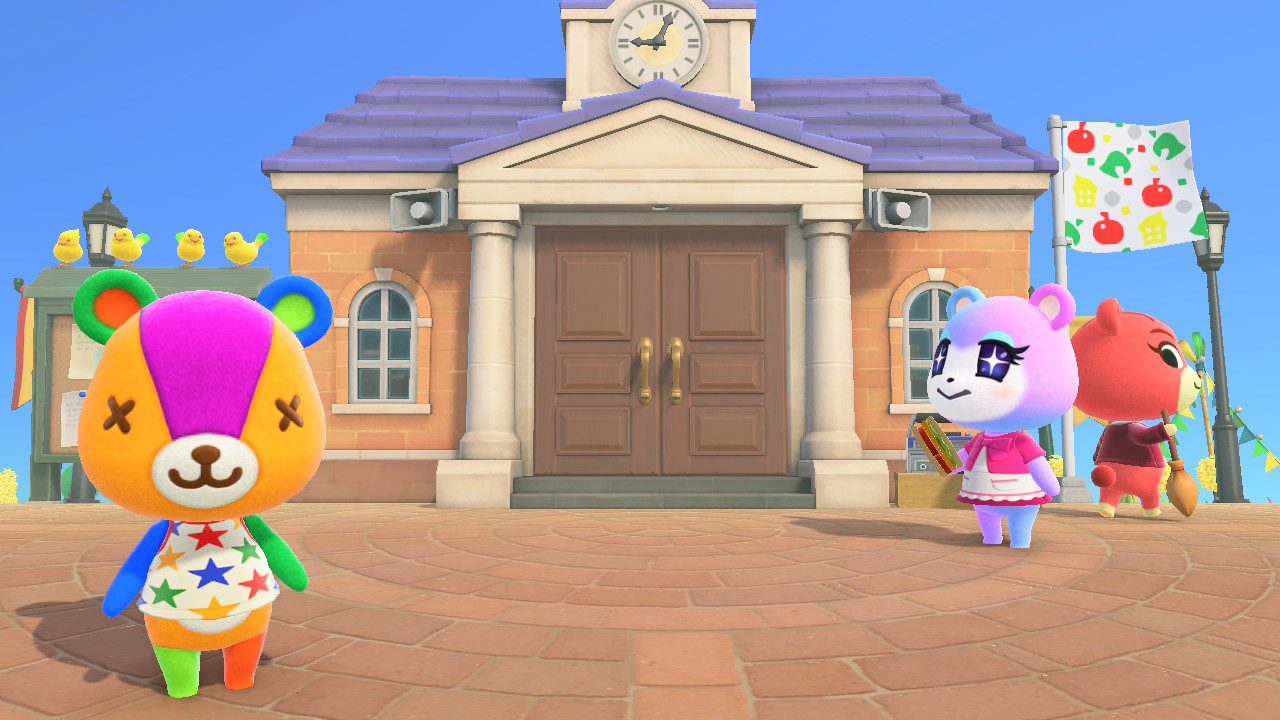 A total of sixteen new villagers have been added, including eight brand-new villagers making their debuts, and eight villagers who appeared in previous games in the series. Among the brand-new villagers, the most popular seem to be Sasha, a cute rabbit with gender-neutral appeal, and Shino, a female deer.
That said, the returning villagers from previous games have their own appeal, too. All of the returning villagers are characters we haven't seen in a long time, ever since the release of the Japan-exclusive update of the GameCube port of Animal Crossing+ (known to some English-speaking fans as Animal Forest e+) in 2003. Their personalities have also been adjusted to fit with Animal Crossing: New Horizons.


New daily events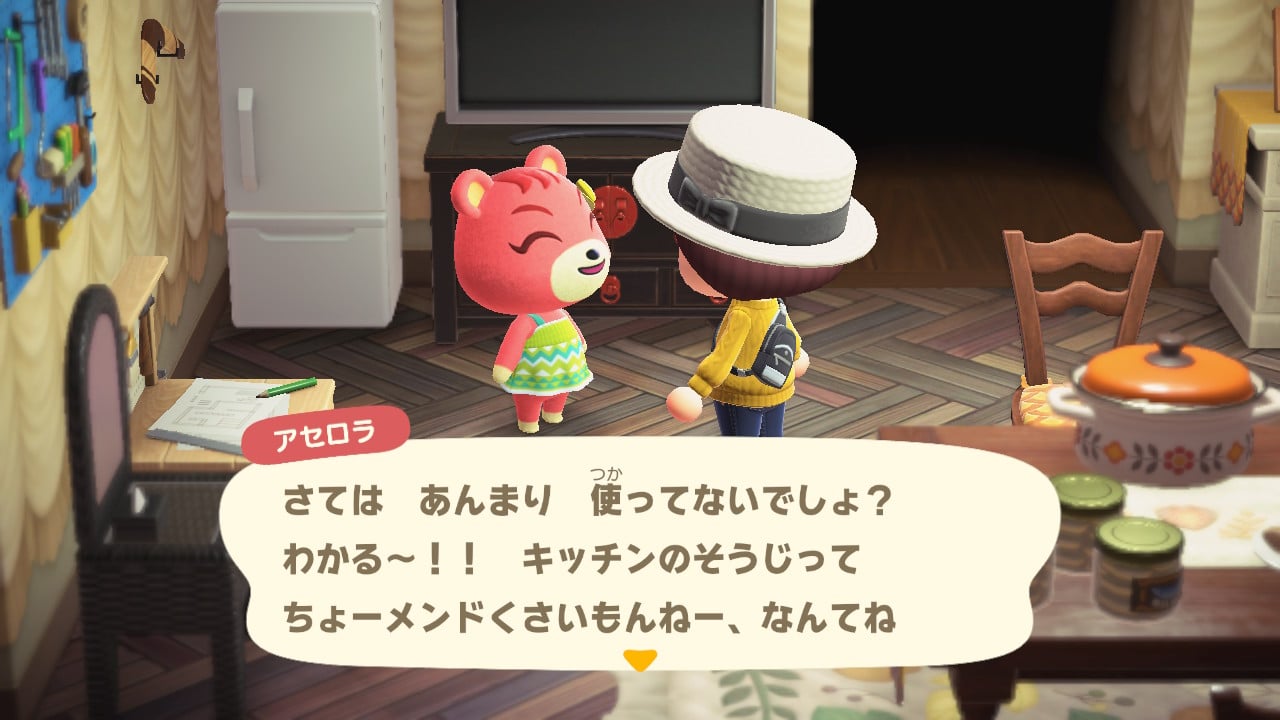 As a new element of your relationships with villagers, you can now invite the villagers on your island to come hang out at your house. In addition to visiting when they've been invited by you, they'll also sometimes drop by unexpectedly. Visitors do things like complimenting the layout of your rooms and chatting with you about your furniture. You can also play a minigame with them that involves cards. Sometimes they'll even bring you a gift as thanks for having them over.
During a visit, you're not limited to just the main room on your ground floor, but can bring your visitor with you to any room. Incidentally, if there's a Cockroach in the room, the villager who came to visit you will get scared and go home in a hurry. Make sure you keep up with your housecleaning!
In some cases, a villager can also invite you to visit them at their home, instead. If you've received an invitation from a villager, you can point out specific pieces of furniture in the room that you like and offer to purchase them. Apparently, if you specify something that you gave them previously as a gift, they'll hand it over free of charge.
Eleven new reactions have also been added, such as "Jammin'" and "Say Cheese". You can learn them by trading Nook Miles for the New Reactions Notebook at the Nook Stop. Make sure you check out the villagers' responses to your reactions, too!


Lots of small new features to make your island life more pleasant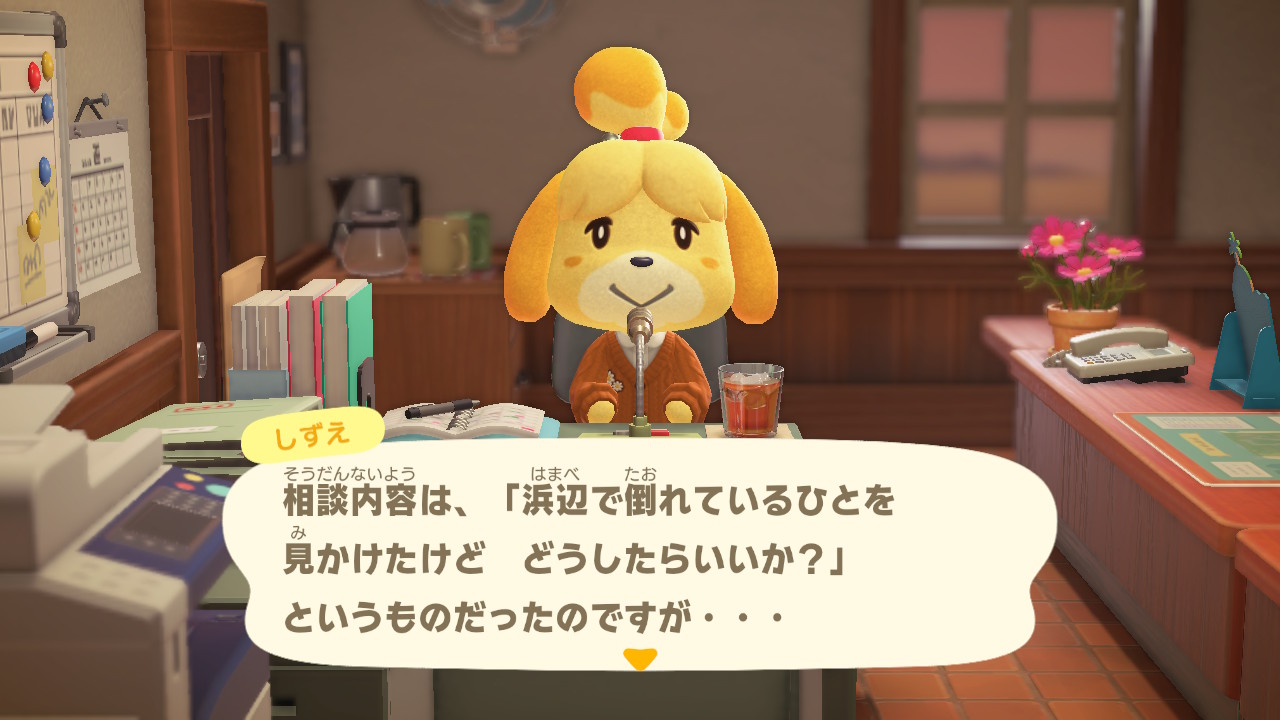 – Morning announcements from Isabelle and Tom Nook
You'll now be informed when special visitors like Gulliver or Saharah come to your island. We definitely appreciate being able to know if anyone is coming to our islands as soon as we start up the game!


– "Island Life 101 Service", a new daily notification function
You can get this service by exchanging Nook Miles for it as an item at the Nook Stop, which will register it to your in-game smartphone. This service provides a function where Isabelle and Tom Nook will give you useful advice for your everyday life, such as basic knowledge about the game, seasonal items, and event dates, while the game is loading.
If you missed something, you can also check it out in the advice history on the smartphone app. It ought to be really useful for getting a handle on the island event schedule, too!


– Home storage space expansion and ordinance creation
You can access these at Resident Services. It's now possible to upgrade your storage space to hold a maximum of 5,000 items. As for ordinances, if you pay 20,000 Bells, you can set rules for the daily lives of your villagers. Specifically, you can move the opening and closing times of shops an hour earlier or later, beautify the scenery on your island by reducing weeds and trash, stimulate the economy on your island by raising the purchase prices of goods, and so on.


– Group stretching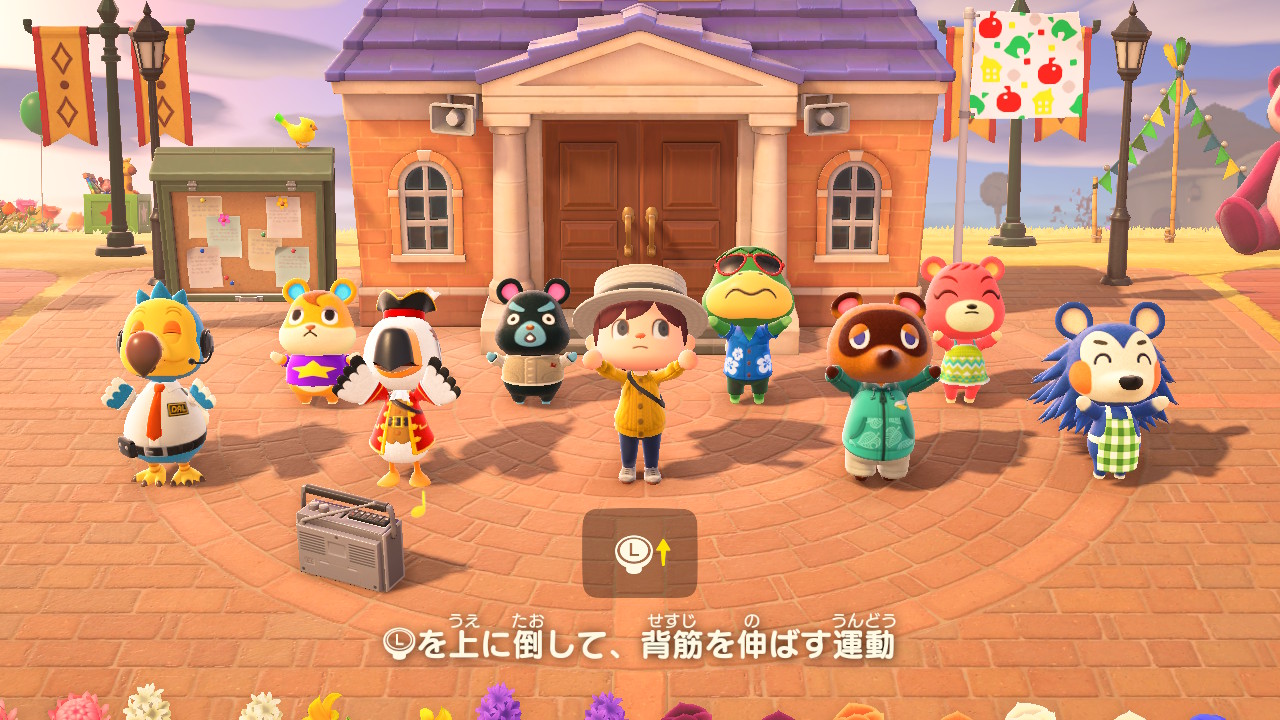 You can access this by examining the tape deck in the Plaza in front of Resident Services. Try enjoying some nice exercise with the button controls or Joy-Con controls as you move with the music coming from the tape deck! There's no penalty even if you miss your timing on the controller input during the stretches and don't move your body quite right. It seems like the main point is simply to participate.
You can perform a group stretch at any time, 24 hours a day, and up to 8 animals on your island will participate with you. However, it seems like only villagers who are up and about for the day will stretch with you, so if you do it in the middle of the night, it's likely that your number of participants will drop a bit.
As a reward for participating in a group stretch, you'll get Nook Miles under the heading "Refresh with a Group-Stretching Session", and you can earn more Miles the more days you participate. Plus, you can earn prizes from Nook Inc. according to the number of days you've participated. It's also good for your health, so it might be good to use the Joy-Cons every day and get your real-life body moving!



– Storage Shed and ATM
These have been added as items you can exchange Nook Miles for at the Nook Stop. The Storage Shed is linked to your home storage, and allows you to access your items from whatever outdoor location you like once you've installed it there. It should allow you to manage your pocket contents or replenish the materials you need for DIY stuff without returning to your house.
The ATM is an item that allows you to deposit or withdraw Bells just like the ATM at Resident Services. Once you've installed it somewhere outdoors, you can avoid the extra effort of going all the way to Resident Services.


– Pro Camera app
The Pro Camera app is an item you can exchange Nook Miles for, which expands the features of the Camera app on your in-game smartphone, and allows you to use new photography modes like the Handheld Camera mode and Tripod Camera mode.
The Handheld Camera mode lets you achieve a pseudo first-person-POV effect with your photos. Besides photography, it can also be used to get a really up-close-and-personal look at your favorite villagers, or to get a close look at the details of your furniture.
The Tripod Camera mode lets you position the camera at your preferred angle and location and leave it there, so you can achieve photo compositions that are very different from Handheld mode. It also makes it possible for you to tilt the camera angle, and adds four new filters, including a security camera effect and a fisheye lens.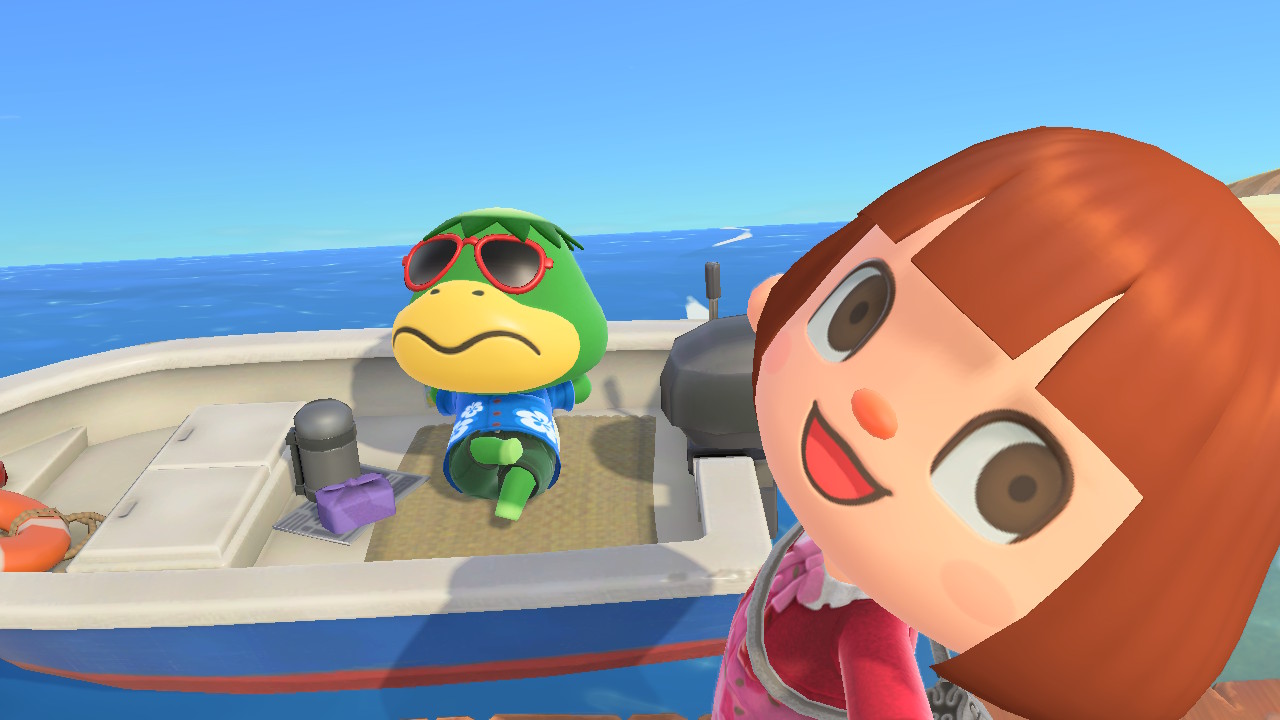 – K. K. Slider debuts new songs in live Saturday performances
You can now clap along with the beat during live performances. Villagers will sometimes wave Light Sticks during live performances, too, and if players bring their own Light Sticks, they can join in and wave theirs as well.


– Search by island name in the Dream feature
In the Dream feature, which allows you to visit other players' islands from the bed in your house, you can now search by island name as well as by Dream Code.


– Nook Link version upgrade
The catalog search has been made more convenient, plus you can now check daily events on your island and the price of turnips. New items that you can exchange Nook Points for have also been added.




As you can see, the Ver.2.0 free update is sure to make your island life even more vibrant. We hope this article has been at least a little useful as a guide to your new island lifestyle!


Related article:
Animal Crossing: New Horizons [Update 2.0] – Everything you can do now (Events edition)