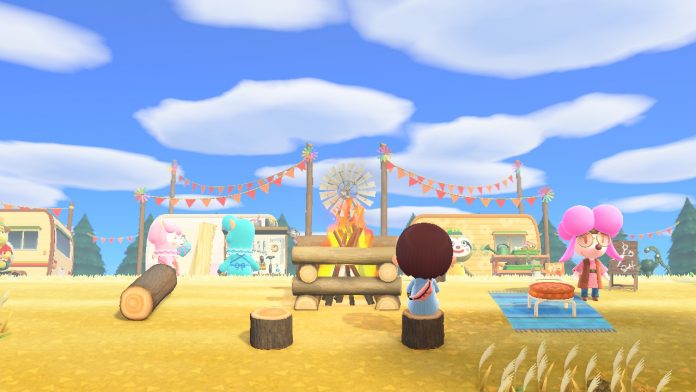 Publication date of the original Japanese article: 2021-11-15 12:05 (JST)
Translated by. Nick Mosier

Animal Crossing: New Horizons' free update (Ver2.0) has brought with it an assortment of new events to make your island life even more happy and abundant. In this article, we're going to lay out the new things you can do through these events and explain the various changes that have come to your island.

Related article:
Animal Crossing: New Horizons [Update 2.0] – everything you can do now (Lifestyle edition)


Boat tours to islands unknown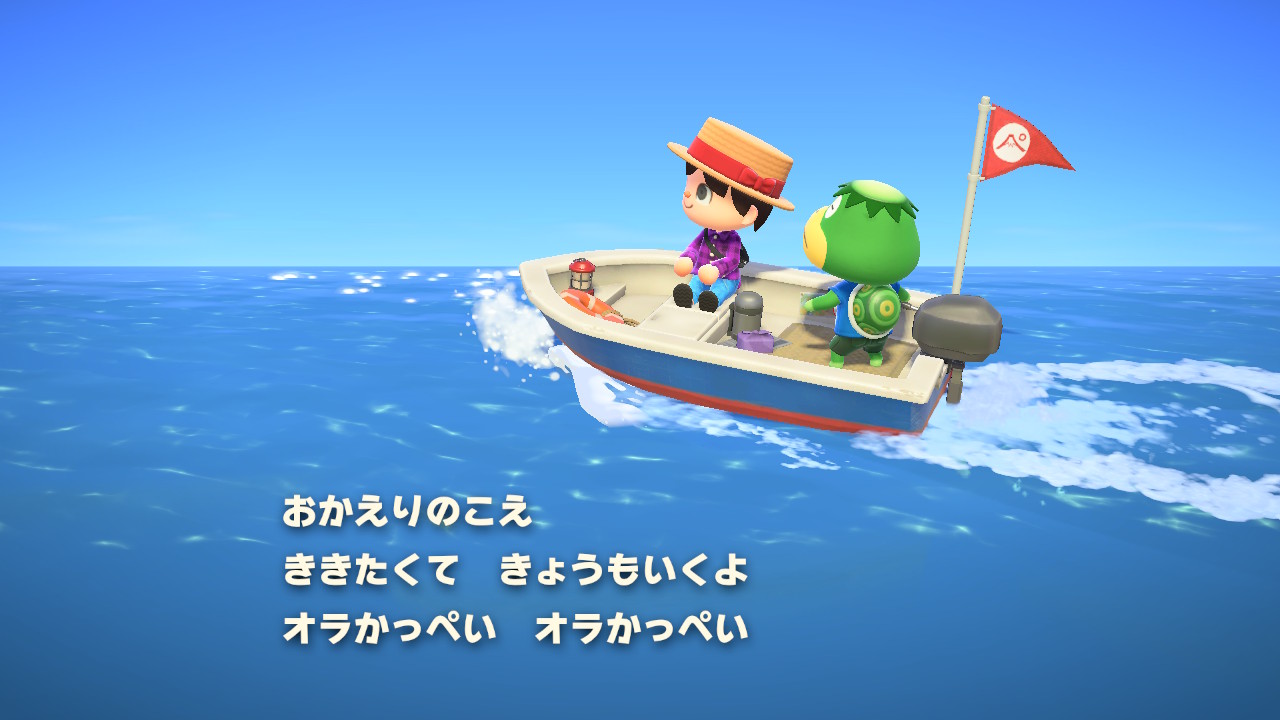 Kapp'n now appears on your island's dock and will take an islander on one boat tour per day for 1,000 Nook Miles. Like going to remote islands from the airport, multiple passengers can't go on a tour. According to Kapp'n, the boat will sink if too many passengers come aboard.
The islands you go to on the boat tour differ from those you can go to from the airport's mystery tours. And while en route, Kapp'n will sing one of his beloved sea shanties with their humorous, but fitting lyrics.
It's also possible to react during Kapp'n's songs by pressing different buttons, and liven up the performance by clapping along. You can skip them as well by repeatedly pressing the B button.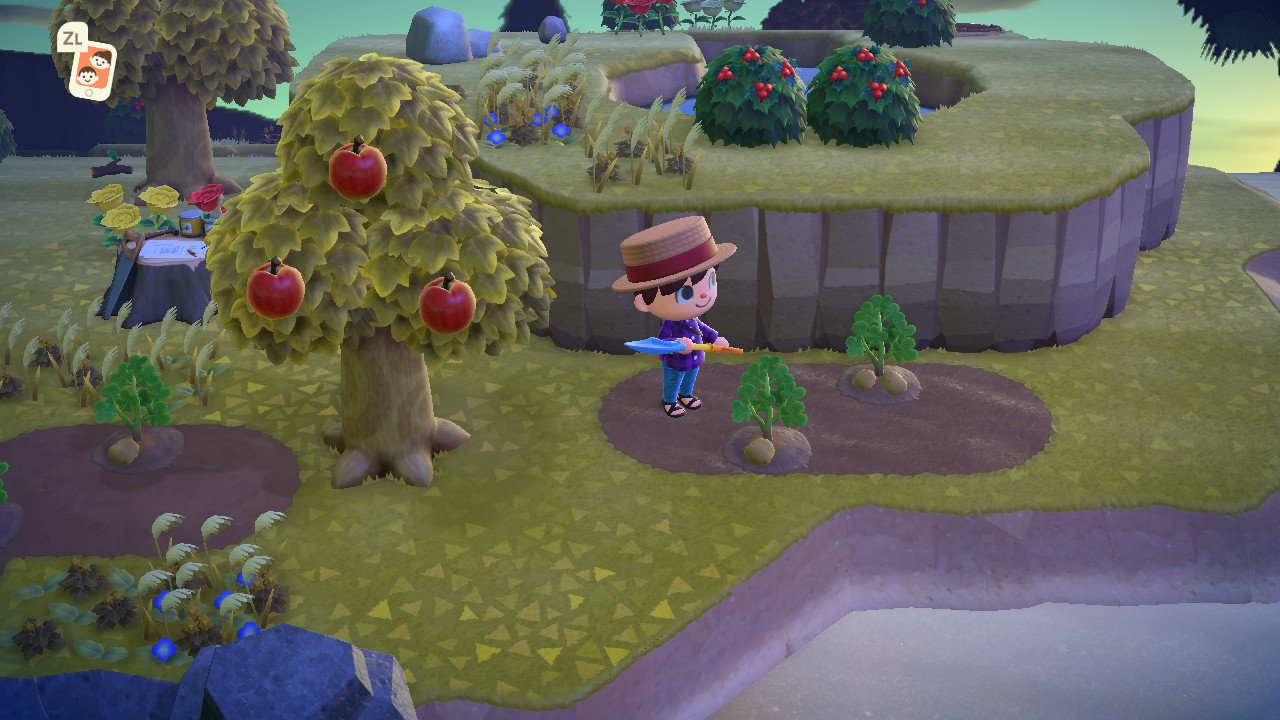 The tour will take you to a random island among a selection of islands that each have their own special traits. There are islands with new crops that you can gather such as tomatoes, carrots, and wheat. These new crops can be used as ingredients in DIY cooking recipes, and the recipes can be found in bottles lying around the deserted islands, so if you see one, be sure to pick it up.
There's also an island that has vines and glowing moss growing on it. Vines and glowing moss are plants that can be used in place of ladders and small lights, respectively. You can also find the Vine Hanging Chair and Cave recipes on this island, which make use of the new ingredients. Some recipes require a lot of these plants, so go ahead and grab all the vines and glowing moss you can when visiting the deserted island that has it.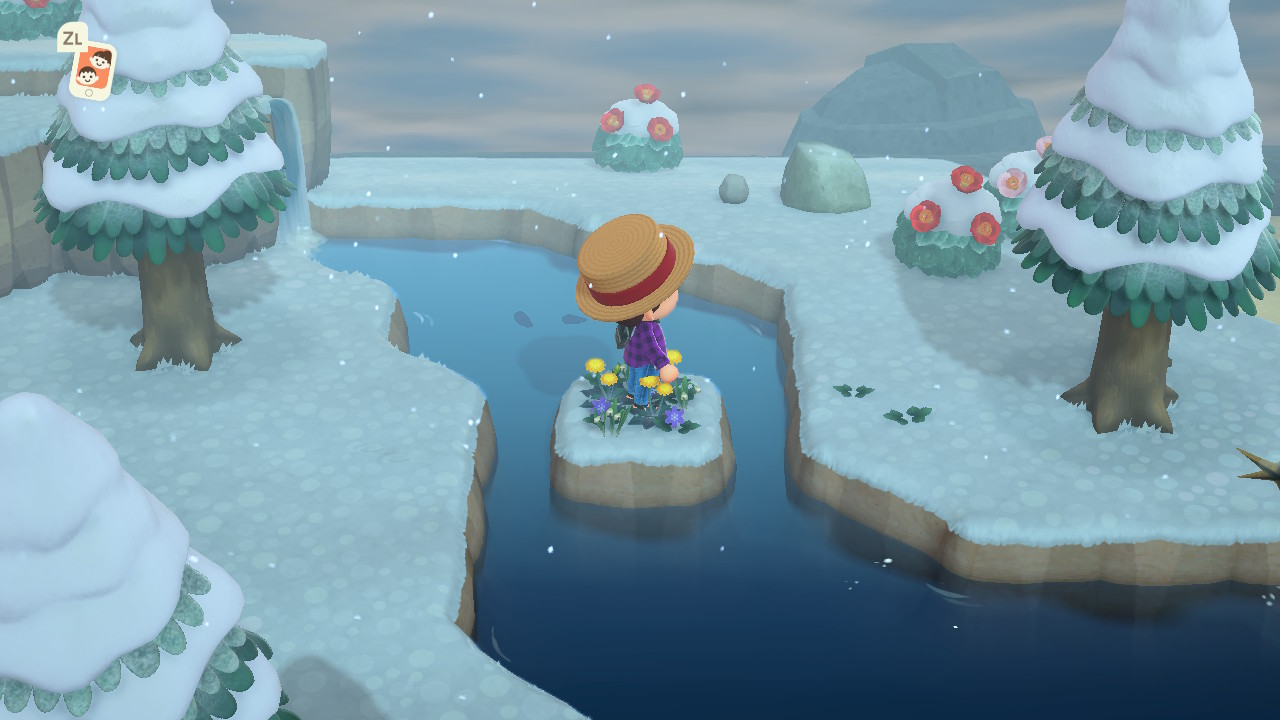 It's normally summer on the deserted islands, but it's also possible to go to some that are in the spring, fall, and winter seasons. And it's not just the scenery that changes; it's also possible to collect seasonal recipes and ingredients. In other words, it's now possible to always be able to get limited-time seasonal items like furniture and recipes.
There's also an island where you can see a meteor shower and get the Zodiac furniture recipe, an island with lots of money trees, islands with Gyroids, and numerous other unique islands. One thing that each of these islands has in common is that you can dig up Gyroid Fragments from star-shaped holes. Don't forget to put your shovel to work before heading back home.


The Roost is open for business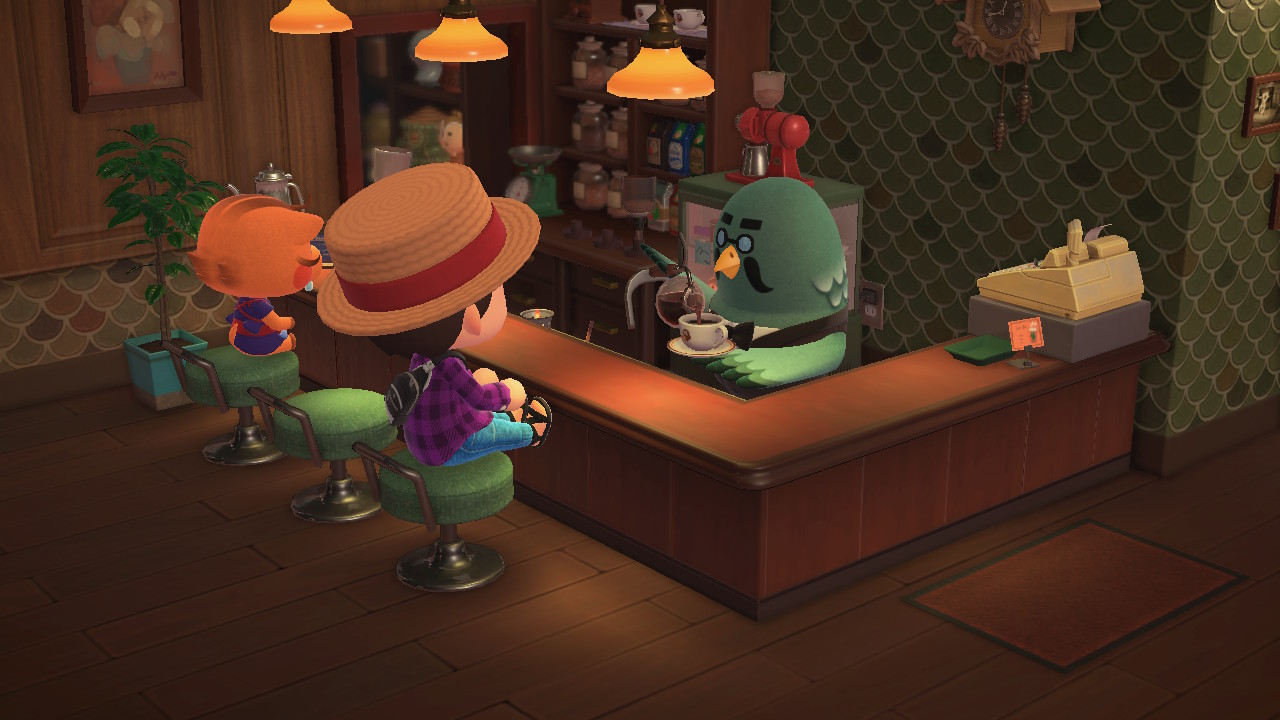 A new establishment called The Roost has been added to the game. After meeting certain conditions, the quiet barista Brewster will open the café on the second floor of the museum. Brewster serves up coffee 24 hours a day for 200 bells a cup.
By going to the café every day, Brewster will start to warm up to you. Once you two start to become a little closer, you'll be able to start ordering to-go coffees. There are also special scenes you can watch when new services are unlocked. And depending on the number of days you go, there are limited items and recipes you can only obtain there, so it's probably best to stop by every day.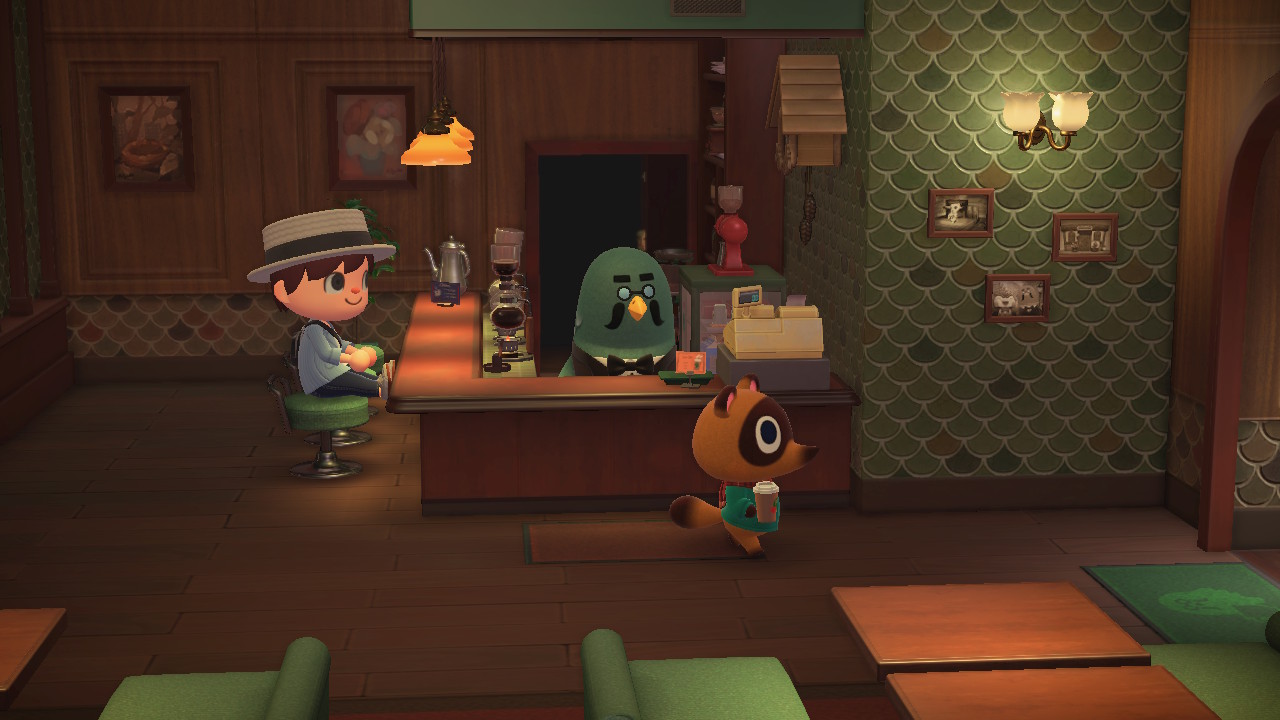 Random inhabitants of the island will visit The Roost each day, and when you talk to them inside the café, you can hear stories that they'll only tell at The Roost (related article). Maybe you'll see a new side of your favorite villager. And it's not just villagers—shop keepers and sellers will also sometimes stop by. And if a special visitor comes to your island, you should probably get yourself over to The Roost.
It's also possible to have a sip of coffee with visiting players. When you visit with others, there are multiple payment options to choose from. You can either split the bill or pay for everyone's drink. And if you don't have enough money on hand to pay, Brewster will give you a water, so you at least won't go thirsty. And by the way, you can also put drinks on your tab.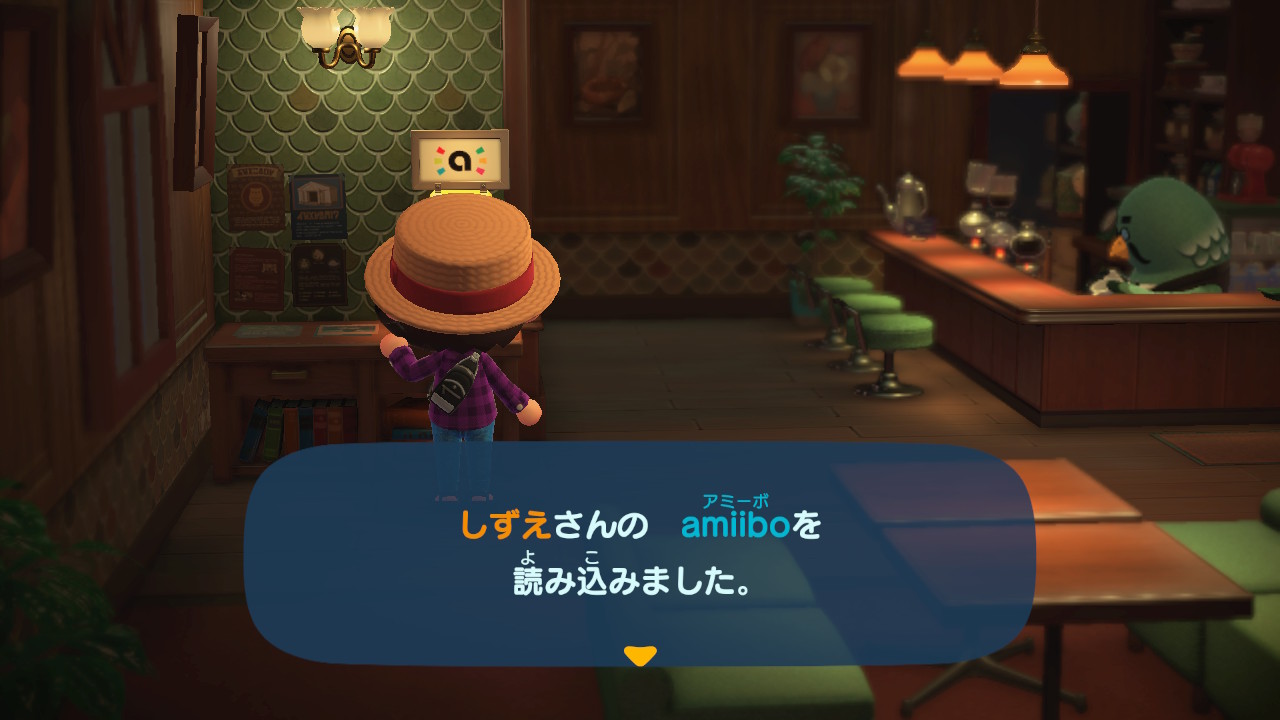 Players can also use a yellow phone inside the café to access the amiibo Call Center. By scanning an amiibo, you can call your favorite characters to The Roost. According to the official website, this update supports every released Animal Crossing amiibo. Plus, characters will sometimes bring other characters along when called to the café.


Harv's Island gets a plaza with an assortment of services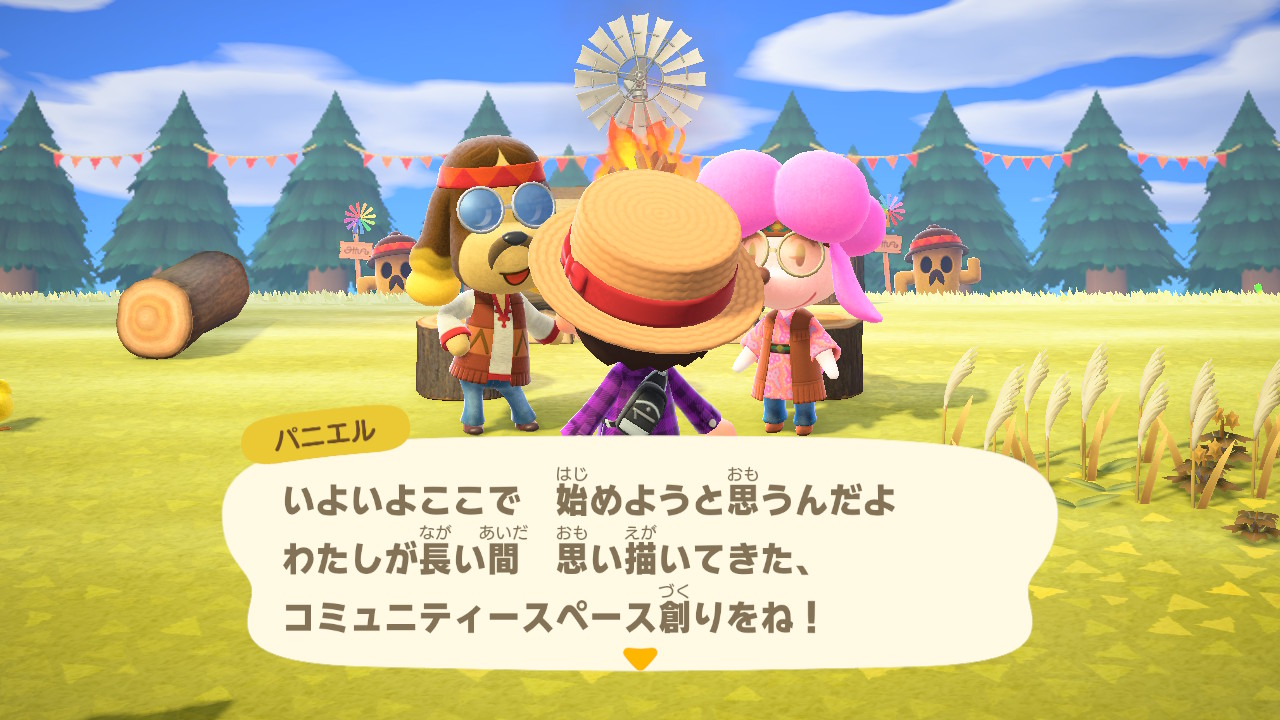 Harv's Island, which can be accessed from the airport, has undergone a big change. There's now a large plaza, and shops will open as the player donates bells. New characters and the sellers that sometimes bring their services to your island will set up shop here, so their services are always available.
There are 7 shops that can be opened in the plaza, excluding Harriet's barbershop, and each shop will be constructed once you donate the required 100,000 bells to Lloid. One shop can be constructed per day.


Reese and Cyrus' shop
For some bells, you can have Cyrus customize furniture for you. And now it's possible to customize furniture bought at shops, which couldn't be done up to this point. Thanks to these alpacas, it's easy to get color variations of the furniture you've bought.


Tortimer's shop
Another place you'll want to set up along with the alpaca's store is Tortimer's shop. If you talk to Tortimer, you can deposit and withdraw items from your home storage, which is very convenient when you want Cyrus to customize your furniture.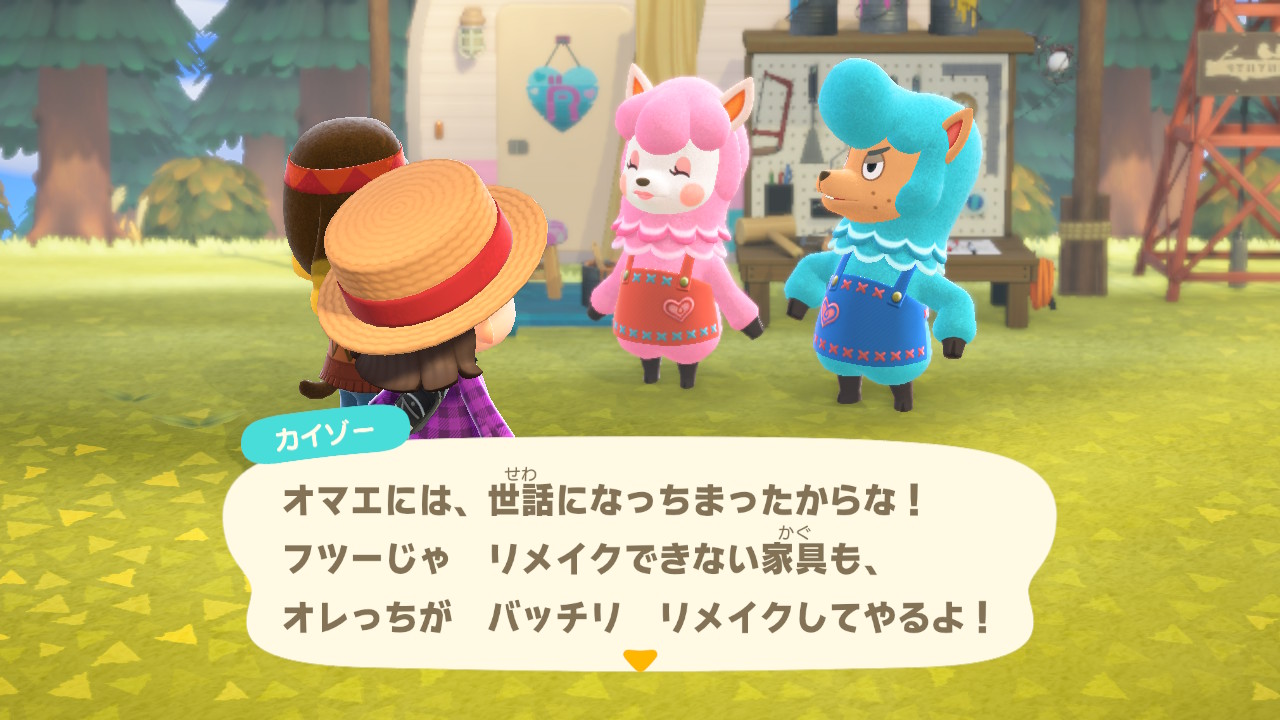 Katrina's fortune telling shop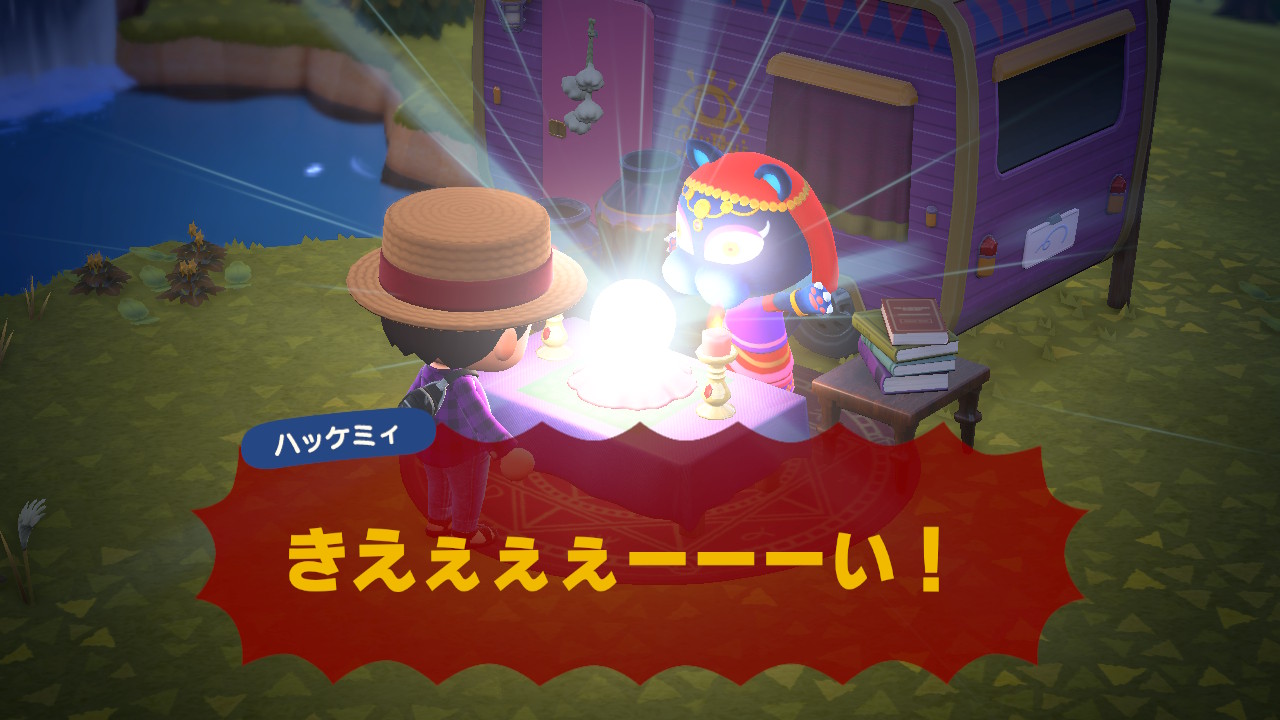 Katrina can tell you either what your luck will be for the day or how close you are with another villager. Your luck prediction will influence your day in different ways depending on what it is.
If you get a money improving fortune, good things will happen like getting some extra bells from glowing spots and such. And if you get the belongings improving fortune, you'll be more likely to get gifts from villagers, and your tools won't lose durability. There are also fortunes that increase your friendships with other villagers and make it so bees don't appear on your island.
But be warned; not all fortunes cause good things to happen. If you get fortune with bad luck, it will have a negative impact on your day. However, Katrina can purify your bad luck for a price. It's a bit steep at 10,000 bells, but on top of purifying your bad luck, you can also receive some strange good-luck items.



Leif, Kicks, Saharah, and Redd's shops
When you visit their shops at the plaza, you'll be able to receive the usual services from them, but if they are visiting your island, they will not be at the plaza to run their shops, so be careful.
The plaza also has unique features that are only available there such as being able to check things like how wallpaper and rugs look before buying them at Saharah's shop. The raffle at Redd's shop also has different prizes than what are offered during the Fireworks Festival. At Leif's shop, he offers a weed removal service that makes your overgrown island beautiful and weed free once again. But the service is pricey at 100,000 bells. These shops appear to change their lineup of wares every Monday.


Harriet's barber shop
Once one of the 7 shops is opened in the plaza, Harriet will open her barber shop, and for each store opened after that, she will teach you a new hairstyle that's exclusive to the barber shop. And don't forget that the "Top 4 Fab Hairstyles" item was added to the game and can be obtained in exchange for Nook Miles.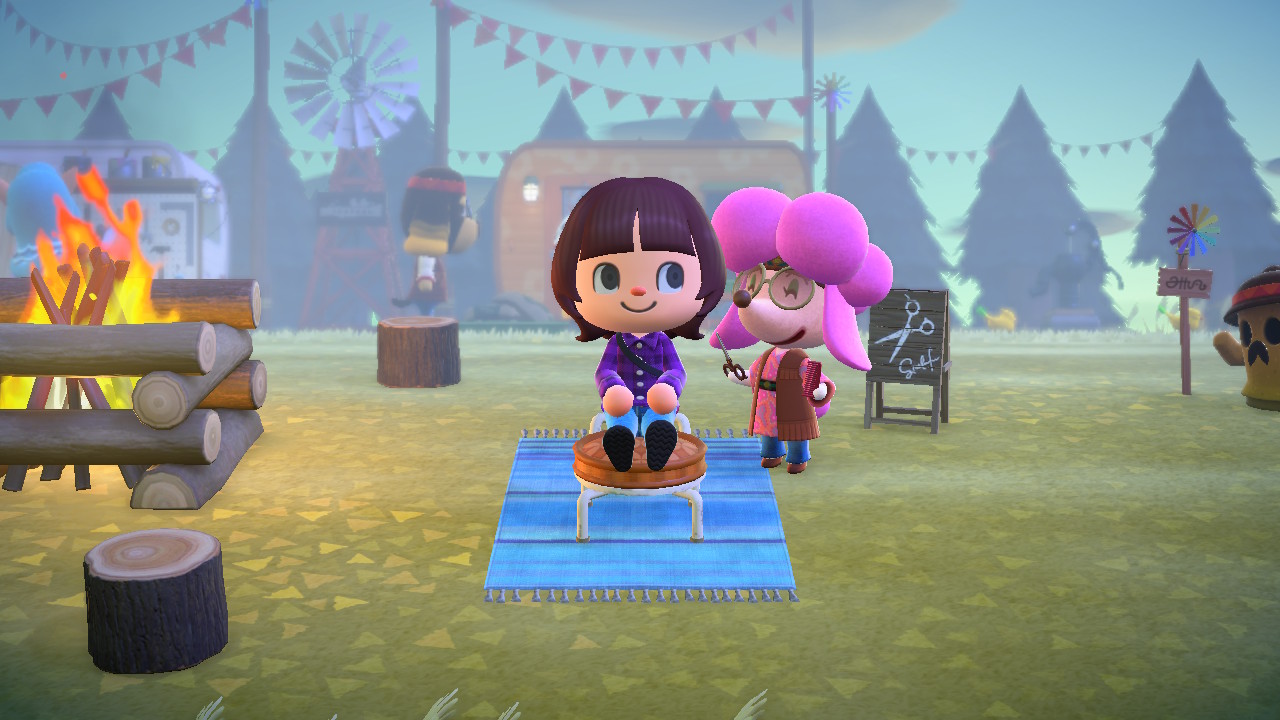 If you're having trouble deciding which shop to open first, we recommend Leif's gardening shop which sells items like vegetables and wheat that can be used in the new cooking recipes.
And those are the new events that were added in the free Ver2.0 update. Each one provides something new to discover every day, so go out there and enjoy your best deserted island life.

Related article:
Animal Crossing: New Horizons [Update 2.0] – everything you can do now (Lifestyle edition)