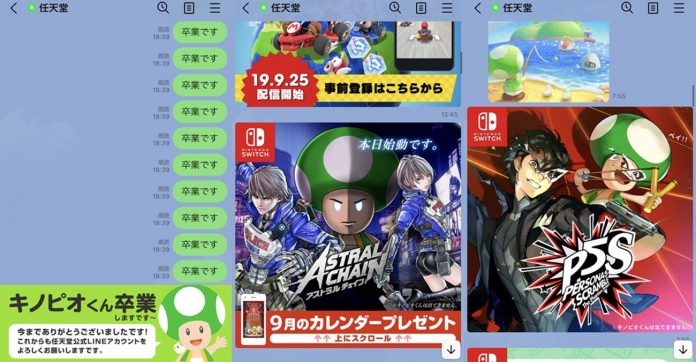 Publication date of the original Japanese article: 2021-05-21 19:36 (JST)
Translated by. Nick Mosier

Nintendo announced through their Japanese LINE account that their LINE mascot character, Kinopio-kun, is retiring. The announcement was made by way of a notification icon at the bottom of Nintendo's LINE chat. While there hasn't been any information released regarding Kinopio-kun's replacement, it looks like Nintendo will continue the operation of the account.
Kinopio-kun was a chat bot and acted as the character in charge of Nintendo's official LINE account. Kinopio-kun would send out Nintendo related information, respond to chat messages from users, and give various reactions through buttons at the bottom of the chat menu.
Nintendo launched their official LINE account in September of 2015 with Kinopio-kun as the mascot from the start, so he's quite the PR veteran at this point. However, in May of 2021 Kinopio-kun will be moving on from the role.


Kinopio-kun became known for saying quirky things and was especially famous for posts announcing new products. When new games and products were announced, information and images would be sent out through the LINE account.
But these weren't just your average promotional images. Kinopio-kun would be integrated into a game's box art or front and center in official key art which was both cute and unprecedented for an official account.


One PR announcement in particular that became a topic of discussion was a video introducing the Nintendo Labo Toy-Con 04: VR Kit. It featured Kinopio-kun as a pedal and he would grunt when stepped on. This was then followed by a giant buff Kinopio-kun appearing on the screen.
Many tweets and articles were wondering just what was going on or if it was some kind of crazy metaphor for something. It was probably just supposed to look like he was doing sit-ups, but it established Kinopio-kun as an odd and offbeat character.


And it was that quirkiness that made Kinopio-kun beloved by fans. PR notifications had just went out for the launch of Miitopia and were followed by the sudden announcement of Kinopio-kun's retirement from PR duties on LINE. "I'm moving on! Thank you for your continued support and please continue to follow Nintendo's official LINE account!" were Kinopio-kun's parting words to announce his retirement. Fans soon ran to social media to post about their fondness for the character.


So why is Kinopio-kun suddenly being retired? We thought about asking Nintendo's PR team directly, but thought it might put the person in-charge in a tough spot so we decided to ask Kinopio-kun directly. Despite trying different wordings and seeing the notification that the messages had been read, there was no response. Where have you gone, Kinopio-kun.