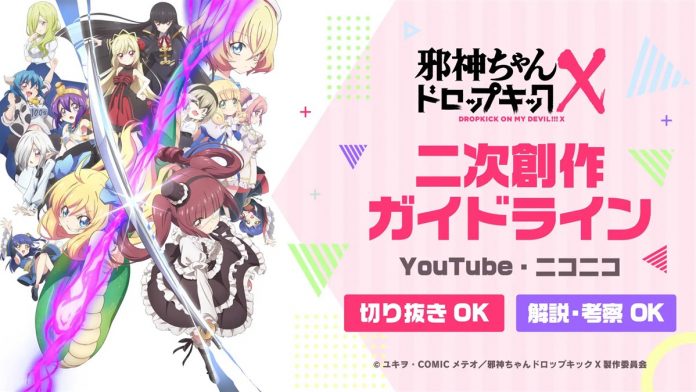 Kadokawa, Dwango, and the production committee behind the anime Dropkick on My Devil!!! X have released their guidelines for derivative works based on the anime.
When following the guidelines while making use of the anime in content, content creators are free to monetize clips, commentary, and explanation videos on YouTube and Niconico. They add that this is the first time a TV anime has attempted such an initiative on YouTube and Niconico at the same time.
Dropkick on My Devil! is a comedy anime based on a manga by Yukiwo that began serialization in 2012. Dropkick on My Devil!!! X refers to season 3 of the series.

The guidelines are being used by Kadokawa's Creator Support Program (CSP) and Niconi Commons, a portal for creators on Niconico which is operated by Dwango.
Creators that want to monetize their derivative works on YouTube can do so by using Kadokawa's CSP which shares a portion of the profits with the production committee. On Niconico, creators that meet the Niconi Commons requirements can also enable monetization. This will also distribute a portion of the profits to the production committee.
This initiative to allow illegal uploads is likely part of a strategy to spread awareness of the anime as the series has always taken a unique approach to its marketing.
The anime's third season which started in July of this year features Hatsune Miku on the show as a guest, but illegal uploads of the scenes could be seen popping up right after the broadcast. As a countermeasure, the anime's official YouTube channel started posting clips of scenes where Miku makes an appearance before the episodes aired.
One example is the below clip from episode 3 which was posted on July 18 prior to the episode's broadcast date. The description reads, "Upload officially faster than illegal uploads. Please watch on this channel!" The clip had over 1.7 million views in just two days and has more than 3.3 million as of this writing.

As a part of their plan to outdo illegal uploaders, they also divided up the first episode across 100 short clips (with keyframe drawings mixed in) and uploaded them. They managed to increase the views on the channel by over 400 times since they started taking these unique approaches.

In addition, they also held an event for MAD videos, think AMVs or YouTube poop videos, on Niconico in a positive and proactive recognition of such content. It's likely that they're able to experiment and take on such endeavors because the work was relatively unknown from the outset.
But continuing to make an anime of a minor work presents tough challenges from a marketing and profitability perspective. It appears their aim is to use illegal uploads as advertising while receiving a share of the profit to fund continuing the series. This is why they're using Kadokawa and Dwango's systems for sharing profits with the creators behind derivative works.
Currently, it's reported that there are over 1,000 cases a month of Dropkick on My Devil! being illegally uploaded. Hopefully we'll see that decrease because of these new policies. And for the uploads that are now allowed by meeting certain criteria, it's great that they'll be helping fund season 4.
A crowdfunding campaign is also being held, with the number of episodes being made corresponding to how much the campaign receives. If they are able to make all 12 episodes, they will be released as the anime's fourth season.




Written by. Nick Mosier based on Len Aoi's original Japanese article