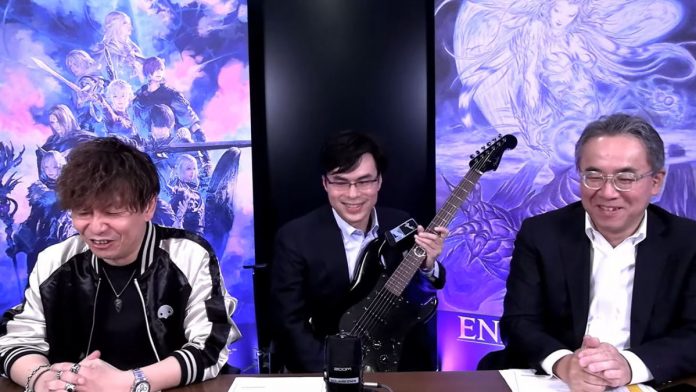 Square Enix streamed FINAL FANTASY XIV Letter from the Producer LIVE Part LXXVI on March 31 (JST). The broadcast delivers the latest information on Final Fantasy XIV to fans, and in this installment, it was announced that the latest update, patch 6.4, would be released at the end of May, and the content of the patch was also detailed.
Additionally, Yosuke Matsuda, the current president and representative director of Square Enix, joined the broadcast for the opening segment. He discussed the recently announced news that he would be stepping down from his position (related article) and said his goodbyes to the viewers. Immediately after, Matsuda's successor and soon to be new president, Takashi Kiryu, also joined the stream and expressed his love for FFXIV.


Kiryu also brought a guitar with him when he appeared. The electric guitar, which Kiryu actually owns, is a special limited edition Final Fantasy XIV Stratocaster that was created by American instrument manufacturer Fender in October 2021 to commemorate the company's 75th anniversary.
He was immediately taken with the guitar upon seeing it at an FFXIV fan festival and waited nine months to finally get his own. Producer and director of FFXIV, Naoki Yoshida, praised him, saying "I think it's commendable that you didn't just ask for one, considering that you're the next in line to be president." When discussing the reasons why Kiryu is being assigned to the role of president, Matsuda noted that "He is so devoted and persistent that he would even buy a FFXIV Fender guitar," giving viewers a glimpse into Kiryu's passionate side.
A FFXIV player himself, Kiryu said that his wife is a hardcore player, and in the beginning, she played as a healer and helped him along. Yoshida asked Kiryu for some interesting anecdotes about playing the game with his wife, and he discussed their harmonious adventures. Kiryu also wanted to play FFXIV while relying on his own skills, so he created a second character and is currently working hard at tackling the game solo.
When talking about his objectives for the future, Kiryu stated, "I want FFXIV to be the best game in the universe," and "I love games, so I want to make Square Enix into a company that releases many games that everyone enjoys." Furthermore, he referenced the time Matsuda cosplayed as a Blue Mage at the FINAL FANTASY XIV Fan Festival 2018 in Las Vegas, saying, "I want to do my own cosplay that will be every bit as good as Matsuda's Blue Mage." Kiryu finished up his segment by saying, "I want the FFXIV team to aim for 50 or 60 million players, and to become the best game in the universe." The remainder of the broadcast was focused on introducing the content that will be included in the new update.
As for Matsuda, he commented that he doesn't have any regrets, and Yoshida said that during the 2024 fan festival at Tokyo Dome, they intend to give him a magnificent send off.
The date of the position change for both Matsuda and Kiryu is expected to be finalized pending approval at the Annual Shareholder's Meeting and the meeting of the Board of Directors. The Annual Shareholder's Meeting will occur in May for Square Enix and June for Square Enix Holdings.


© SQUARE ENIX CO., LTD. All Rights Reserved.



Written by. Marco Farinaccia based on the original Japanese article (original article's publication date: 2023-04-03 15:15 JST)