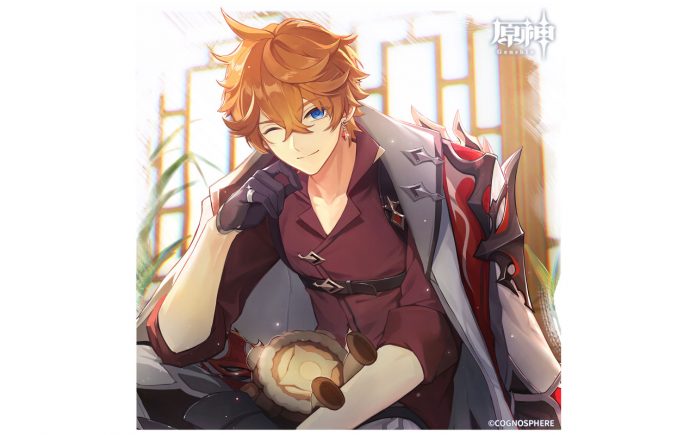 Written by. Nick Mosier based on the original Japanese article (original article's publication date: 2022-07-20 18:18 JST)


The word "ecchi belt," or "sexy strap," began trending in Japan after the Genshin Impact official Twitter account posted an image of Tartaglia on July 20 to commemorate the character's birthday. In the image, the character is wearing what fans have dubbed as "sexy straps."
Tartaglia is one of the executive officers of the Fatui which run the northern lands of Snezhnaya. The main character will first meet Tartaglia in Liyue. Tartaglia seems friendly enough offering advice and providing financial assistance, but seems to be hiding something under his friendly exterior.
Tartaglia wears a close-fitting grey shirt and pants but with various open areas even when wearing the clothes in an ordinary manner. There's the opening around his wrists and forearms where his sleeves are rolled up. An opening in his gloves that expose the back of his hands giving him a sort of masculine appeal. And last but certainly not least, an opening at the bottom of his jacket that lays his midriff bare for all to see. Combine that with his low-rise pants and we can see a hint of what lies just below his abs. If you haven't caught on yet, Tartaglia is a sexy character.


With this year's commemorative illustration, Tartaglia has his jacket draped over his shoulders in a casual manner and reveals just what kind of "sexy" clothing he has on underneath. On top of the rolled up sleeves and smile, we can see a black strap attached just under his chest. In other words, a "sexy strap."
His inner shirt is being held closed by just a single button and that strap. Tartaglia doesn't seem to mind showing off his abs but draws the line at showing the pecks. On the contrary, this also highlights them which could be seen as increasing the character's sex appeal. If he just had another button there instead of a belt, the image may not have made such a splash on social media. Tartaglia's abdomen, the aspect of the character known for being sexy, is also covered by a Mr. Cyclops toy. Perhaps another ploy to draw attention to the character's chest.
Straps are primarily used to keep clothing set in place and for other practical reasons like with a bag or holster. However, these so called "sexy straps" don't appear to be so practical and mostly serve to highlight chests and thighs. In Tartaglia's case, he already has a useless belt strapped to his thigh, so when fans saw he had not just one but two sexy belts, perhaps they couldn't control their carnal desires which caused the word to trend.
Thanks to this new illustration, we now know that Genshin Impact's Tartaglia wears two sexy belts that he straps on every morning and takes off every night. The heartthrob was only available through a limited time gacha and is currently unobtainable. All we can do is patiently wait for his return.