Written by. Marco Farinaccia based on the original Japanese article (original article's publication date: 2022-07-20 16:05 JST)

Studio Saizensen has announced that jumping delivery action game MilkChan will be coming to arcades (ALL.Net P-ras MULTI Version 3). The game is scheduled to be available in Japanese amusement venues in late July.

MilkChan is a game where you use punches to propel yourself through stages. The protagonist, Milk-chan, spends her days delivering milk to people, and the ultimate goal of the game is to deliver milk to the king at the highest floor of the castle.
The gameplay is based around a simple control system of movement combined with a single punch button. Stages are particularly vertical in nature, so players must utilize Milk-chan's arm punch to ascend to higher platforms. She can punch the ground to launch herself into the air and can also punch walls to jump diagonally. The game is highly difficult as there are a variety of gimmicks and traps in each stage, and a number of skillful maneuvers are necessary to advance.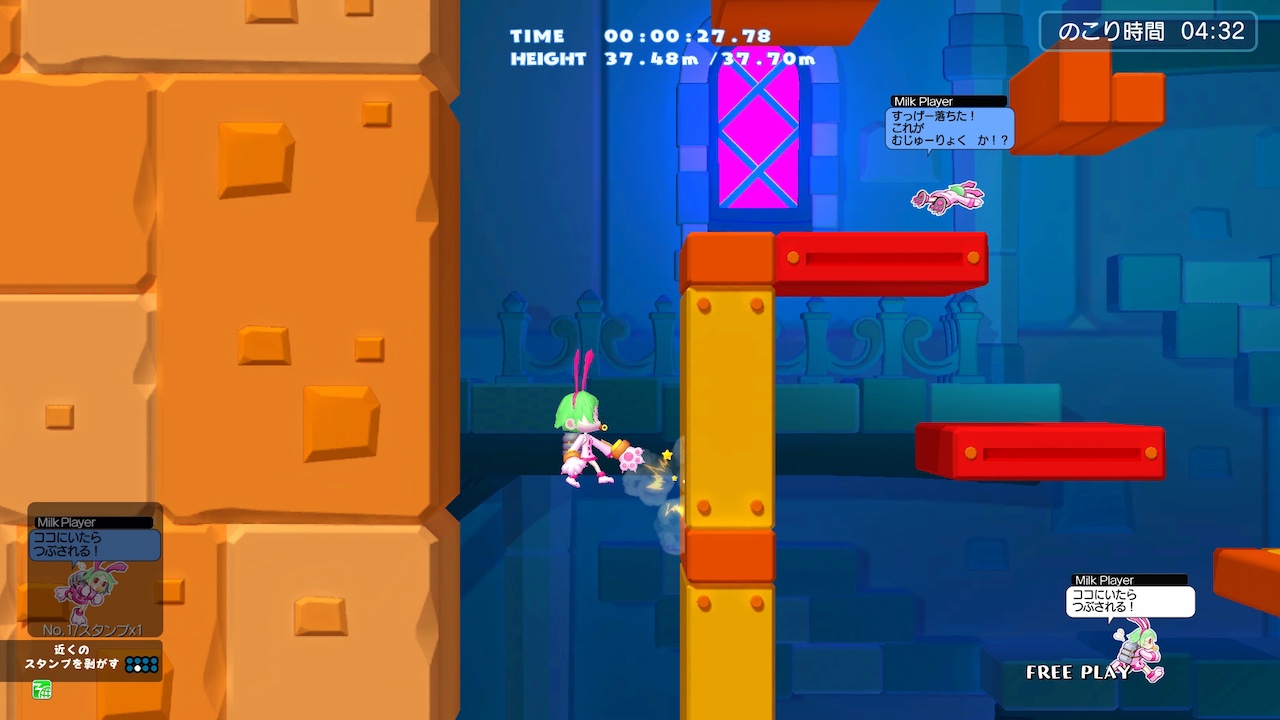 Stages carry a time limit, and players are able to instantly revive and try again as long as there is time remaining. There are also time extending items that are placed throughout each stage. Players must become proficient at grabbing these time items if they hope to continue climbing to even greater heights.
As you advance through the game, you obtain a variety of stickers that can be placed all over the screen. The trailer shows stickers being placed in all sorts of spots and confirms that it will even be possible to stick them on the game screens of other players. It also shows that comments can be attached to the stickers. This system will let players cooperate with each other by placing helpful hints in particularly difficult sections.
The official site for MilkChan can be found here (Japanese only). To commemorate the release of the game, the first three players who make it to the end and deliver milk to the king will be awarded with signed trophies. This is not a contest based on the fastest in-game clear time but is instead a real-world race to see who can finish the game as soon as it can be played in arcades. Details on how to participate can be found on the website's event page (Japanese only).