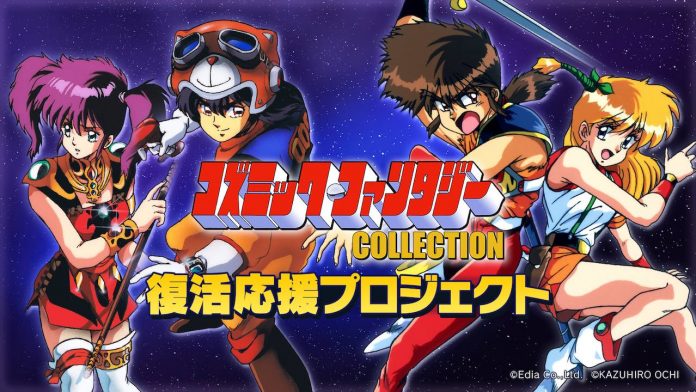 Written by. Marco Farinaccia based on the original Japanese article (original article's publication date: 2022-06-24 19:10 JST)


Edia has announced that they are developing Cosmic Fantasy Collection (tentative title). The game will be coming to the Nintendo Switch and is planned for release sometime after December 2022.



Cosmic Fantasy Collection (tentative title) will include ports of two RPGs from the Cosmic Fantasy series: the 1990 released Cosmic Fantasy: Bouken Shounen Yuu and the 1991 released Cosmic Fantasy 2: Bouken Shounen Van, originally released in North America as Cosmic Fantasy 2. The first game follows the adventures of protagonists Yuu and Saya on the planet Norg. They meet a number of allies as the battle against their enemies unfolds. The second game takes place on the planet Idea and depicts the new protagonist Van on a journey to rescue his childhood friend from the clutches of an evil wizard.
Both games were originally released for the PC Engine CD-ROM2 (known as the TurboGrafx-CD in North America) and were notable for their full-scale animated cutscenes and character voice acting. The series is also known for the way it depicts a love story between the protagonist and heroine of each title. The new ports aim to preserve the atmosphere and feel of the original PC Engine versions in an attempt to appeal to a wide range of players, including existing fans with a nostalgia for the games, as well as modern gamers who may be discovering the series for the first time.



Along with the announcement of this new collection, Edia also began a crowdfunding campaign on Japanese site Makuake. The campaign uses the site's "All in" system which means that they intended to develop the game even if funding did not reach their initial target of 3 million yen (around $22,000); however, they have already passed that goal at the time this article was published. Those who contribute 5,500 yen (around $40) or more to the campaign will receive a copy of the game.
There are other rewards that are available at different tiers, like having your name included in the credits, merchandise, story boards from the animated scenes, and more. The original creator of the series, Kazuhiro Ochi, is also cooperating with the funding project and has prepared rewards like sketches, illustrations, and autograph boards.

In addition to the Cosmic Fantasy series, Edia has recently acquired the rights to a number of retro game IPs. They began their retro revivals with Valis: The Fantasm Soldier Collection which was released last year in Japan and February 2022 in the west. With Cosmic Fantasy Collection (tentative title), it looks like Edia intends to continue bringing back popular titles of the 80s and 90s and introducing them to a brand-new generation of gamers.