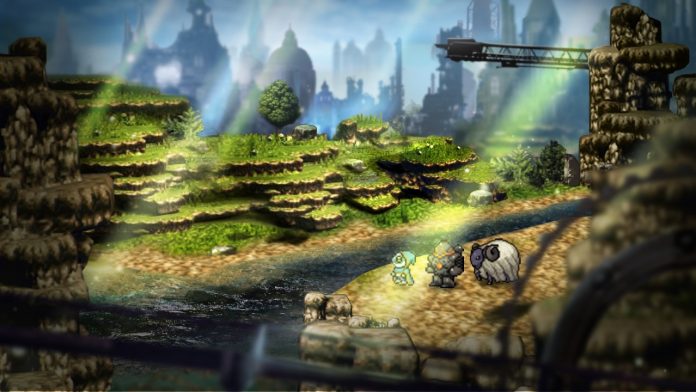 Written by. Nick Mosier based on the original Japanese article (original article's publication date: 2022-01-03 15:22 JST)

Hironobu Sakaguchi tweeted out a screenshot for an abandoned project. Hironobu Sakaguchi is a game developer known as the father of Final Fantasy and was involved in numerous titles at Square Enix before going independent and founding Mistwalker in 2004. Mistwalker has since released titles like Blue Dragon, Last Story, Terra Battle, and Fantasian, which came out last year and won Apple Arcade Game of the Year in the App Store Awards.

The screenshot shows a frog, a robot, and a goat-like character standing by a river. But unlike regular pixel art, the image also has a sense of depth. The water in the river appears to be made in 3D, and there are light beam effects as well.
This kind of depiction bears a strong resemblance to the HD-2D used in Square Enix's Octopath Traveler. In fact, the rocks on the sides of the image look just like the ones found on the Coastlands in Octopath Traveler. The grassy landmass in the middle also looks just like what's found in the game's Flatlands area, and a tree that looks like the tree in the middle of the image can be found in the game as well.



Sakaguchi doesn't clarify if the image is an actual screenshot of the game. For that reason, it's possible the image is just concept art using assets borrowed from Octopath Traveler. It's also possible that there was no project to begin with and the image was just made for fans to enjoy.
Sakaguchi also commented, "The main character is of course a frog." It's not totally clear why he uses "of course" here, but Sakaguchi tweeted a screenshot of a character he created in Final Fantasy XIV looking like Frog from Chrono Trigger back in November of last year. He apparently did this at the request of fans. At any rate, it doesn't sound like work will continue on the game going forward. The tweet did gather responses from fans wishing the project didn't get shelved, though.
Sakaguchi has stated, "With the completion of Fantasian, 2022 is planned to be a year of rest," (4Gamer). It looks like the possibility of a new announcement this year is low. Plus, Sakaguchi has been hooked on Final Fantasy XIV since last year and has been posting about his adventures daily on Twitter (related article).