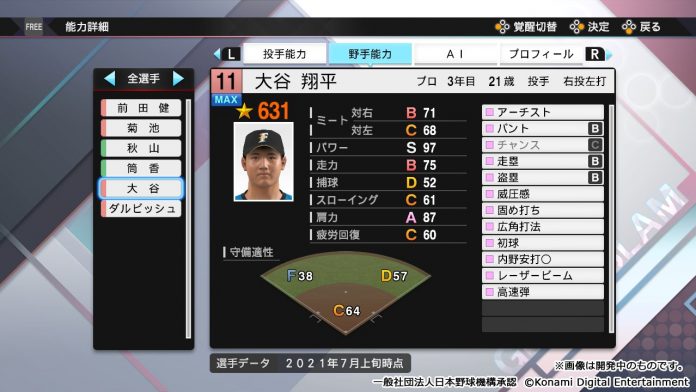 Publication date of the original Japanese article: 2021-08-19 18:00 (JST)
Translated by. Braden Noyes

On August 19, 2021, Konami Digital Entertainment Co., Ltd. (Konami) released information regarding its upcoming update for eBaseball Professional Baseball Spirits 2021: Grand Slam, scheduled for August 26, 2021. In it, they announcement "awakened data" would be added for six current Major League Baseball (MLB) players: Yu Darvish, Kenta Maeda, Shohei Ohtani, Yusei Kikuchi, Shogo Akiyama, and Yoshitomo Tsutsugo. The awakened data will also be added for ex-MLB player Shun Yamaguchi, who left the San Francisco Giants this past June.
Please note: this game's title and all in-game terms listed in this article are unofficial translations, as eBaseball Professional Baseball Spirits 2021: Grand Slam has no official English release.


One particular player among these has been in the spotlight as of late: the two-way player Shohei Ohtani who currently leads the MLB in home runs with 41 as of August 30th. The most noticeable point regarding this new awakened data is the addition of a unique skill called High-Velocity Shot. This skill is meant to reproduce Ohtani's incredible exit velocity.
A number of players available in eBaseball Professional Baseball Spirits 2021: Grand Slam have been given unique pitching and batting animations modeled after the forms of their real-life counterparts, but Ohtani is the first example of a player getting their own unique ability. Apparently, the current game parameters are simply unable to accurately recreate Ohtani's actual, real-life talent.
According to an article from Yorozoo News, Konami provided the following statement in regards to the change: "Whenever a hard swing connects with the center of a ball, the 'High-Velocity Shot' ability will increase the ball's overall speed. There has been a lot of talk regarding the speed of the balls Ohtani has been hitting lately. We have also taken the time to rewatch some of his games and have come to the conclusion that his talent cannot be recreated with the current in-game parameters. We have therefore made the decision to add this special skill."


Ohtani's overall batting skills have also been greatly improved. His bat control against both right- and left-handed pitchers has been raised to at least rank C, and his Power has been increased to the highest rank of S. On top of this, his High Trajectory skill has been changed to Artist, which makes it easier to hit home runs, and each of his special abilities—Bunt, Chance (Clutch), Base Running, and Base Stealing—have been increased by one rank.
The following skills have also been added to his character to give him an advantage while batting: Intimidation, Firm Hitter, Spray Hitter, First Pitch, and Infield Hit. As for his Defense Aptitude, pitcher and right-fielder aptitude have been given a boost, and he now also has an aptitude rank as a left-fielder. He has also received a slight boost to his Shoulder Strength.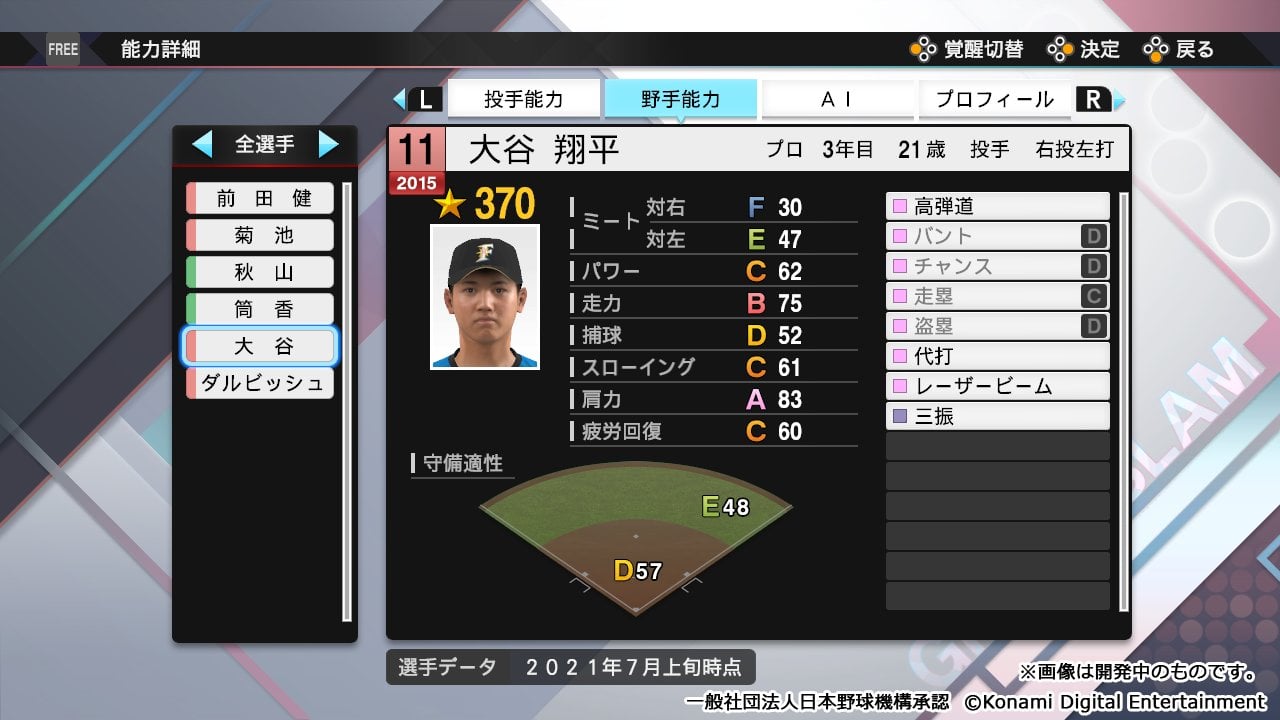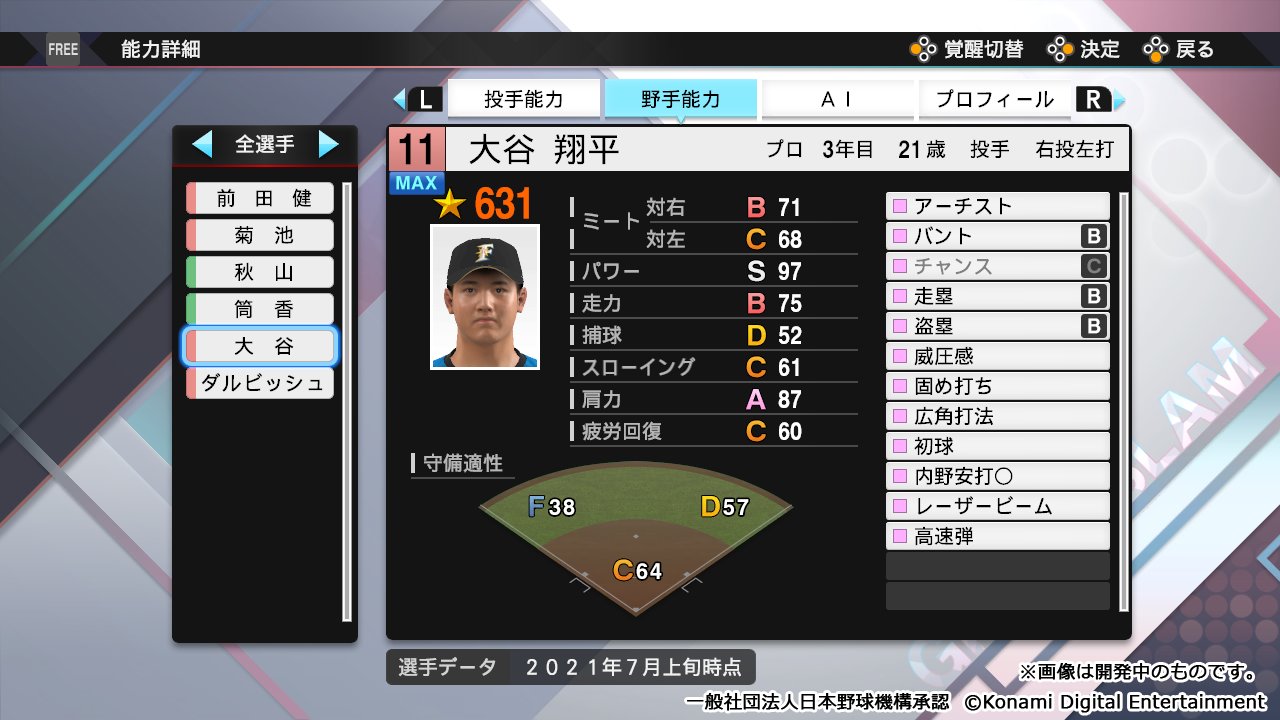 Ohtani's Pitching performance so far this season has been outstanding. As of August 30, 2021, he is 8-1 on the year after 19 games, with a 3.00 ERA and a 1.06 WHIP. And just like his batting skill, Ohtani's awakened data as a pitcher will get a significant boost as well.


eBaseball Professional Baseball Spirits 2021: Grand Slam is available from Konami for the Nintendo Switch in Japan.