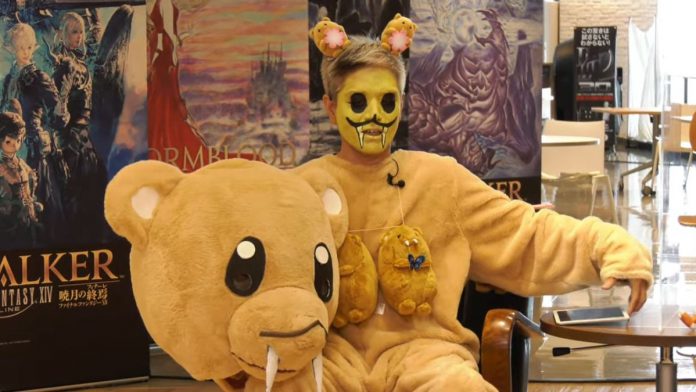 Publication date of the original Japanese article: 2021-07-10 12:37 (JST)
Translated by. Jacob Ritter

Square Enix hosted its "Seventh 14-Hour Broadcast for Final Fantasy XIV (FFXIV)" on July 10. At the broadcast's opening, Global Community Producer Toshio Murouchi appeared cosplaying as the Shadowbringers mascot-esque Giant Beaver. Murouchi's costume left quite the impact on viewers from the very beginning, so much so that identifying where it was purchased from quickly became the center of focus.


As the name suggests, the 14-Hour Broadcast is a 14-hour live broadcast associated with FFXIV. Although typically an annual event, broadcasting was not possible in 2020 due to the COVID-19 pandemic. The broadcast scheduled for February 6 2021 was also cancelled due to the state of emergency declared in Japan. But after many unexpected twists and turns, the July 10 broadcast was able to air successfully.
Murouchi has adorned other strange costumes in previous broadcasts as well, and his appearance has become a regular part of them. In a previous broadcast, Murouchi appeared as "Forgiven Murouchi," wearing a completely white costume with a mask. Because of this, many fans voiced their curiosity for how Murouchi would appear this time.
And in the long-awaited broadcast's opening, Murouchi appeared as the ever-popular mascot character Giant Beaver. Viewers not only got a kick out of his fluffy fur suit with the beaver helmet, but also were surprised to see Murouchi wearing face paint to maintain the Giant Bever cosplay even after taking off his headpiece.
Both viewers and staff alike also gasped in awe when Murouchi put on his cat-ear headband, but instead of ears, it featured two cute mini-Giant Beavers. His costume was adapted from a simple bear costume, adorned with many Giant Beaver plushies as a flourish to make it a stand-out cosplay.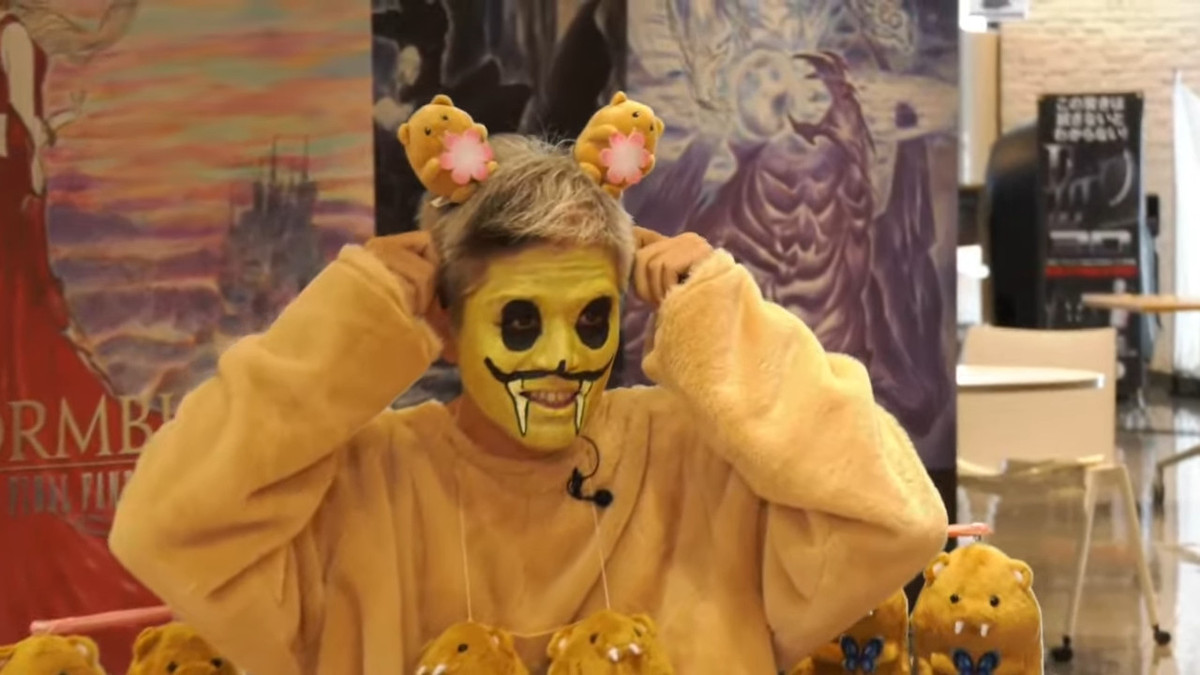 Because Murouchi hinted he was wearing a bear costume, many users were able to identify it as the basis for a Giant Beaver cosplay. Darrell Rasner guessed that the costume was made from the bear costume sold by the mooncat costume shop. After that, he also guessed it might be from Asia Wind (sold on Rakuten). Judging by the rounded ears and outline around where the nose was removed, the latter of the two seems like a closer match.
There's a trend where people try to discern where clothing worn in these broadcasts is from–such as the SCOTCH hoodie worn by Yoshida, which after being identified went completely sold out (Related Article in Japanese).
Murouchi talked about his costumes with director and producer Naoki Yoshida during the broadcast. According to their conversation, all the costumes that Murouchi wears during the 14-hour broadcasts are purchased in Germany when they attend the annual gaming exhibition called "gamescom" together.
Apparently, there is a costume shop near the hotel they stay in, and they spend a lot of time browsing the shop and pondering over which costumes to choose. They try combining all sorts of pieces together until they have a eureka moment to plan out the perfect completed costume. And as an added note, Yoshida pays for these costumes out-of-pocket, with an average budget of around $500 USD.
However, due to COVID-19, gamescom was held online this year and Murouchi and Yoshida were unable to visit their trusted costume shop. But apparently, an assistant producer was able to find and order this costume online. It was the assistant producer who had the idea to remove the bear's nose, attach on fangs, and make the eyes bigger to create the Giant Beaver costume.
It was basically an extreme reimagining of the bear costume. But Murouchi remarked that it would be a poor idea to paint his face, saying that it wouldn't quite fit his image of cosplay–especially considering all his previous cosplay was thoroughly considered with Yoshida as they shopped at the German costume store. According to his comment, Murouchi places high value in the aesthetic of bringing many different costume pieces together into one entity. Although he had no other choice given the pandemic, it seems there is a part of Murouchi that might regret how this year's cosplay turned out.

© 2010 – 2021 SQUARE ENIX CO., LTD. All Rights Reserved.