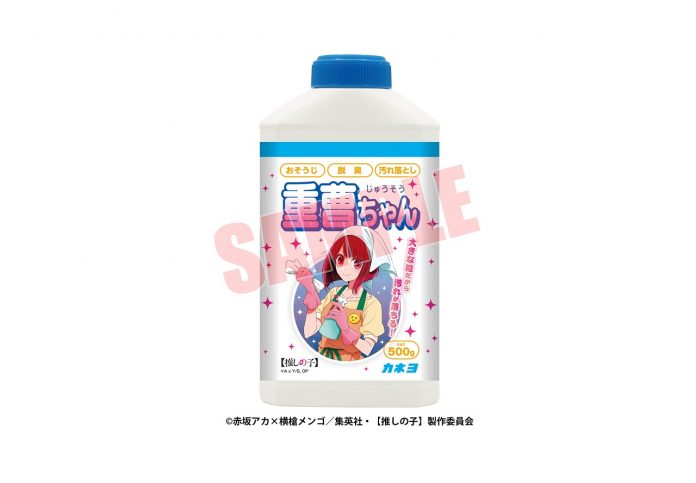 The official Twitter account for anime Oshi no Ko announced a special edition of the Kaneyo Soap product Juusou chan (which literally means Baking Soda-chan) featuring Oshi no Ko character Kana Arima. The product is part of a collaboration between the anime and the Japanese detergent manufacturer and will go on sale in Japan in early July.

Oshi no Ko is a manga series written by Aka Akasaka, the creator of Kaguya-sama: Love Is War, and illustrated by Mengo Yokoyari, the creator of Scum's Wish. The story starts off by following Gorou Amemiya, a gynecologist working in the countryside. When his favorite idol shows up at his hospital, their fates become intertwined in strange and unexpected ways.
An anime adaptation of the series began airing in April. The first episode was 90 minutes long—unusual for television anime—and its shocking twists and production quality resulted in the show becoming a record-breaking hit. The show rapidly became one of the biggest anime titles of spring 2023.
The character featured in the new collaboration, Kana Arima, appears in the first episode as a child actor who encounters the protagonists. Kana was famously known as "The genius child actor who can cry in ten seconds," but main character Ruby can't quite remember this moniker and mistakenly calls her "The genius child actor who licks baking soda." Even in the manga, this exchange was particularly memorable, so much so that Kana was nicknamed Baking Soda-chan by fans of the series. In other words, the newly announced product is a collaboration between the two Baking Soda-chans: Kana and the real-life baking soda product.
Although it's not apparent in English, Ruby's blunder of Kana's title is actually some clever wordplay. "The genius child actor who can cry in ten seconds" is "Juubyou de nakeru tensai koyaku" in Japanese, while "The genius child actor who licks baking soda" is "Juusou o nameru tensai koyaku." The joke is that "Juubyou de nakeru" and "Juusou o nameru" sound similar.
Funnily enough, the Baking Soda-chan collaboration was originally conceived as an April Fools' joke, which you can see in the tweet below. What started as a joke collaboration based on a joke in the show has now become reality.

As was clarified at the bottom of the announcement tweet for the collaboration baking soda, the product is not edible. So please, whatever you do, don't lick the baking soda.





Written by. Marco Farinaccia based on an unpublished Japanese article