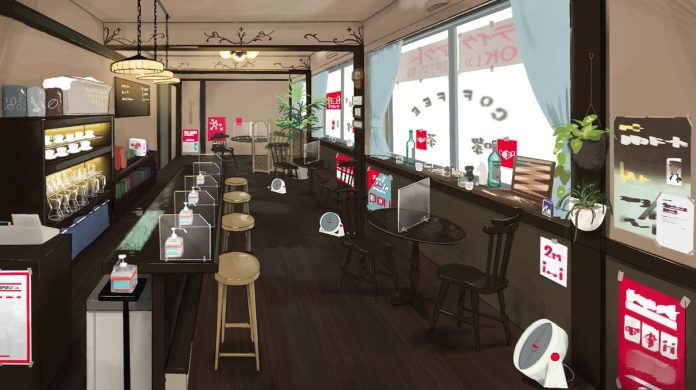 Written by. Nick Mosier based on the original Japanese article (original article's publication date: 2022-05-23 09:51 JST)


Japanese developer Heaviside Creations has announced Tokyo Coffee Pandechika, with a release planned for 2024.
Tokyo Coffee Pandechika is a nostalgic coffee game set in a Tokyo café during the pandemic. In the trailer, we can see plastic dividers between seats, alcohol dispensers set up across the bar, additional fans for ventilation, and posters asking patrons to social distance—all common sights in Tokyo as the pandemic has gone on in our own lives.
The below trailer also shows character sheets for what look to be baristas and customers of the café. With each of them being masked, of course.

While not much information has been revealed about the gameplay, the trailer does seem to show a brief glimpse of it with drip coffee being made by extracting it from a coffee grinder. While only a guess, the game may have coffee brewing simulation elements where players grind coffee beans and pour hot water to craft a perfect cup of joe.
Heaviside Creations previously released a video streaming RPG called Live in Dungeon in 2021. In the game, players would explore dungeons while streaming their exploits, with reactions from in-game viewers influencing the game. Combining classic dungeon crawling with the modern twist of streaming made for a unique concept and game.
Tokyo Coffee Pandechika also reflects our current reality by weaving the pandemic into the game. It's been a while since the initial outcry regarding the difficult situation restaurants were put in because of the pandemic, but it will be interesting to see how that angle impacts a game set in a café.