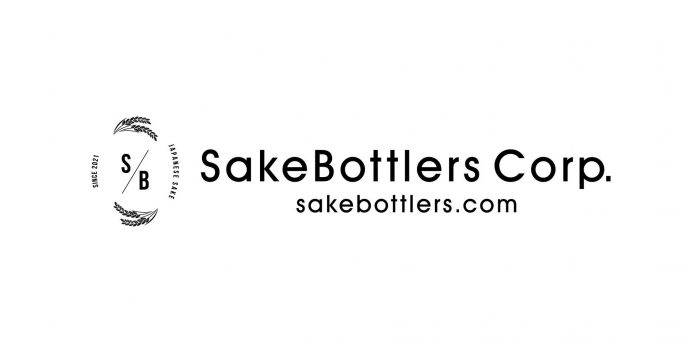 Seemingly anything can be a gaming product nowadays, even if said product barely has anything to do with gaming. For example, a gaming mask, a gaming straw, a gaming finger sleeve, a gaming chopsticks holder, or a gaming tumbler. Calling something a gaming product does get the attention of us gamers though, so it makes sense as a sales strategy. The latest example of such a product is a Japanese gaming sake called Gaming Rainbow.
Gaming Rainbow is the latest product from the sake bottle brand HITOMAKU, which is produced by a sake start-up company called SakeBottlers. The product aims to provide gamers with sake, a fermented alcoholic drink, in easy-to-hold mini-bottles and promote a culture of drinking them while playing games.
They will be 180ml per bottle and available in April 2022 or later. Two different bottle labels with the same theme will be produced, with illustrators Kinu Nishimura and Mika Pikazo handling the label art. The sake will be brewed by Tsuchida Sake Brewery located in Gunma prefecture to create a suitable taste for the gaming scene.
Sake is generally sold in large 1.8 liters or 720 ml bottles that take up space, need proper storage, and make owners have to consider the deterioration after opening the bottles, making them difficult to enjoy casually. HITOMAKU aims to avoid these problems by providing sake in small quantities so that they can be enjoyed by more people and on various occasions. The first product from this brand was released in March of 2021, and now the second product, Gaming Rainbow, has been announced.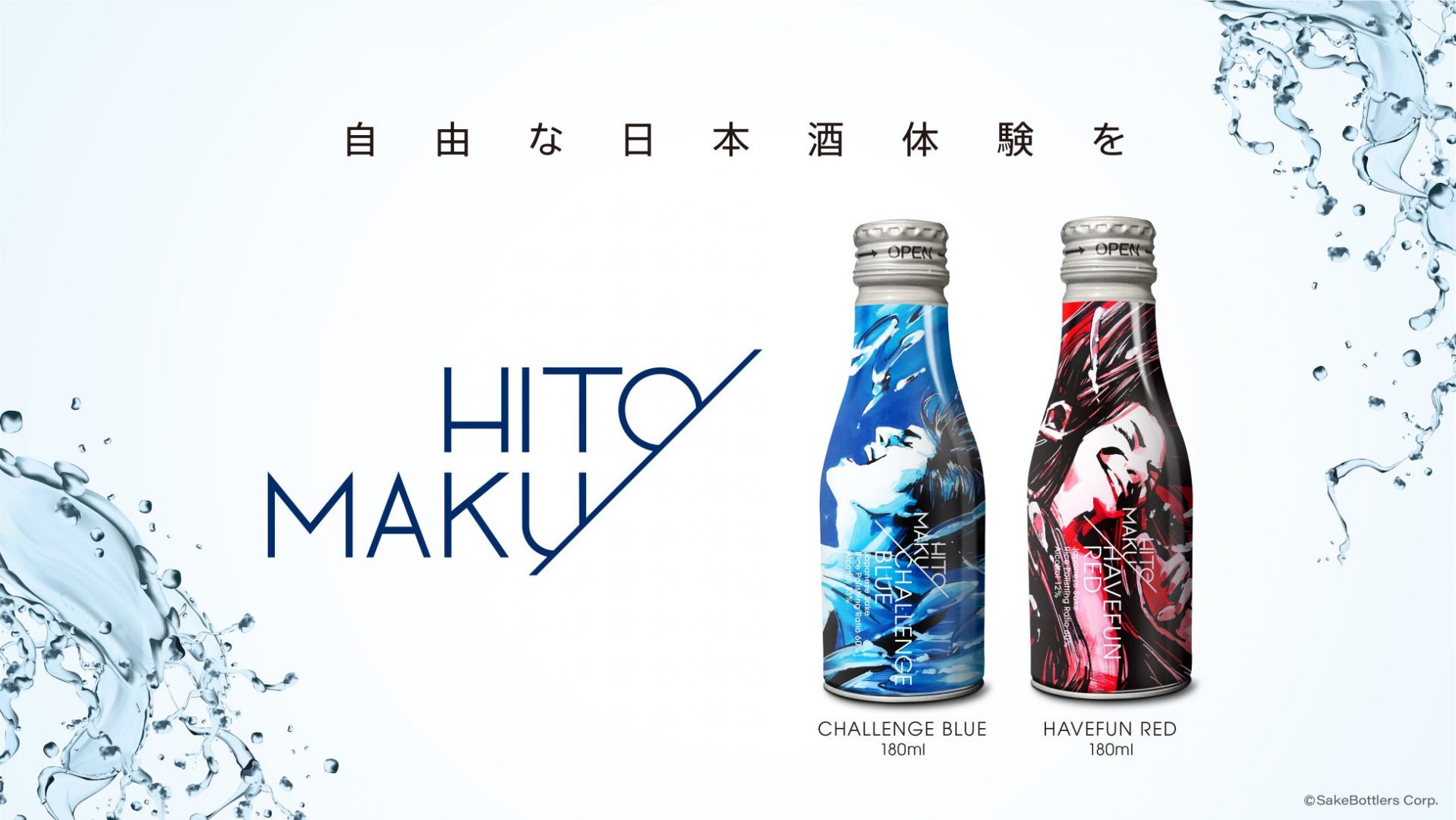 Tsuchida Sake Brewery is committed to bringing out the rich flavor of rice using the brewery's own koji mold and microorganisms without any additives. SakeBottlers chose Tsuchida Sake Brewery because its sake's taste was close to what SakeBottlers was looking for, and because the president, Yuji Tsuchida, had previously worked at a video game company.
Kinu Nishimura was chosen as an illustrator to target an audience between the age of 34 and 45, who spent their youth during the golden age of fighting games. Nishimura joined Capcom in 1991 and worked on promotional illustrations for games such as the Street Fighter series. She became independent in 2008 and expanded her activities beyond video games to work on anime and theatrical plays.
Mika Pikazo was chosen to target the age group of 25-34 who mainly play free-to-play gacha games and FPS. Mika has previously worked on the character design of VTuber Kaguya Luna, art direction for VR live event of the same character, main visual and costume design for a Hatsune Miku live event, and in-game illustrations for Fate/Grand Order.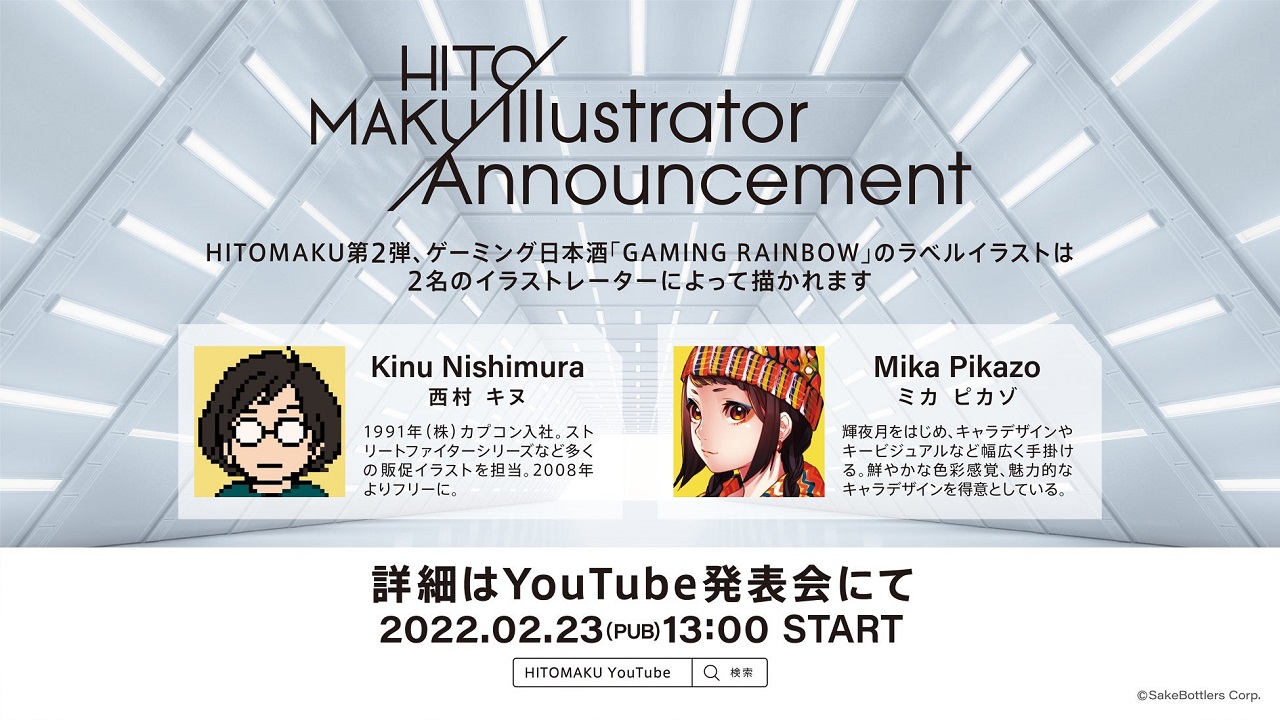 According to a survey conducted by SakeBottlers, 60% of respondents said they sometimes drink alcoholic beverages while gaming at home. Sake is generally not something you can chug down like beer or other drinks with a relatively low percentage of alcohol, but at the very least, creating a sake product that is easy to drink while gaming is an interesting idea, and I can't wait to try one out.
More details about the product, including the label design, will be announced during an official YouTube livestream scheduled to start on February 22 at 8 p.m. PST (February 23 at 1 p.m. JST).