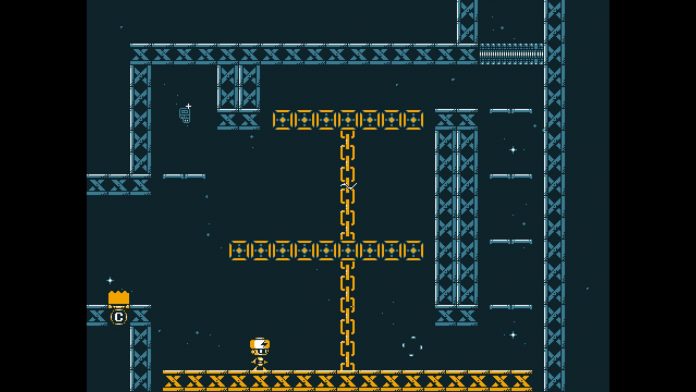 Publication date of the original Japanese article: 2021-10-21 11:54 (JST)
Translated by. Ryuki Ishii

ElecHead was released for PC (via Steam and itch.io) on October 14 and has been gaining attention from industry figures ever since.
ElecHead is a puzzle action game developed by a solo developer Nama Takahashi. It takes place in a world enshrouded in darkness. The player takes control of Elec, an electrically charged robot, through a mysterious facility, trying to bring light back to the world.
Due to Elec short-circuiting, his body is constantly emitting electricity. An electric current is automatically passed through whatever Elec is touching, be it the floor he is standing on or a wall he is pressed up against.
The inside of the facility is filled with equipment which runs on electricity, so by having Elec touch the ground or the walls, he can activate platforms or cause pedestals to move to help him clear puzzles. Elec's head is also detachable, allowing him to throw it to electrically charge things from a distance.
There are 115 user reviews on Steam thus far, with 98% of them being positive, giving this game a "Very positive" review rating.
The puzzles in this game are all well-made and fine-tuned. They are difficult, but many of them can be solved by twisting your brain. Unique ideas and gimmicks are being used, such as the short-circuiting nature of Elec, the detachable head, and puzzles that are intertwined between stages. Plus, it feels good to move Elec around, with its smooth movement and pleasant sound effect of Elec landing on the ground. It is no wonder that this game has been well received by users.
The relaxing ambient music in the background and the game's sound effects were handled by composer Tsuyomi.
The game has received high praise from game creators and industry figures as well. Derek Yu, the creator of Spelunky series, called it "a puzzle platformer masterpiece that pushes its unique mechanic to its limits, leading to many 'Aha!' moments."
Maddy Thorson, the developer of Celeste, posted a screenshot from the game and commented that it's a "fun puzzle platformer." Downwell creator Moppin, who has been paying attention to the game for some time, also praised how polished everything is, including the superb level design. SIE's Shuhei Yoshida tweeted out saying ElecHead is one of his best games of the year. "I wish I could erase my memory and start playing this game again :D"
Nier creator Yoko Taro seems to have enjoyed the game as well, mentioning its simple rule, stress-free puzzle design, and cute visuals. Terry Cavanagh gave a strong recommendation saying, "it's short, beautifully designed and a lot of fun!" Cavanagh's VVVVVV was one of the games that inspired ElecHead creator Nama Takahashi, and Takahashi expressed his delight at the praise from the respected creator. "Without your work VVVVVV, ElecHead would not have been born! Thank you so much."
[UPDATE 2021/10/21 19:51 JST] fixed the name of Terry Cavanagh. Our sincere apologies.
As you can see, the overall quality of the game, from its level design and ideas to its visuals and sounds, is being praised by a number of creators.
Nama Takahashi was one of the developers on Battlloon, and is a creator who makes bite-sized, yet worth playing games such as Kuitaiyo (I want to eat the Sun). ElecHead's unique concept has been well received even before its release. It took home the Best Game Design Award at last year's TGS's Sense of Wonder Night. It also received an award of excellence in the amateur division at the 2016 Japan Game Awards. Now, with the full game released, it is getting even more accolades.
The game was playtested by many people including fellow indie dev Nikaidorenji. This goes without saying, but feedbacks from the playtests must have contributed to the game's quality and balance.
* "asobu meets indies #1" video talks about Nama Takahashi's background and ElecHead's development process (English subs available)

ElecHead is currently available on PC (via Steam/itch.io) for $9.99. It takes around 2-3 hours to complete, with multiple hidden rooms to find, if you are up to the additional challenge.