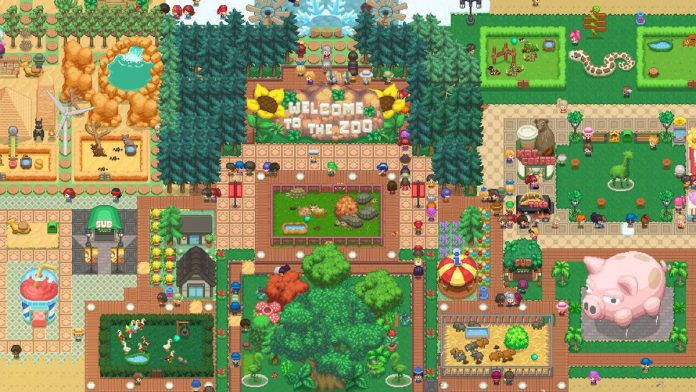 Publication date of the original Japanese article: 2021-10-13 20:18 (JST)
Translated by. Ryuki Ishii

Publisher No More Robots and developer Springloaded Games announced the release date of their new game Let's Build a Zoo. It will come out on November 5 for PC (via Steam).
Let's Build a Zoo is a zoo management sim where you build and manage a zoo from scratch. There are over 500 kinds of animals, from relatively smaller ones such as chickens and monkeys to larger ones like giraffes and elephants. Players must create enclosures with environment/foliage suitable for each animal, attract visitors, and expand the business.
The highlight of this game is the "DNA splicing" feature that lets you bind together animals to create new species, with over 300,000 possible combinations. For example, mixing a panda with an owl will create a pandowl. Combining a chicken and a cow will create a chickow. You have the freedom to create whatever monstrosities you wish. In addition, you have the option to "run your Zoo above board… or break the law and pocket the extra cash."
Mike Rose, founder of No More Robots, shared his experience on Twitter: "Yesterday, I realized that a breed of gorilla only existed in my zoo — it was extinct in the wild. So I started breeding *loads* of them, and eventually I released a bunch of them into the wild. A couple of hours later, the breed's population was rising. I MADE THAT HAPPEN!!!!"
It seems like you can toy around with the visitors as well. Rose continued on to say: "I realized that if I fed sugar and barely popped kernels of popcorn to customers, it made me way more money, and made my visitors buy more things. A dentist practice then approached me to work out a deal together, where I got them more customers." Suggesting you can customize the recipes for foods sold at the zoo and serve outrageous snacks to visitors.
According to the announcement page on Steam, "you'll be able to put on your Zoo Keeper's uniform and build the best (or worst) zoo to ever exist, splicing up animals, running farms and turning your animals into bags and belts!"
I wonder how far players can go in pursuit of profit. I'm certainly interested to see what kind of zoos players will come up with, when the game launches on November 5 for PC (via Steam).