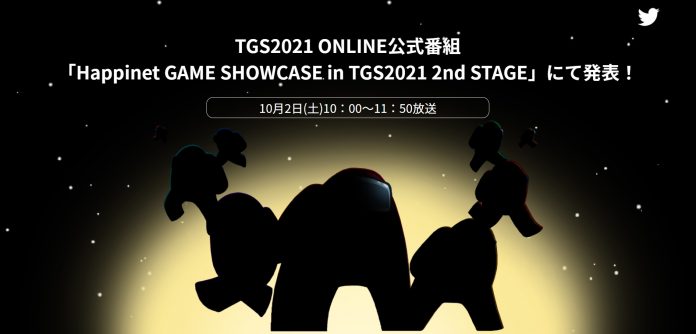 [UPDATE 2021/10/02 15:58 JST]
Turns out, it was just an announcement for the physical edition (Among Us: Crewmate Edition) in Japan.
[Original Text 2021/09/15 12:58 JST]
On September 15, game publisher H2 INTERACTIVE opened a teaser site for their upcoming title. The official reveal will take place during the TGS2021 ONLINE program "Happinet GAME SHOWCASE in TGS2021 2nd STAGE" on October 2 at 10 am (JST).
Judging from the silhouette of the characters shown in the teaser image, it looks to be related to Among Us. That doesn't necessarily mean the new title will be a full-on sequel or a spin off game, though. It could just be a game with Among Us characters in it. The wording in the press release is "The teaser site features silhouettes of the characters that will appear in the game."
They also phrase it as "new game published by us" and this could also be just an announcement of Among Us' Japanese physical edition or something along the lines, so I wouldn't get my hopes up.
TGS2021 will be held online, with limited offline exhibition for press and influencers. Happinet GAME SHOWCASE in TGS2021 is divided into two parts/stages. The 1st stage scheduled to take place on October 1 at 5pm (JST) will feature Crysis Remastered Trilogy. The 2nd stage will start the following day on October 2 at 10am (JST) and the aforementioned title will be announced here.







written by Ryuki Ishii