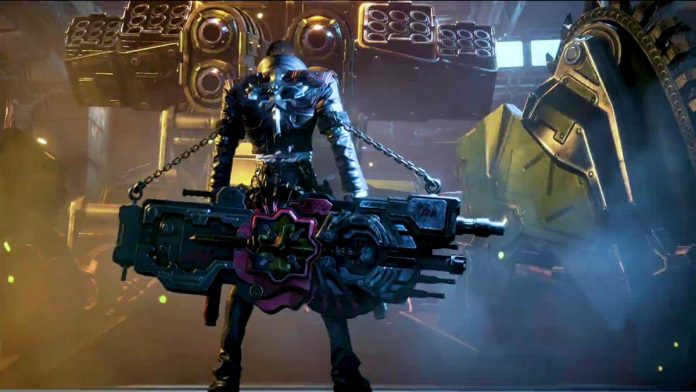 Publication date of the original Japanese article: 2021-09-30 18:00 (JST)
Translated by. Ryuki Ishii


On September 30, publisher Koch Media released a new trailer for Gungrave G.O.R.E which includes new cinematics and some gameplay footage. Along with the trailer, Koch Media also announced the involvement of former Tango Gameworks creative director Ikumi Nakamura.
Gungrave G.O.R.E is a third person action-shooter being developed by South Korean studio IGGYMOB. It is a long-awaited sequel to the Gungrave series that can be experienced as a stand-alone story on PC and a new generation of consoles.
The original Gungrave came out in 2002 for PS2, developed by a Japanese studio Red Entertainment. The original story and character designs were handled by Yasuhiro Nightow, the creator of the popular manga series Trigun. TV anime series aired the following year, and the hard-boiled, bullet-riddled series created a solid fanbase. Nightow is also involved in the development of Gungrave G.O.R.E.
The new trailer includes new cinematics and some gameplay footage. The stylish action of the original, where you dance around and rain bullets down on your enemies, is still present. It is worth noting that the protagonist Beyond the Grave's ex-friend and a rival, Bunji Kugashira, will return to the game as a playable character. A nice surprise for fans of the series, and we're intrigued to see how the relationship with Grave will unfold.
According to the press release, Ikumi Nakamura will handle the character design for a "Superior Boss" named "Yensen Superior." The image in the embedded tweet above is likely the Yensen Superior they are talking about. "Having played the original Gungrave, this collaboration brought back a lot of memories and thoughts for me," said Nakamura in the press release.
She has previously worked on Okami and Bayonetta during her time at Capcom, and later worked as an art director for The Evil Within and as a creative director for GhostWire:Tokyo until her departure from Tango Gameworks in September 2019.
In many of the titles, she has done character/creature designs and concept arts as well, which are highly regarded. She is also known as the E3 2019 sensation who pretty much stole the show with her charming presentation (see related article, in Japanese). In addition to sharing her design works on Twitter, she also spends time interacting with fans and posting memes.

Gungrave G.O.R.E is scheduled to come out in 2022 for PS4, PS5, Xbox One, Xbox Series X|S, and PC.