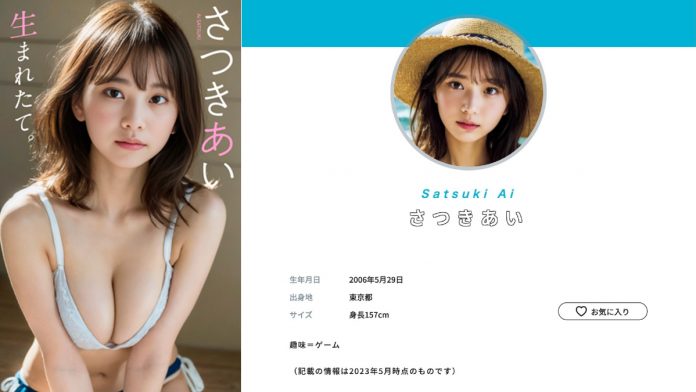 The Japanese publisher Shueisha announced on June 7 that they have suspended sales of their recently published gravure photobook that uses AI-generated images. They have also deleted the article in which the photobook and AI concept were first announced. 
The term gravure photobook refers to Japanese photobooks that contain provocative photos, often of swimsuit and lingerie shoots of models, also called gravure idols. The "Newly born" gravure photobook containing AI-generated images was released by Shueisha on May 29. The images were generated by Shueisha's Weekly Playboy editing department with the aim of "creating a dreamlike being that meets a man's every ideal, while also being as life-like as possible." The model featured in all of the images in the photobook is Satsuki Ai, the "AI gravure idol" that does not exist in real life.  
Upon the release of the photobook, the Shueisha department made a statement that they are working together with their legal department to make sure they stay within legal limits. Initial reactions from the public to an AI-generated gravure photobook being released by a major Japanese publishing company were conceivably mixed, with users voicing concerns about the ethical and social aspects involved.
However, what stood out as particularly problematic was the resemblance the AI-gravure idol bears to real-life actress and former idol Kabashima Hikari (previously known as Asakura Yui). Users were quick to point out the uncanny resemblance, and the fact generated significant attention.  
Aside from the physical similarities, users also discovered that the fictional height and hobbies of the non-existent Satsuki Ai also happen to coincide with that of Kabashima Hikari, with both being 5.15 ft tall and having gaming listed as their hobby. 
While an AI gravure idol being glaringly based on a real-life woman up to such a detail was problematic in itself, users were further angered by the fact that Kabashima Hikari's likeness was used in a sexual context even though she had previously openly stated that she does not wish to be seen in a sexual way and does not feel comfortable undressing in front of a camera anymore. 
Shueisha's official announcement regarding the suspension of sales of the photobook does not go into detail regarding the circumstances, offering the general explanation that the decision to end sales was based on the response of the public and the fact that their consideration of various open issues regarding AI-generated images was not thorough enough. 
Aside from the specific connection to Kabashima Hikari, many users expressed general unease about the concept of AI-generated sexual content, mainly due to the fact that current AI technology does not generate from nothing, but based on reality and real people, meaning that cases of people becoming material for AI-learning without their knowing and permission can become commonplace. Careful treading seems to be necessary in such waters, especially while there is no legal regulation implemented yet.