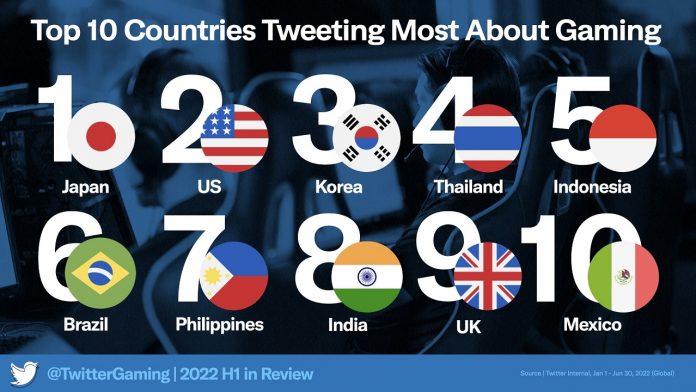 Original Japanese text written by. Ryuki Ishii
Translated by. Marco Farinaccia

Twitter has released their report on gaming related tweets for the first half of 2022. It was a big period for gaming, with the company stating that "In the first half of 2022, there were approximately 1.5 BILLION Tweets about gaming – a record half following up on a record year for gaming conversation in 2021."
Japan once again took the top spot in the "Top 10 Countries Tweeting Most About Gaming" for this period, something it also achieved last year. The country has been the king of gaming tweets in recent times, also topping the yearlong rankings in both 2021 and 2020. If Japan can maintain the momentum from 2022's great start, there's a great chance to make it three years running.
1. Japan
2. United States
3. South Korea
4. Thailand
5. Indonesia
6. Brazil
7. Philippines
8. India
9. United Kingdom
10. Mexico
The ranking of "Most Tweeted About Video Games" can also be seen below:
1. Genshin Impact
2. Wordle
3. Ensemble Stars!
4. Final Fantasy
5. Project Sekai
6. Apex Legends
7. Elden Ring
8. Fate/Grand Order
9. Valorant
10. The Legend of Zelda
Genshin Impact, Ensemble Stars!, Final Fantasy, Project Sekai, Apex Legends, and Fate/Grand Order, all games that featured last year's rankings, once again proved very popular both in Japan and around the globe. Elden Ring, the latest hit from FromSoftware, also made it to the list.
Japanese content creator Colon topped the "Most Tweeted About Gaming Personalities" rankings once again after doing so last year. Colon's YouTube channel, which also includes a wide range of non-gaming content, is highly popular and has amassed over 1.2 million subscribers.
Prominent Japanese streamer Junichi Kato ranked in at eighth, an improvement from last year's tenth. He turned heads earlier this year in March, when he streamed his own wedding on YouTube Live and Twitch, raking in over 215 million yen (around $1.5 million) just from YouTube's Super Chat alone.
That being said, according to Kato, when you consider that the wedding ceremony itself cost over 50 million yen (around $365,000) and factor in tax and YouTube's cut, he only managed to break even with the amount he received from Super Chat (Real Sound). In any case, based on the great deal of attention garnered by Kato's big event, it's not a big surprise to see him climb the Twitter rankings.
1. Colon (@Colon56N)
2. Sapnap (@sapnap)
3. Dream (@Dream)
4. Ibai Llanos (@IbaiLlanos)
5. Juan S Guarnizo (@JuanSGuarnizo)
6. AuronPlay (@auronplay)
7. Felipe Neto (@felipeneto)
8. Junichi Kato (@unkochan1234567)
9. GeorgeNotFound (@GeorgeNotFound)
10. Rubén Gundersen (@Rubiu5)
The rest of the rankings from the Twitter Gaming report can be found here.