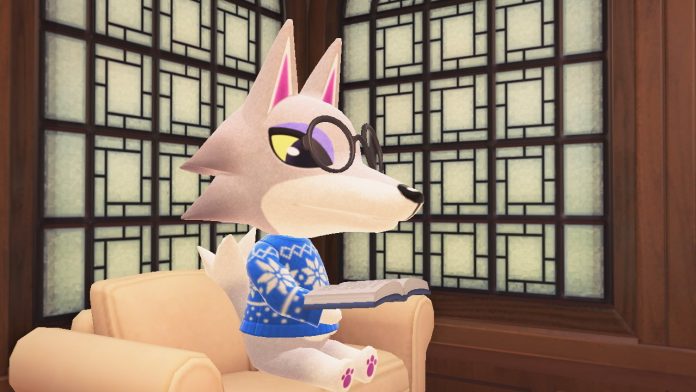 Publication date of the original Japanese article: 2021-11-04 18:57 (JST)
Translated by. Ryuki Ishii

Animal Crossing: New Horizons Ver2.0.0 free update went live on November 4, and fans are already loving the new first-person camera feature.
By obtaining the Pro Camera App in exchange for Nook Miles, you can upgrade the camera app to include Handheld mode and Tripod mode. These new modes allow for pictures to be taken at eye level. In other words, you can now enjoy the scenery in first-person view and observe small details up close. You can look more closely at the villagers as well. It's no wonder that players are captivated by this new feature.
Japanese eSports caster/YouTuber Taiki Suda tested out the new feature during a livestream, taking photos of Dom using Handheld mode and applying various filters. The close-up of Dom taken with a fisheye lens especially drew the viewers' attention and laughter. Suda too seemed to enjoy the cute self-assertive-looking Dom.
This is just one example, as many other users are taking photos of their favorite villagers up close.


The museum seems to be a popular location among photographers testing out the new feature. The huge dinosaur fossils in the basement and the aquarium area are truly sights to behold. It's like a walking simulator where you can virtually experience the museum. Not only can you see the creatures up close, but you can also observe details you might have missed before, such as the information displays. I'm sure many players have rediscovered the beautifully crafted world of New Horizons.
Some users are utilizing the new feature to make video content. Twitter user Tororilu saw potential in the first-person camera to make horror clips by combining Handheld mode and filters. Walking around in a dimly lit room with the Surveillance Camera applied, it certainly looks like a clip from a horror game. Camera work full of tension, unlike the usual slow life Animal Crossing experience.
I'm sure there are more untapped potentials yet to be discovered, and this will certainly open up new horizons for content creators and filmmakers.
Animal Crossing: New Horizons has been updated to offer new ways to enjoy the game. Further discoveries are likely to be made through community research, especially after the arrival of Happy Home Paradise DLC, which is just moments away.





Related Articles:
Animal Crossing: New Horizons [November 2021] – everything you'll be able to do this month