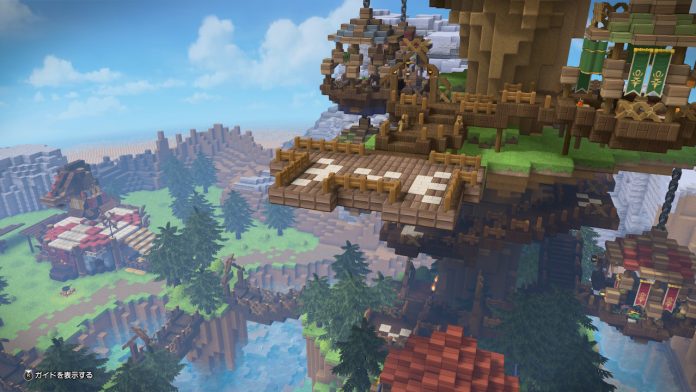 Publication date of the original Japanese article: 2021-10-31 11:11 (JST)
Translated by. Nick Mosier

A Dragon Quest Builders 2 player has recreated various locations from The Legend of Zelda: Breath of the Wild with a level of detail that has fans talking.
Dragon Quest Builders 2 is a block-building RPG co-developed by Square Enix and Koei Tecmo. The setting sees a destruction worshipping cult called the Children of Hargon spreading their influence across the land. The main character is a talented apprentice builder who meets a boy that has lost his memory named Malroth, and their bond strengthens as they adventure and grow together.
It's within this Dragon Quest Builders 2 that a Twitter user by the name of Namikaku has been recreating towns from The Legend of Zelda: Breath of the Wild.
Everything from Impa's house standing tall over Kakariko and the high platforms of Rito Village, to the desert atmosphere and interior design of Gerudo Town have been faithfully recreated. They even made the shrine that sits beside Gerudo Town. Zora's Domain retains its verticality and transparency, with the Veiled Falls being present as well. The rugged terrain of Goron City is also a sight to behold.


With such an uncommon level of detail and craftsmanship, just what is the motivation behind these recreations? We spoke with Namikaku to find out.
Namikaku first started experimenting with recreating towns from Breath of the Wild in Animal Crossing: New Horizons. Their recreation of Hateno Village represented the characteristics of the village especially well with crafty building and terrain usage. The design was also functional, with easy access to Resident Services and other buildings in town.


But Animal Crossing: New Horizons has a limit of one island per Nintendo Switch, so Namikaku ran out of space to work with on their island. That's when they found out about Dragon Quest Builders 2 on YouTube. Kamikaku was also excited about being able to add elevation into their recreations and started their work in the game.
What's the motivation behind their ambitious creation efforts? Namikaku says it comes from a love of The Legend of Zelda: Breath of the Wild and a connection to other fans of the game. Namikaku also says they discover something new every time they play which drives them to want to make those areas. Plus, other Breath of the Wild fans leave comments on Namikaku's posts about how much they enjoy the recreations.
As mentioned earlier, Namikaku also remade the shrine from Gerudo Town. That creation was sparked by finding out that elevators could be made in Dragon Quest Builders 2. Once they knew how elevators worked in the game, the idea to make a shrine was hatched.


Namikaku also enjoys the powerful creation tools Dragon Quest Builders 2 offers. They consider the Builder's Eye tool indispensable. The Builder's Eye is a tool that allows players to freely move the camera to place and remove blocks. This makes it possible to place blocks up high or far away from the player and is a necessity for making large-scale buildings.
The recreations are mostly done from memory, with Namikaku taking screenshots from Breath of the Wild to use as reference if something is unclear. Each town is quite large, so Namikaku making them based on memory is impressive. Their distinct designs and layouts probably also help make them easier to memorize.
Namikaku said they were especially pleased with Gerudo Town. By the time they recreated Gerudo Town, they were already used to the creation tools and said the man-made structures were easy to construct. On the other hand, it sounds like towns that were surrounded by natural terrain were difficult, requiring a lot of blocks to make the terrain actually look natural. You can certainly see the difficulty involved when it comes to places like Rito Village.
These recreations are stunning works, but their submissions to the Dragon Quest Builders 2 Bulletin Board may not exactly be welcome. Recreations from other company's IP are basically banned from the Bulletin Board. According to the content creation guidelines, which are written in Japanese, it doesn't explicitly say you can't make works from another company's IP, but article 4 of the guidelines states that users will be responsible for any compensation if there are any disputes regarding another company's IP. And Article 5 states that Square Enix retains the right to delete any content at their discretion.
It sounds like Namikaku's submissions to the Bulletin Board were deemed unacceptable as they were deleted. From Square Enix's perspective, the decision and the guidelines make sense. Namikaku does want to share their work, though, and is currently considering how best to do it.
These towns show the appeal of Breath of the Wild's world, the power of Dragon Quest Builders 2's creation tools, and Namikaku's passion for building. Even without the Bulletin Board, screenshots of their creations convey that. What Namikaku does next will be must-see viewing.
Dragon Quest Builders 2 is currently available for the PS4, Nintendo Switch, Xbox One, and PC (Steam and Windows Store). It's also currently available on Xbox Game Pass.