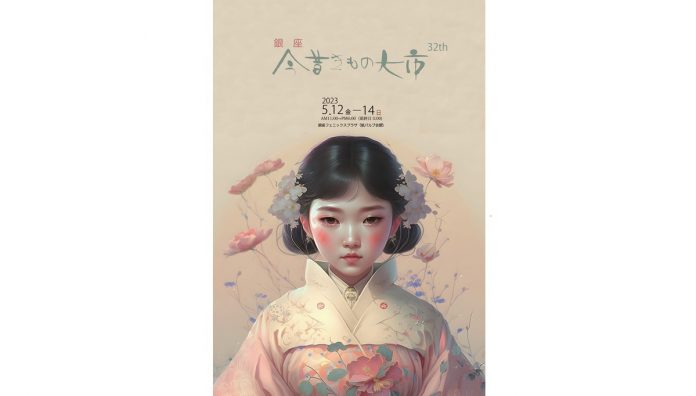 The event organizer of a Japanese kimono event called Konjyaku Kimono Grand Market recently posted an announcement on Twitter about a kimono event taking place in Ginza, Japan. Included in the post was the official event poster which features an illustration of a girl wearing a kimono. When users took a closer look at the illustration, many were suspicious that it is in fact an AI-generated image and were not happy about it.

The kimono is a traditional Japanese garment which has existed and evolved throughout Japanese history. Though no longer a part of everyday attire, the kimono is still highly valued and admired to this day.
On the Konjyaku Kimono Grand Market poster, the kimono was presented in a way that evoked harsh criticism from Japanese users. Reactions were divided between those who rejected the use of AI generated illustrations entirely and urged the organizers to hire real life artists, and those who defended the use of AI while criticizing the execution of the illustration.
Most frequently brought up as a problem was the fact that the kimono is shown wrapped right side over left instead of left side over right, as this is the direction used when dressing the deceased. In addition, many users pointed out the curious fact that the girl in the illustration looks as if she were wearing a white collared shirt and necktie under her kimono, giving a comical impression. Some suggested a resemblance to traditional Chinese clothes and the Korean traditional garment Jeogori. The overall consensus being that whatever is being displayed on the illustration is not a faithful representation of the Japanese kimono. Many were disappointed by the lack of effort of the organizers and failure to perform adjustments before posting.
One user commented that the average person will only take a casual glance at this kind of poster, so as far as the business is concerned, they merely succeeded in reducing costs, although the bitter result is real creators losing work.
The organizers have, in their defense, cited the argument that fashion should not have rules, and that people should be allowed to style kimonos with more freedom (J-CAST News). Many sided with this argument, urging the public to stop trying to police others on how a kimono is to be worn, also adding that within the kimono community, people are respectful to each other and do not make such harsh comments. On the other hand, a lot of users did not find this explanation convincing, especially since the source of the image was discovered to be a generic resource from Adobe Stock titled "Illustration of a portrait of an Asian girl using AI generative."
The organizers have since uploaded a corrected (mirrored) version of the poster on their Instagram account, where the wrapping direction of the kimono is standard.