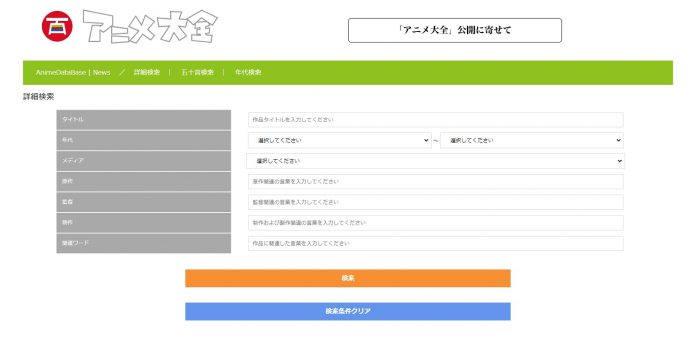 The Association of Japanese Animations recently released Anime Taizen, a consolidated database of information regarding Japanese anime, to the public on August 25 (JST). The database was made available with information such as release dates, involved staff, and voice actors for 14,710 different anime and 175,755 episodes of anime. The website only supports Japanese.
The database was made by The Association of Japanese Animations as a part of their "Anime NEXT_100" project which began in 2015 to celebrate 100 years of Japanese anime. It was provisionally opened in October of 2021 to industry professionals, and after revisions and updates from anime creators, rights holders, and industry experts, is now available to the public.
Anime Taizen can be used to browse information about anime starting with the first one made by Oten Shimokawa in Japan in 1917 and is said to be the largest database in the world regarding Japanese anime. The organization says there hasn't been a comprehensive collection of this information up to this point and that there are more than a few cases where information has been lost to time. Anime Taizen is an effort to preserve this information and prevent further loss.
The database can be searched by title, release period, media, original work, director, with keywords, and more. In addition to use from researchers, businesses, and creators, The Association of Japanese Animations also hopes that it will be used by anime fans and children. They also say that their research is ongoing, so it's possible the database may grow even larger.



Written by. Nick Mosier based on Ryuki Ishii's original Japanese article