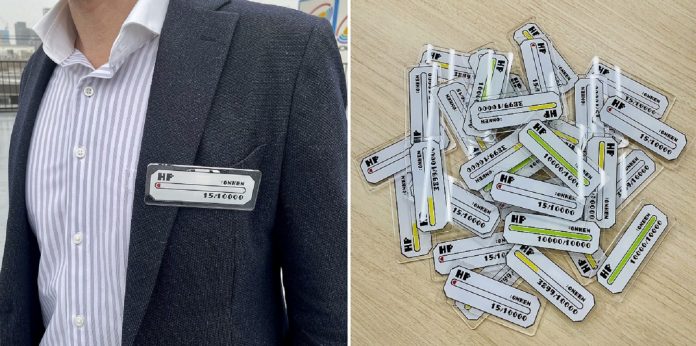 Original Japanese text written by. Ryuki Ishii
Translated by. Nick Mosier

Japanese company Onken made a tweet showing their "coworker HP badges" which began to spread on social media. As the name implies, the badges display an HP bar that workers can pin to themselves to show how much HP they have left in the tank.
The official Twitter account for the company's mascot Ken-san first tweeted the image of the HP badges, with the person in the image appearing to have 15 out of 10,000 HP left. Different badges display different amounts of HP such as a 3,899 HP badge, a full 10,000 HP badge, and so on. By taking a badge that represents your current HP level and sticking it to your shirt, your coworkers will know at a glance if you have plenty of HP or are just barely hanging on.


As of this writing, the tweet has been retweeted over 4,000 times and received over 20,000 likes. Some comments were positive with people saying, "it seems like a natural conversation starter," "I want one," and "this seems good for people who struggle with communication." However, others chimed in saying, "I feel like my HP is always in the red," "if I had this, I'd be at 15 HP," and "If my job did this, we'd be constantly near death." Maybe that's to be expected from a country like Japan known for its long working hours.
Onken themselves joked that most of them only have a little bit of HP left as well. They also followed up their tweet with photos of other staff members and their badges, and it looks like everyone is hanging on as best they can with just a sliver of HP left.


Onken is a distribution, printing, assembly, and acrylic goods manufacturing company. The HP badges were also made by the company. According to a conversation with ねとらぼ (Nlab), the company plans to open an online store to sell their goods including the badges later in July.
Onken also told Nlab about why they made the badges in the first place. The company says that whether at work or in private, people bear various kinds of pressure that impact their daily physical and mental conditions. But there are cases when one can't simply state how they're feeling. The idea was born from wanting a simple way for everyone to show how they're feeling. They added, "Even if only a bit, we hope it can be a tool to create less stressful human connections."
Onken says that everyone in their sales department is wearing a badge. As for the results, they say, "we've seen it improve communication between staff members that don't often interact with each other, and the atmosphere in the company seems brighter." AUTOMATON also reached out to Onken for comment but didn't hear back in time for publication.
The badges are certainly humorous and practical while keeping it simple. Maybe we'll see them be used as a communication tool across offices and households once they go on sale.