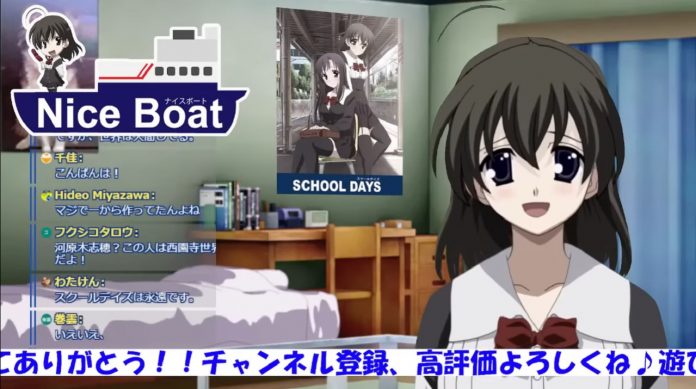 Original Japanese text written by. Ryuki Ishii
Translated by. Marco Farinaccia 


Sekai Saionji, one of the heroines from the game and anime series School Days, has made her debut as a VTuber, MoguLive reports. Videos featuring the new VTuber are uploaded to the YouTube channel of Shiho Kawaragi, who voices the character in the anime series.


School Days is a romance visual novel that was released by 0verflow in 2005 and later adapted into a popular anime series in 2007. Both versions depict the love triangle between protagonist Makoto Ito and the two heroines, Kotonoha Katsura and Sekai Saionji. The anime version, in particular, caused quite a stir due to its shocking and gruesome ending.
On the day before the final episode of the anime was originally scheduled to air, an incident occurred in Japan where a 16-year-old girl murdered her father with an axe. The broadcast of the episode was subsequently cancelled and replaced with a 30-minute travel program that featured footage of Scandinavian castles and boats, causing further commotion.
Following the broadcast, a user on 4chan posted an image of a boat from the program with the caption "Nice Boat." and this phrase would later become a popular internet meme. In fact, after Sekai Saionji made her VTuber debut, the phrase "Nice Boat." began to trend on Twitter in Japan. It appears as though the meme has become very closely associated with School Days itself.


Now in July 2022, 15 years since the anime broadcast, Sekai Saionji has become a VTuber on voice actress Shiho Kawaragi's YouTube channel. Kawaragi was influenced by the VTuber debut of School Days' other heroine, Kotonoha Katsura, in 2020, and she began making preparations last year for her own debut.
Kawaragi previously released a video that shows her creating her own VTuber model using illustrations that were provided by 0verflow, the original developers of School Days. While the model is more or less complete, the range of movement and expressions is quite limited, so Kawaragi says she would like to make improvements to it if she has the time.
There are many other instances of anime characters being made into VTubers, but they haven't gained a great deal of popularity. That being said, Sekai Saionji is a character from School Days, a series which boasts a strong following, so there are likely many fans who are overjoyed by this new development. Furthermore, during one of Saionji's broadcasts, she mentioned her desire to have fellow VTuber Kotonoha Katsura join as a guest. The day may soon come when we see a collaboration between the two heroines.