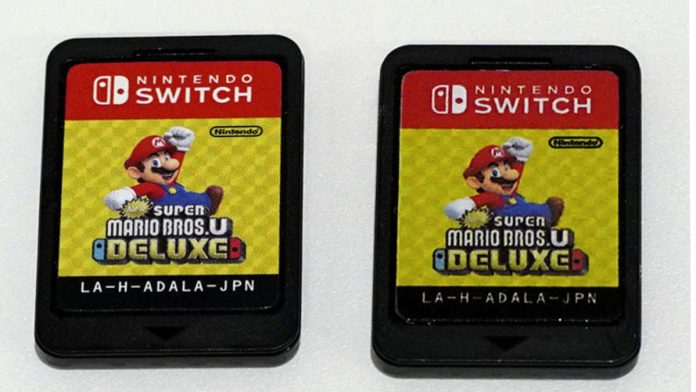 According to an article by Kyodo, a 33-year-old Japanese man from Iwaki City, Fukushima prefecture was arrested by the Kyoto Prefectural Police on June 7 on suspicion of fraud and violation of the Trademark Law for defrauding the online shopping giant Amazon. 
Apparently, the man's scheme consisted of buying Nintendo Switch game cards from Amazon and then returning them under the pretense of them being faulty and receiving Amazon gift cards as compensation. But what he had been returning was not the real products, but fake game cards that he had made to look like the real thing.
The man forged the game cards by buying cheap cards of other software on second-hand sites and sticking printed copies of official Nintendo labels on them. He forged labels of popular games such as the Mario Bros. series and painted the edges of the game cards, making them impossible to launch before shipping them back to Amazon.  
He had reportedly repeated this machination 581 times, cheating amazon out of 3,77 million yen, equivalent to 26,955 dollars. As for the original game cards he became in possession of, the man resold them on second-hand sites and earned at least 1.8 million yen (around 12,877 dollars) in this way.
Upon being arrested, the man admitted to the charges of "purposefully returning counterfeit products in order to pocket refund money," explaining that he was out of a job and tight on money.