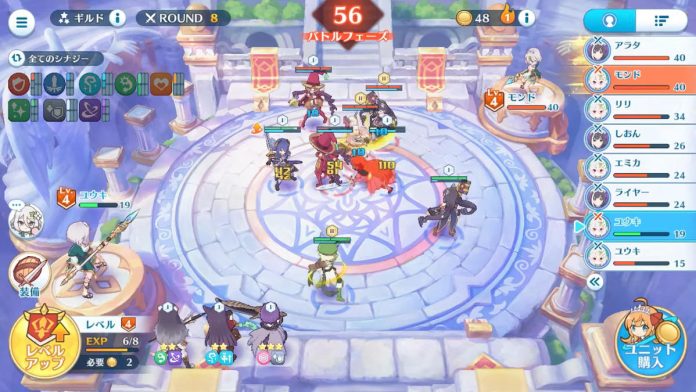 Cygames has announced that it will once again release Priconne! Grand Masters in Japan for a limited time. From April 1 to April 10, the game can be downloaded for free on iOS and Android.
Priconne! Grand Masters is an auto battler featuring characters from Princess Connect! Re:Dive. Players purchase characters (units) from a shop and place them on a map where they compete in round-based matches. Once the battle begins, units will fight and use skills automatically with no input from the player. This means that the outcome of battle is determined by the preparation between rounds, such as the placement and upgrading of your units.  


One of the most important elements of battle is the Synergy system. Each unit in the game has its own Synergies that provide bonus effects when combined. For example, if you place three units with the Tank Synergy onto the field, then you will get a defense boost. By making use of powerful Synergy effects, you can enhance the strength of your squad.
Furthermore, if you collect three of the same unit (named character) with the same rank, then you are able to fuse them to create a single unit of a higher rank. The number of units that can be placed onto the field is limited, so powering up your units in this way is vital to improving your squad.
When compared to other auto battlers, a single match is quite short, so the game can be enjoyed at a quick pace. The game includes a PvP mode as well as a single-player story mode.


Priconne! Grand Masters was first released for a limited time last year on April 1 as an April Fools' project for Princess Connect! Re:Dive. Players were disappointed that the game was only playable for a week, but they will soon have another chance to play it, as it is being re-released for April Fools' this year. It should be noted that the user data from the first release have not been retained, so even those who played it last year will have to start over.
Priconne! Grand Masters will be available on iOS and Android in Japan for a limited time beginning on April 1. The release is expected to be accompanied by an update which will add a new unit, Sheffy, to the previous roster of 58 characters.





Written by. Marco Farinaccia based on the original Japanese article (original article's publication date: 2023-03-29 18:22 JST)