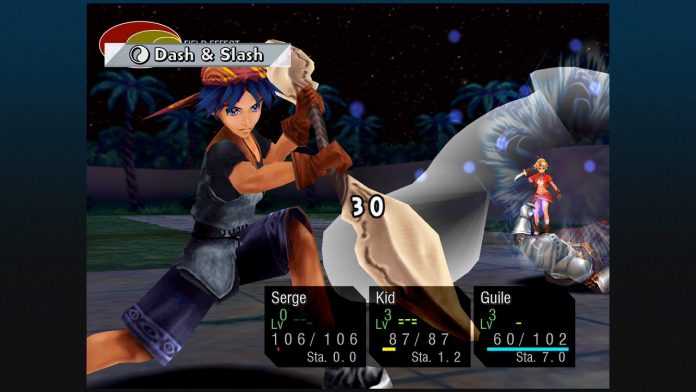 Square Enix has announced that an update is coming to Chrono Cross: The Radical Dreamers Edition this month.
Chrono Cross: The Radical Dreamers Edition is a remaster of 1999's Chrono Cross for the original PlayStation. The grand adventure spans two worlds and is a follow-up to Chrono Trigger, a game widely considered a JRPG masterpiece.
The remaster boasts a number of enhancements such as HD 3D models, refined character illustrations, and higher-quality background music. There are also other additions to make the game easier to play like the ability to turn off enemy encounters.


After releasing in April of 2022, the official Twitter account for the game continued answering questions from fans and posting information regarding cafe collaborations and such, but for the past 6 or so months has only remained active via retweeting other accounts. The account hasn't gone totally silent, though, thanks to this sudden update announcement.


According to the announcement, the update will cover a wide range of changes, including framerate improvements, changes to Pip's growth system, and bug fixes. The Japanese version of the message states that more details regarding the changes will be posted on the day the update goes live, but for players, the biggest standout is likely the framerate improvements.
During battles and certain scenes in Chrono Cross: The Radical Dreamers Edition, there have been reports of severe framerate drops. These performance issues have hurt the game in the eyes of critics and players (related article), with only 59% of Steam user reviews being positive, leaving the game with a status of "Mixed."
It sounds like Square Enix has listened to player feedback and set to work on fixing these framerate issues. It's been a decent amount of time since the game launched, so it will be interesting to see just how much it has improved.


Chrono Cross: The Radical Dreamers Edition is available now on PC (Steam), Nintendo Switch, PlayStation 4, and Xbox One.
[Update 2023/02/28 11:20 JST] The update went live on February 22. The patch notes for the Steam version can be found here.




Written by. Nick Mosier based on the original Japanese article (original article's publication date: 2023-02-20 20:40 JST)