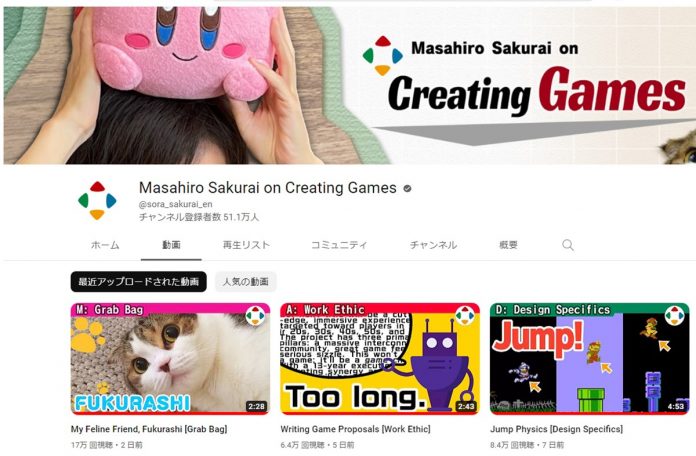 Game creator Masahiro Sakurai released a video about his cat to his YouTube channel, Masahiro Sakurai on Creating Games, on November 18. While the channel mostly revolves around creating video games, this cat video doesn't really have anything to do with gaming at all and has been receiving an impressive number of views and likes, while even surpassing his recent videos about game development.
Masahiro Sakurai on Creating Games is a YouTube channel from Masahiro Sakurai, a game creator known for his involvement in early Kirby titles, the Super Smash Bros. series, and more. Videos on the channel tend to revolve around game development and what makes games interesting, with content about writing game proposals, adjusting animations, balancing sound effects, and other tips and tricks for those interested in game development. The videos are also generally between 3 to 5 minutes, so they're easy to quickly watch and digest.
While the channel is about game creation, Sakurai covers a wide range of topics under the channel's "Grab Bag" category. This is where Sakurai has discussed topics like the price of games and the importance of exercise. Despite being called Grab Bag, though, these videos still have topics that relate to video games. However, on November 18, Sakurai posted a video truly out of left field. A cat video.

After the release of Super Smash Bros. Ultimate, Sakurai for a long time would post screenshots every day from the game. These screenshots would also occasionally include pictures of his cat Fukurashi. The cat's name is actually Fukura, but Sakurai uses Fukurashi as it has a nice ring to it. Sakurai explains that the cat video is his response to fans who say they want to see more of his cat, and half of the video itself is simply images and videos of Fukurashi. With that said, it looks like the response has been strong.
The Japanese version of the video had around 190,000 views as of November 21 at 11:00 a.m. (JST), standing toe to toe with other recent videos on the channel. But what's especially interesting is how the number of likes is nearly double. Recent videos on Sakurai's Japanese YouTube channel have around 7,000 to 11,000 likes, but Fukurashi's video has already pulled in around 18,000.



The difference is even more pronounced on the English version of Sakurai's channel. This is because the Fukurashi video already has a commanding lead in views over all the videos released on his channel this past month. The videos released in November generally fall between 50,000 and 120,000 views. As of November 21, 11:00 a.m. (JST), the Fukurashi video had roughly 170,000 views, pulling ahead of the pack. It hasn't reached the popularity of videos discussing development secrets behind Kirby and Smash Bros, but it is interesting to see a cat video totally unrelated to games draw more attention than much of the regular content.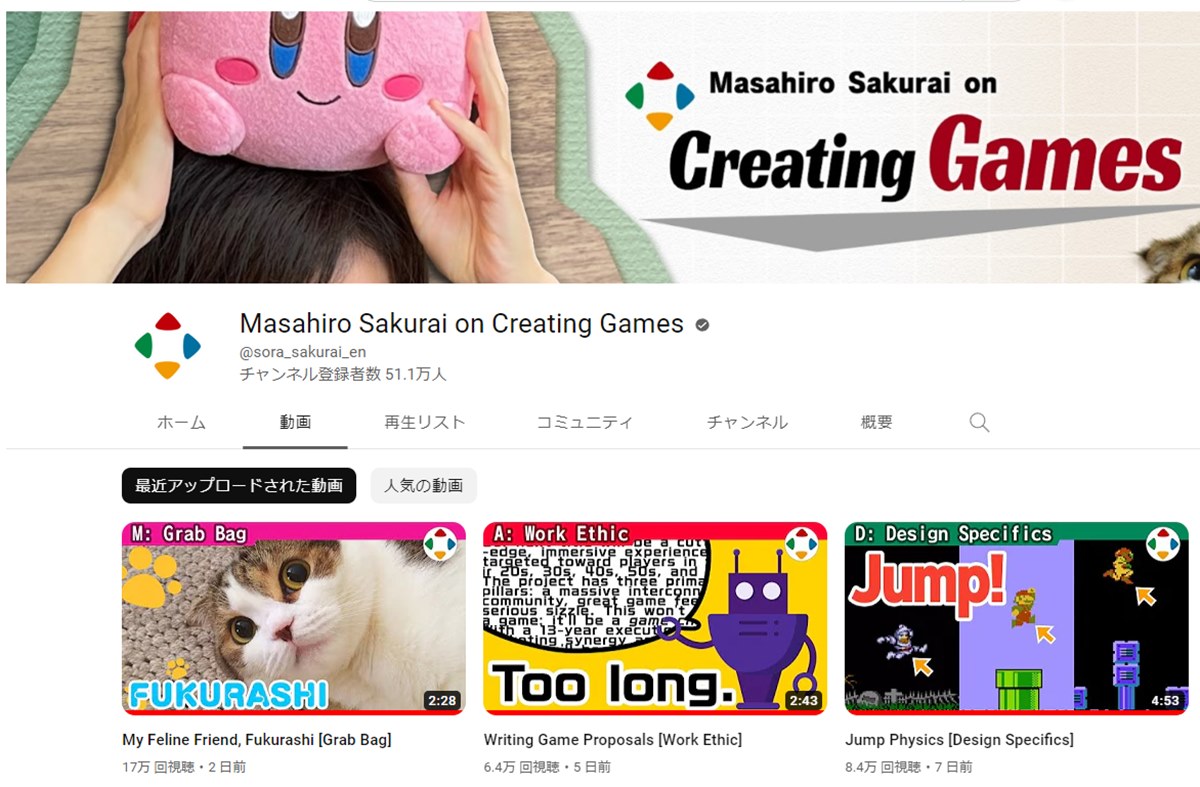 The reason for this is partially related to how cats in general pull in numbers, but it's also thanks to how media outlets picked up the news. The RSS reader Feedly grabs topics that are popular in the media and shows them as trends, and Fukurashi was temporarily trending on November 19.
While each of Sakurai's regular game-related videos don't get articles written about them, it's interesting to see something outside of the norm posted, which is likely why many news outlets covered it and made the video more viral. Since Sakurai's videos typically encourage thought and consideration, maybe fans were happy to just turn their brains off and enjoy some cat content. Either way, cats do numbers.





Written by. Nick Mosier based on the original Japanese article (original article's publication date: 2022-11-21 11:56 JST)