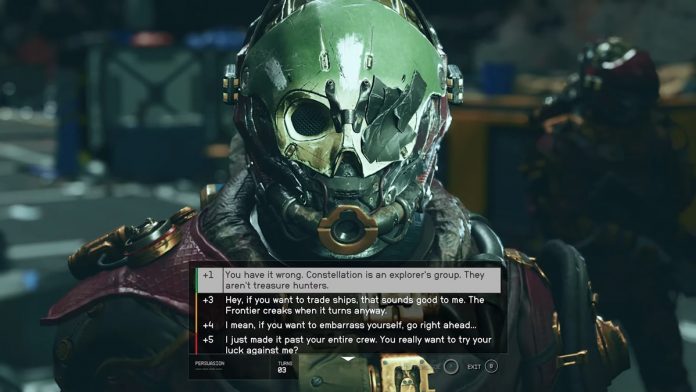 Bethesda Softworks recently released a video about their upcoming title Starfield which is currently in development. In the video, director Todd Howard answered questions from the community and revealed that there will be an absolutely colossal amount of dialogue in the game. So much so that even the Japanese localizer for CD PROJEKT RED's titles couldn't help but express their shock.
Starfield is a completely new game from Bethesda Game Studios, known for series like The Elder Scrolls and Fallout. The game takes place roughly 300 years in the future with players being a member of an organization called Constellation as they set out on a space adventure to solve humankind's biggest mystery. The game is expected to allow players a high degree of freedom and plenty of content to enjoy. Howard revealed in June of this year that the game will feature over 1,000 explorable planets.
In the latest update video, Howard stated that Starfield has surpassed over 250,000 lines of dialogue. The infographic in the video has the number at over 252,953 lines and shows that it's over 4 times the amount of dialogue in The Elder Scroll V: Skyrim (around 60,000 lines) and over twice as much as Fallout 4 (around 110,000 lines). Both of these games are large open worlds with plenty of characters and quests, but the amount of dialogue in Starfield exceeds them in a big way.


Many gamers and industry personnel posted reactions, unable to hide their shock at the news. Among them was Satoru Homma, the Japan Country Manager for CD PROJEKT RED who has worked on localizing titles for Japan such as Cyberpunk 2077. Homma said on Twitter, "this is like Frieza showing up after you just got done taking on Raditz and Nappa."
This is a reference to the hit manga and anime series Dragon Ball. When put in terms of Power Level, Raditz had a Power Level of 1,500 while Nappa's Power Level was 4,000. On the other hand, Frieza boasted a Power Level of 530,000 which was on a whole different level when the character appeared in the series. It was a level that sent shivers down the spines of readers and viewers. A shiver that Homma may have once again felt when Todd Howard said Starfield had over 250,000 lines of dialogue.
As stated previously, Homma worked on the Japanese localization of Cyberpunk 2077, a game that boasts an impressive amount of dialogue in its own right, so it's saying a lot for him to compare it to the level of Frieza showing up.
Howard also touched on the conversation system of Starfield in the video. The game introduces a speech persuasion system which Howard describes by saying, "It feels like it's part of the dialogue, but you're spending points to persuade" NPCs. The game also appears to provide a lot of variety and depth with its options which may be connected to the sheer number of lines in the game. We look forward to seeing what else is exceptional about Starfield as more information is revealed.



Written by. Nick Mosier based on the original Japanese article (original article's publication date: 2022-10-13 17:37 JST)